New Betta Fish =D
---
So today in the middle of my AP european history class i got a call form petco saying that the hafmoons came in. the petco guy jeff actually put them aside for me so i could get first pick. which was awefully nice of him. anyway, after school, i pick up my dan and we head off to petco. i go check out the halfmoons and they actually weren't very pretty. whcih i thought was pretty weird. so i went around and looked at the other bettas. and there was this one delta tail, i'm pretty certain he's a super delta cos he's pretty close to halfmoon, but noooot quite. he was a relatively acitve and responsive butterfly and i was liek WANT. so i got him instead of the halfmoon i had been hoping for.
and i'm really not upset wiht that descision. he's gorgeous now that he's brightened up! he has a minor kink in his back i think. im not sure though. he swims oddly and i think he either hasa birth defect or an injury that healed kinda wrong. either way, i like him anyway. he swims kinda strange sometimes, but he's not hindered by it and he flares. his tail fin is a little clamped, which is unfortunate but oh well. i hope i can make him much happier than he's previously been =]
right now, i have him in a little like half gallon analyzation tank. i will be moving him inot a much better 2.5 gallon tank tomorrow because he seems fine.
ANYWAY TIME FOR PICTURE SPAM!!!
coloration when i first got him home: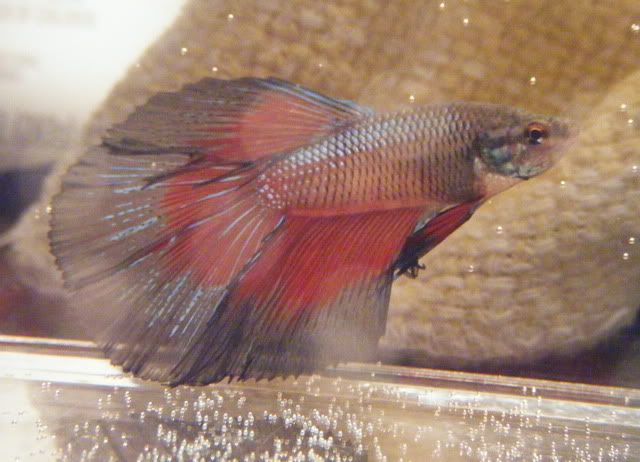 kinda weird back? he bends oddly when flaring? or is that normal?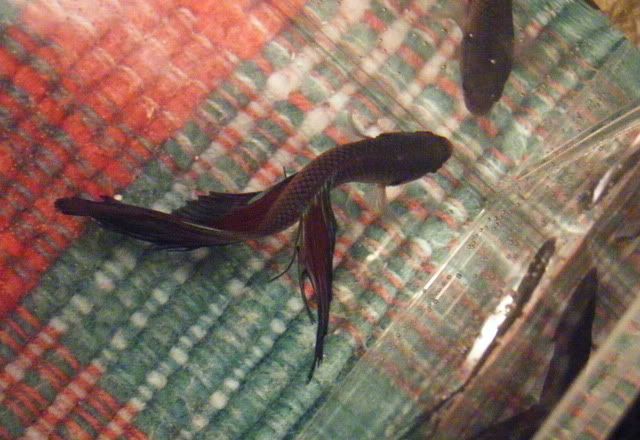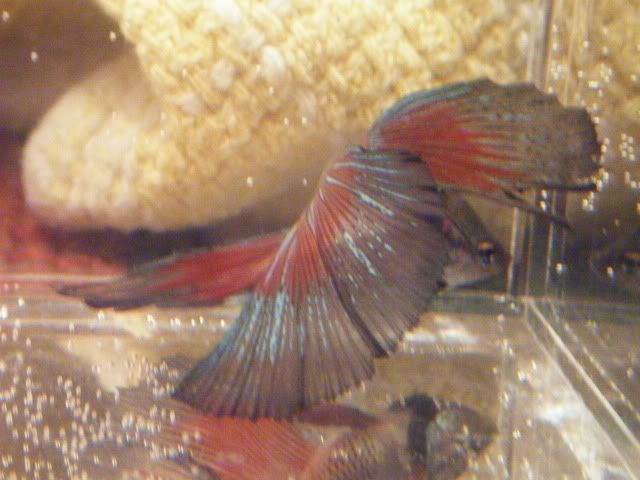 after he brightened up (he and bagel saw each other and flared like MAD. i thought it was cute XD )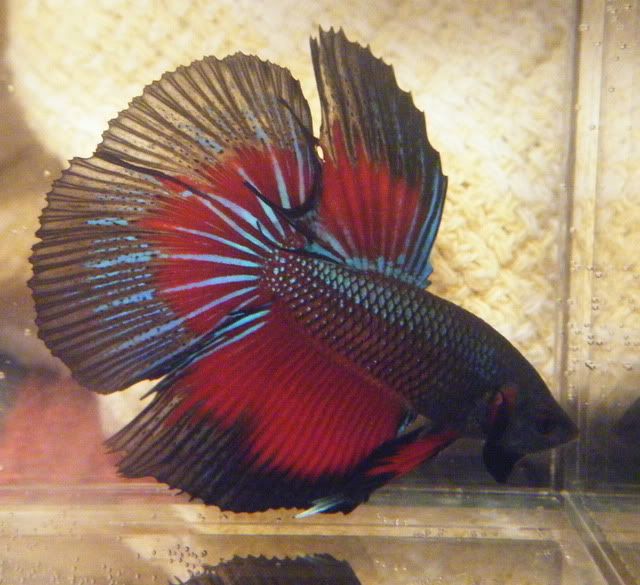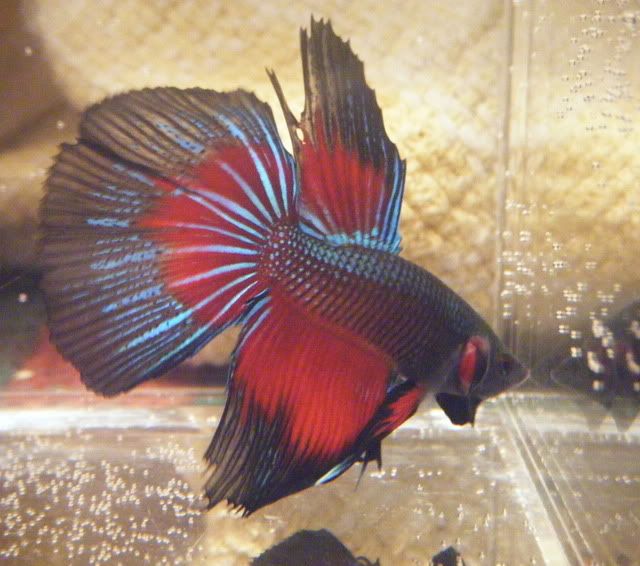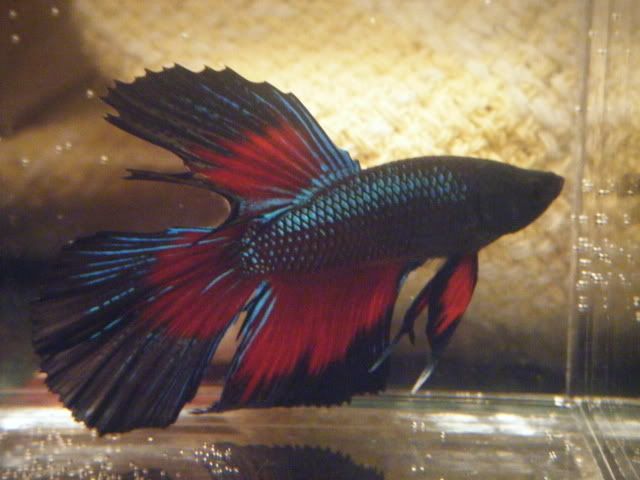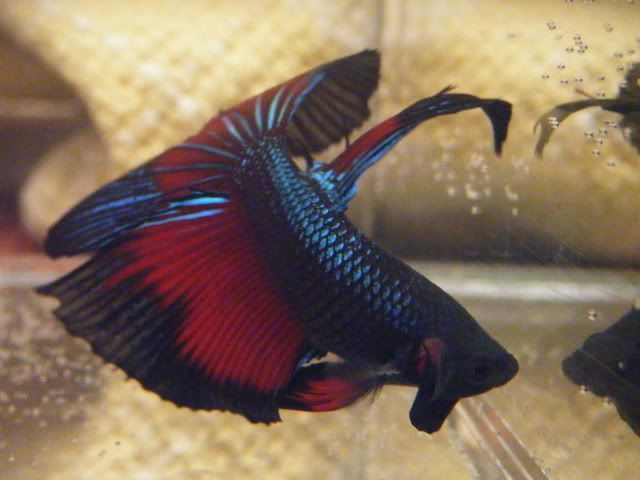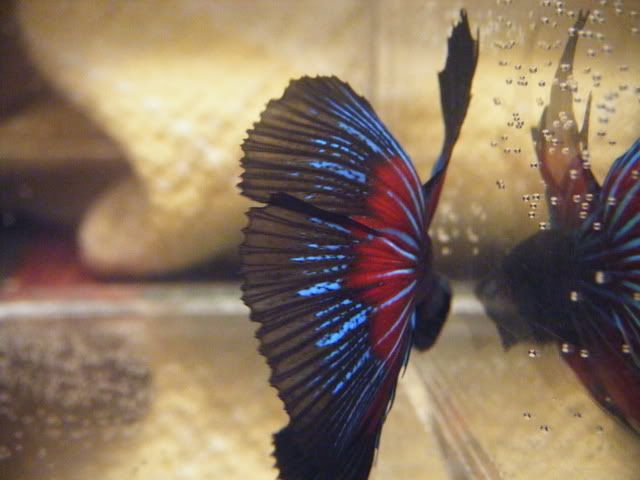 ---
Proud owner of Bagel the Warrior.
RIP Ivan the Terrible and Billy the Kid
Congrats and he's beautiful! I would love to have a halfmoon or delta tail. I wish they had something other than ct and vt at Petsmart.:(
Gorgeous! I love your progression of pics, hardly any color to *BAM* brilliant. Nice Fish
---
If you don't stand up for something you'll fall for anything...
thanks!!

@dramaqueen: yeah i love living within a mile of petco XD

@aunt kymmie: thanks =] i thought it would be nice to show cos the transition happened randomly and within like ten seconds
---
Proud owner of Bagel the Warrior.
RIP Ivan the Terrible and Billy the Kid
Wow !! that fish is stunning. :)
---
when you set up a new tank,hide an extra
sponge or two behind some decor,that way you have
something seeded for you next filter.
thanks! he's all settled into his real tank now and hes sooo gorgeous! eventually i'll try to get some more picutres of him. mostly just cos i love photogrpahing my babies =D
---
Proud owner of Bagel the Warrior.
RIP Ivan the Terrible and Billy the Kid
so i decided to name him Jelly Bean ahahaha
---
Proud owner of Bagel the Warrior.
RIP Ivan the Terrible and Billy the Kid
Jelly bean, thats a cute name. :) I have a Petsmart within walking distance from my house. I read a post on UB where someone said that Petsmart was starting to carry crowntail females. An employee was going to ask about that for me. If they had ct females, I'd definitely buy one, although I'd still like to have a halfmoon.
i'd liek to have 80 halfmoons >_>
hahaha
---
Proud owner of Bagel the Warrior.
RIP Ivan the Terrible and Billy the Kid
I'd like to have that many too, but think of all the water changes we'd have to do. lol
Posting Rules

You may not post new threads

You may not post replies

You may not post attachments

You may not edit your posts

---

HTML code is Off

---