The 10 gallon that I'm upgrading actually began back in late November. My grandmother's fish had all died and her tank was sitting empty in her living room. She's impossible to shop for, so I thought I'd set her up a smaller aquarium. Most of the things I needed were sitting around my place already so I was going to be free to just spend the money of plants, fish, and substrate.
I ordered plants for her from two people. First shipment arrived and it was
way
more than I ordered. I got hooked up with all kinds of freebies and extras. It was enough to plant her entire 20 gallon and I still had a whole second shipment coming. I didn't even know what was in it, but knew I was going to get a good deal. So I dug some more stuff out of the cellar (Ma got all the good stuff though) and bought some play sand. I threw it together with some driftwood and left it go for a few weeks while I tried to figure out some sort of concept. I swear that was what happened and that I wasn't just looking for an excuse to set up another tank. Anyway, here's what it looked like then.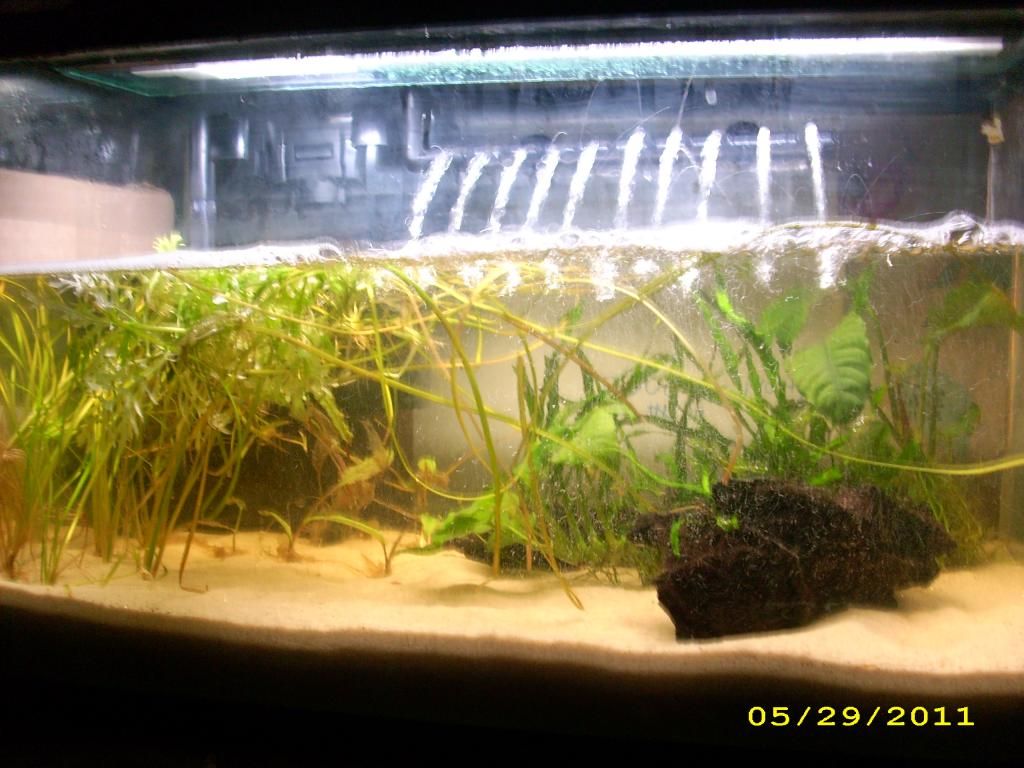 So after a few weeks I had no growth. OK, that's probably not unusual, but I had back luck before with crypts. Having a high tech tank warps perception too lol. In that tank I can measure daily growth in inches! So anyway I decided to order myself some more plants and to give the crypts a boost.
I did lots of research and finally decided on the stuff Boredomb pictured. I did it slightly different than him though. I didn't bother to pull out any of the big chunks. It all went in after I ripped the tank apart. I did a two inch layer pressed down and then capped with an inch of play sand. Much swearing went into the tank until I learn how to fill it without blowing the sand around and making a mess with the Miracle Gro. More swearing went into the hardscape. I tried lots of variations, gave up tossed rocks in and random and jammed a piece of wood in there. lol Like most of my tanks that approach seems to be the one that worked.
Initially I had ammonia readings and the tank was actually cycling itself. I also had tannins, but they went away after the first water change. The ammonia took longer and was my first panicing. Everyone says soil substrate tanks should have fast growing plants and I didn't have any! I used seeded material from another filter and added floating plants and wa-la no ammonia issues since.
I thought I'd see lots of melt with the crypts when I changed over the substrate. I didn't see any. In fact they started growing well. A new leaf every six or seven days. About a week and a half after putting the Mi Oya in they were sending out daughter plants. The crypts loved the soil!
Compared to the plants in my grandmother's tank, mine grow much faster and larger. Her's have barely grown at all in Eco COmplete with added Osmocote+ root tabs. Her light is even a lot stronger than mine. That made an algae farm though. Floating plants got rid of all that. Which reminders me I need to get rid of some of those next time I am at her place since they cover the whole surface. My tank has yet to show any algae at all after about 3 months.
I haven't had problems with melt, aside from when I added the fish (two bronze crypts melted) and randomly one week that was accompanied by strange fish behavior. That was a very bad problem. For instance my remaining bronze crypt went from seven leaves down to two and still hasn't started regrowing. The other crypts have begun to regrow though. I had at first thought they were too shaded, but my grandmother's tank is even more shaded and it hasn't occurred. She doesn't have fish so I only do biweekly water changes and had skipped doing her tank that week.
Besides that the only plant problem was with the Java fern dying when I first got it. Once I started buffering my water though, the problem cleared up and now it's growing very well. I have tons of baby plants forming on all those bad leaves. The rest of the plants are growing well. The Amazon frogbit is growing very well, so much so that I have to remove some every week. Most times I forget to dose micros in this tank.
Oh there was one other time I freaked out. I had just ordered the fish and was waiting for them to come the next day when the soil started bubbling. Turns out that it was just built up CO2 from the organic breakdown in the substrate and nothing to worry about. It still does that. Doesn't even bother the fish. In fact when it happens they all make a beeline for the area just to check it out and see if there's anything for them to eat.
Just one random note to leave off this probably too long post. Two of my Boraras naevus came to me missing an eye. One is missing the left, and the other the right. They are the only two I can tell apart from the rest, but still don't have names.
Hooray for books! Thanks for the information... hmmmm. How DO you keep the two layers from mixing, and do you HAVE to cap it with sand? I know from what I've read about various enriched substrates, that the effect goes off as they're depleted. Does this happen with soil, too? I guess. . .is it just that the plants seem to prefer soil, or is it that they're getting something 'extra' from the miracle grow? I've read so many different things on this, I've confused myself!

Boredomb is great as a voice of sanity, lol - he's helped me out in the same way over the last year. . . :)

WHAT happened with that weirdness? Was it the weather or the water?! I didn't lose any crypts - but my fish were freaking out for a week. . . NOT a big fan!
I haven't had a problem yet with the sand shifting down. I pressed the Miracle Gro down by hand before adding the sand, don't know if that helps with that. I have heard the substrate will condense further over time. To be honest I've never heard of the layers getting mixed up like you would think would happen though. I mean with the exception of being careless when rearranging plants. That's one thing you really can't do with a soil tank. You pretty much have to put the plants in and leaves them there.

You don't have to use sand, but you do have to use some sort of cap. I picked sand because it's said to be best for any sort of bottom dweller I would want. Eco Complete, Flourite, Oil Dri, and even gravel of the right size will work.

I know some types of mineralized top soil that people make can lower ph, which crypts appreciate. I went the lazy route, although I didn't have a choice. I would have had to wait until summer to try mineralizing. In this case it's more of it has the nutrients that you would otherwise have to dose as well as some small amount of additional CO2. It won't last forever, but it will last a whole lot longer than root tabs. I've seen pictures of a tank using this method that was still going strong after 3 years and no additional ferts.

lol Yeah I'm pretty sure I annoyed boredomb with all the questions. Redchigh too. He was a lot of help as well.

I honestly have no idea what happened, but I wish I did. My bronze and Mi Oya wendtii crypts melted for an entire week. Oddly enough the green gecko ones didn't lose a single leaf. If I had a clue I could hope to prevent it in the future. It sucks losing about a month's worth of growth. There's just so many things it could be though.
I wished you didn't have to cap the soil as that would totally look cool!!
After my Devil Cat knocked over my basket of emersed plants into my tank all the soil went to the bottom and stayed. It looked cool, messy but cool. It was also a PITA to clean up. I wonder how long it would you have to soak the soil to get it to stay down??? Also if you manage to get it to this point could you actually run it this way?? Would it there be any problems in doing so?? I know some of the particles would get stirred up and but they would settle sooner or later i would imagine.

Anyways LoL neither of y'all annoy me asking questions! Am glad to help or atleast try to help the best I can. Though I learn more from ya then I think y'all realize.

Blackwaterguy have you every used Oil Dri?? Isn't that a clay based absorbent?? Thinking I have seen someone here that uses that and pics of it or it could be another place.
---
Are the floating bits the real problem or is it a case of too many nutrients being available? I kind of think it's the latter. I mean in MTS all the floating bits are removed, but it's still capped. I had just assumed it was because it would play havoc with water chemistry if it wasn't. Total guess though. I thought I had read something somewhere about if it was possible not to cap, but after an hour of searching the net I haven't found it again.

I've never tried Oil Dri or Safe-T-Sorb or cat litter. I've heard good things about them though. They all all clay based and the have high CEC rates and cheap prices. I heard it will low kh pretty fast. Not sure how long that buffering ability lasts. I know redchigh uses Oil Dri. Maybe that's where you saw pics on here?
Quote:
Are the floating bits the real problem or is it a case of too many nutrients being available? I kind of think it's the latter. I mean in MTS all the floating bits are removed, but it's still capped. I had just assumed it was because it would play havoc with water chemistry if it wasn't.
No the floating bits are not the problem other then just looks. Would the nutrients really be a problem since the plants will use them and you would be water changes. I figured it would be other things playing havoc in the water column like ammonia and nitrates ??? I really don't know but I just think it would be a cool look!
---
Thanks for all this info, guys! I've really been trying to figure this out for some time now. I've been wanting to TRY a dirted tank, but I don't WANT to cap it, lol! I really want it to look . . .like. . . nature! I'm okay with MIXING the dirt with the sand, but I don't really want layers. And yeah. . . I WILL move plants. Eventually, I always do! I think I'm going to have to take another look in my Walstad book. I'm SURE this information is in there somewhere. . . I must have missed it! I'll post over where the plant gurus hang out, maybe they would know. . .

Neither floating particles NOR leaching of nutrients/toxins make any sense to me. Unless it ALL floats, which it doesn't, lol. Those bits will either settle or be filtered out over time. And the nutrients would have to be in the water column, I can't see how they wouldn't be - or how sand would protect from that happening. Could be wrong, but it doesn't make sense. Even ammonia and nitrates would eventually take care of themselves via the nitrogen cycle. . . I'd be more than happy to have it set up as plant-only for a few months just to be sure! :)

Really nice to get your personal experiences. . . thanks!
Here a thought about Mineralized top soil.... could you leave it capless?? The whole reason of mineralizing it in the first place is for it hold on to the nutrients longer and release them slower right or am I thinking about that wrong??

Jes you can move the plants around after you plant them in a soil tank. You just SLOWLY pull the rooted plants up. You have to patient and watch the base of the plant make sure not to pull to fast or hard or else you will have one hellofa mess in your tank!! I moved my plants but not often just know it can be done and till you learn how you will probably have a mess in doing soo. LoL
---
Most just thinking out loud here, so keep that in mind.

Just the few floating bits I got annoyed me. I can't even get my driftwood to sink and it is waited down. I don't even want to think how long it would take for all the little bits to do it. I've netted them out but that still took forever. I'm thinking if you wanted uncapped than MTS would be the way to do it. No floating bits, plus you've already broken down the organics so there shouldn't be any ammonia spikes.

I know some people keep "mud" tanks, but those are serious plant keepers, they kind that are just as likely to have no fish as have fish. Might even border more on no fish. I don't think it'd be a problem in a plant only tank. I still think it would be a mess depending on the fish. In my head I'm picturing a puddle that looks clean with mud on the bottom. Water is all clear until you step in it and then it's a cloudy mess. I could just see the same thing happening constantly if there was any sort of bottom dwelling fish in there. Digging, rooting around for food, even swimming.

Jes-Why don't you want to mix layers? Just curious.

Boredomb-What plants did you move around? I know it's totally possible and have done it myself a few times. I think sometimes it will be an automatic no though. Anything with a huge root system would just pull out tons of the bottom layer no matter how careful you were. A stem plant with smaller roots though would be easy.
*giggle* you read my mind - mud was the next thing I was going to ask about - that's it, I'm starting a thread! Doesn't Mika have a mud bottomed tank? I feel like I remember her actually digging up mud from the forest near her at one time. Valid point about the bottom dwellers. . . I'm not sure if it would bother me, though. Since it would be a 'natural' disturbance caused by the fish. Water changes might be a disaster, though! Or. . . depending on how you had your filter/bubbler working. Hrm.

I'm not OPPOSED to layering, exactly. . . just that. . .I PROMISE you, I would make a mess of it, the layers would get mixed eventually! It's more of an aesthetic thing, rather than a plant-growth thing. I think it'd look really cool, and wonder why nobody ever seems to do it :) Maybe the cap isn't so much to weigh down the soil, but to weigh down the plants?
Posting Rules

You may not post new threads

You may not post replies

You may not post attachments

You may not edit your posts

---

HTML code is Off

---