Lurking is bad. You shouldn't lurk. Stop lurking
now
! I keep getting told these things. Apparently lurking causes constipation because you get used to holding things in. Lurking also causes memory loss because...um...well I can't remember why.
For a cheap post increase I'm going to go teaser picture. This is what happens when you decide floating plants are good for the ammonia your soil leaks. You take them out of your 10 gallon, put them in a 20 long and let them go. Might be time to remove some. Oh and this was all without extra ferts.
TEASED!
. . . you dirty rotten lurker. . . get yourself and enema, and show me the NURII!!!
(nice canopy, btw <3 floaters)
I don't lurk. I whisper. Big difference.

As Jes said I got some C. nurii today (which will be planted, but my helpers woke up). Didn't I have nurii already? Glad people are paying attention! I sure did. It melted. Not why I bought more though. It was a rarish plant for cheap so I jumped on it. This might just be due to lighting, but the ones that melted were green, while the new ones are reddish. For info on C. nurii is tough. Finding info on C. nurii varieties is even harder. I know of the regular, pahang mutated (Will own one day! So pretty!), compact, rompin, and luminous green. Don't even know what those last two look like. For all I know this is a different form.

OK yeah I lied. I have doubts about if the originals will regrow. The tank is cycled now, melting has almost stopped. I wanted more. At least I got an even better deal this time.
Working on good pictures, but not much luck. I will wait until all the other tanks lights are off and try then. My tank is looking pretty full. I might not have room for all the other crypt varieties I wanted. Maybe I can fit them in. I know at least one can go.

Why do I not have room? $4 for a C. nurii X3 + $6 shipping=$18. Except it wasn't 3 nurii. It was 3 large nurii, 6 small nurii, and two different types of stems that are currently floating in my 29 gallon (along with some of the floaters). I have to ask the seller what the stems are.
Forgot to add...Let the melt commence! No one is stealing my presidency without a fight! There is going to have to be a vote.
Holy crap!! That looks like duckweed on steriods! Well behaved floaters my butt!!! :P
Quote:
Holy crap!! That looks like duckweed on steriods! Well behaved floaters my butt!!! :P
Amazon frogbit and dwarf water lettuce are much easier to peel off your arm.
Plus the mixture of long and bushy roots add a nice dimension. This is the first time I've had dwarf water lettuce with really full roots. I think the fish will love it. I may never see them again, but they'll love it.
44 bad pictures and these are the only 2 half way decent ones. Grr. Why was it so easy to take pictures of the floaters? I'll try for better tomorrow. Hopefully though this shows something. I
really
wish I could pull off the nice pictures that other people seem able to.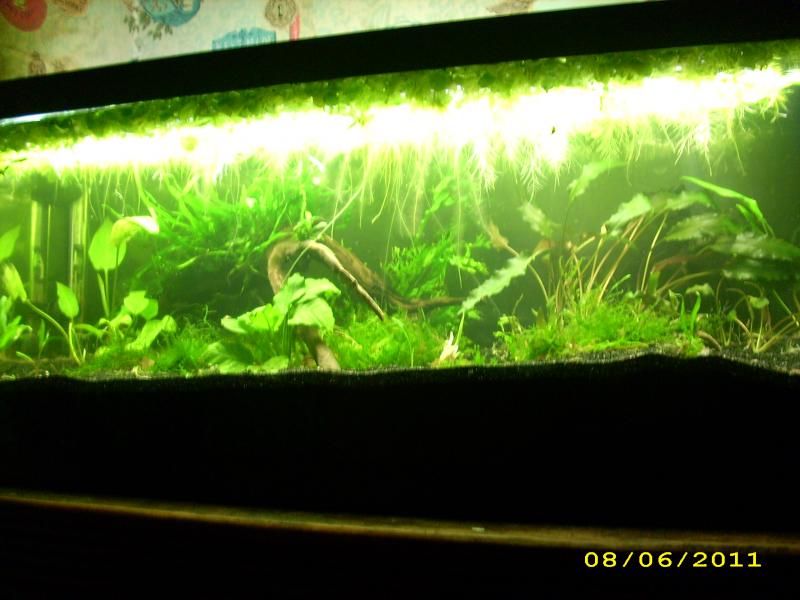 The tank is looking good BWG!

ohh and as far as I am concerned you can keep your stinking Presidential title. I don't want it! Though I think my melts are adding up to yours now! LoL
---
Posting Rules

You may not post new threads

You may not post replies

You may not post attachments

You may not edit your posts

---

HTML code is Off

---