Don't worry I have some plants coming. I got a good deal on some C. nurii. I'd still like to find some more lucens, as well as red wendtii and petchii for some color so if anyone knows a source let me know.

I have more moss coming as well. I had actually wondered if it would look better with the moss not on rocks, but just on the substrate. Why? Cause I'm turning anal. Mesh maybe since it's unlikely to attach anyway. It would still grow with it not attached though, just slower. That's what I've heard anyway.

Only other hardscape I have that would sort of work is a piece of Mopani. Doesn't match the other driftwood. Wonder if it matters, but again anal.
Can't hurt to try the mopani, if you want to. Not so hard to yank it out if you don't like it. Same goes for mossless rocks. . . and again, you don't have to have ALL the rocks mossy, or not. . . do you? You're so cute. It LOOKS amazing! Can't wait for the new plants. I want ALL your crypts. *ish jealous*
Bad picture time before I go and get some
much
needed sleep. You people who take good pictures suck. I'm not naming names, but you know who you are.
Oh if anyone wonders why the water level is always down in these pictures it's because I know the tank is going to be tinkered with fairly often. When it's finally scaped out and planted it will be filled as normal. Until then I don't want to have to draw water out each time I play around in there to avoid spills.
Did think this looked this bad before seeing it now! Anyway here's the extra windelov fern i bought. Submerged grown this time so shorter and nicer. I ordered three. The seller told me he only had 2 and refunded me for the third. Plants came today and there was four. Lot of black leaf tips in the picture, but from what I understand that's common when you first put Java fern in a new tank. I know it happened to the narrow leaf and that stuff looks good now, although I guess I should trim the bad leaves off that. I've actually let them go to get babies. Not the C. lucens in the front center growing a new leaf while the last old one melts, the barely there anymore C. wendtii 'Mi Oya' in the right background, and the completely missing C. wendtii 'green'.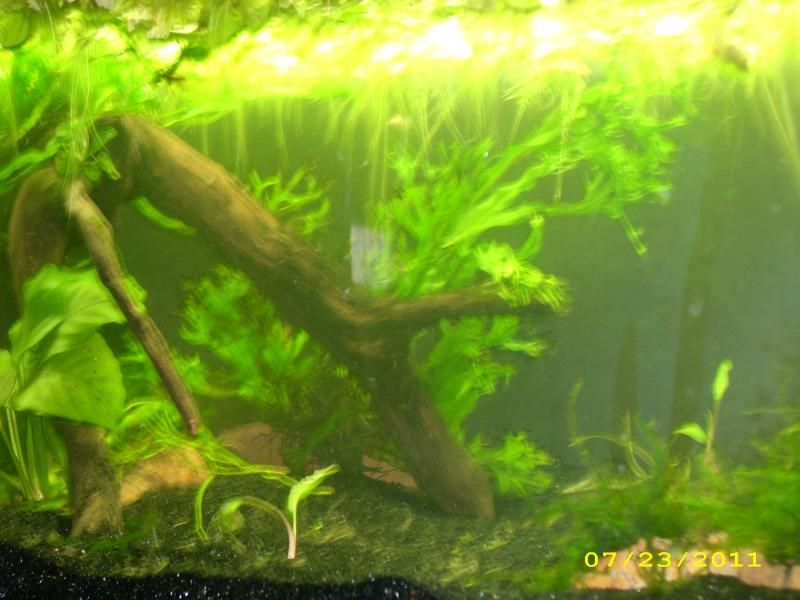 My new C. nurii in the front left. Doesn't show up well in the pictures (nothing does in my pictures!) Same seller as the windelov. I paid for two plants and got two plus a one leaf runner that is still a few inches tall. The C. lutea in the background may have finished melting...and it's still there! That's more what I'm used to when adding crypts. New leaves are growing on 3 out of the 5 luteas. Again where did the Mi Oya and green wendtiis go? *swearing that I won't type out...use your imagination* Frogbit is getting some nice longer roots as is the dwarf water lettuce.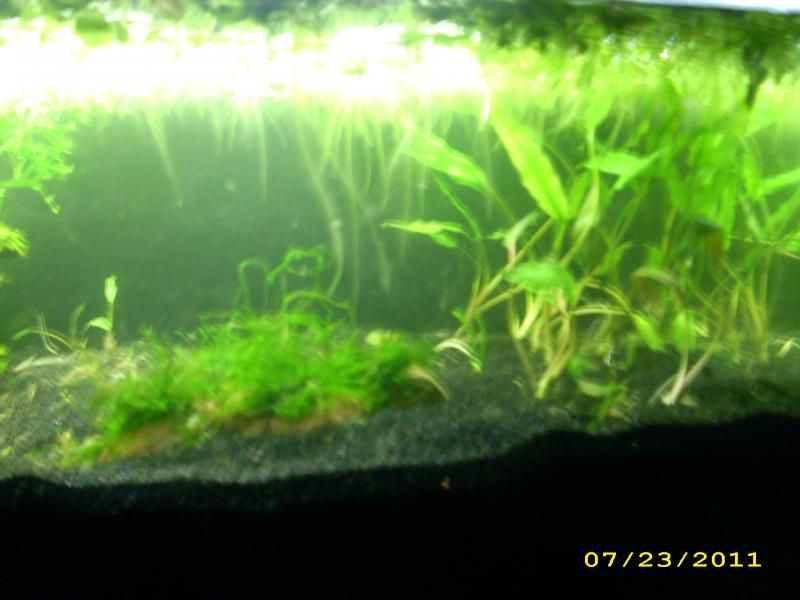 Another bad picture cause that's how I roll. Two new C. wendtii 'green gecko' in the front left. The two I had from this same seller are much shorter and compact. That's been my experience with that variety. The ones I received today have some taller leaves. For once I'm hoping for some melt since I like the way this variety grows for me. It makes a good foreground plant, but the size these new ones are would mean a midground. I'm letting them there for now to see what happens. The C. pontederiifolia that came from emersed is almost bye bye. The other two are mixed results. One has lost/is losing it's three leaves even as a new one grows. The last is in better shape, having lost one leaf, while two remain.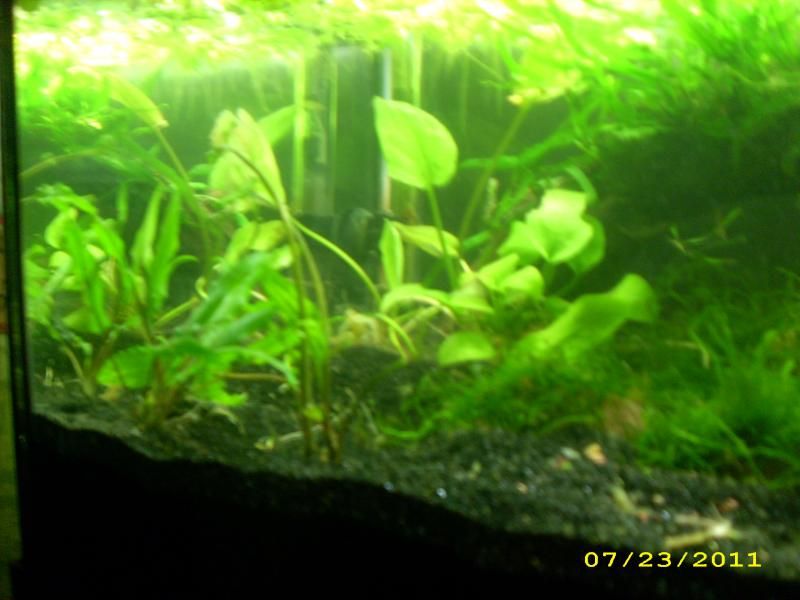 Go read the previous disclaimers on the bad pics. Don't make me say it again. At least pretend like you're paying attention. Overall tank shot. I got some Xmas moss today, but I don't know if I will add it to this tank. The coffeefolia was again taken out for the picture as was the Lagenandra thwaitesii. Both might be moved to other tanks. I'm happier with the hardscape or perhaps I've just grown used to it. I might leave the tiny Mi oya to see if it regrows and get some red wendtii for some color. No idea if I should bother with the C. petchii (really wanted it! collectoritis itches if you don't keep enough different plants. bet you didn't know that!). Some more lucens might be nice though.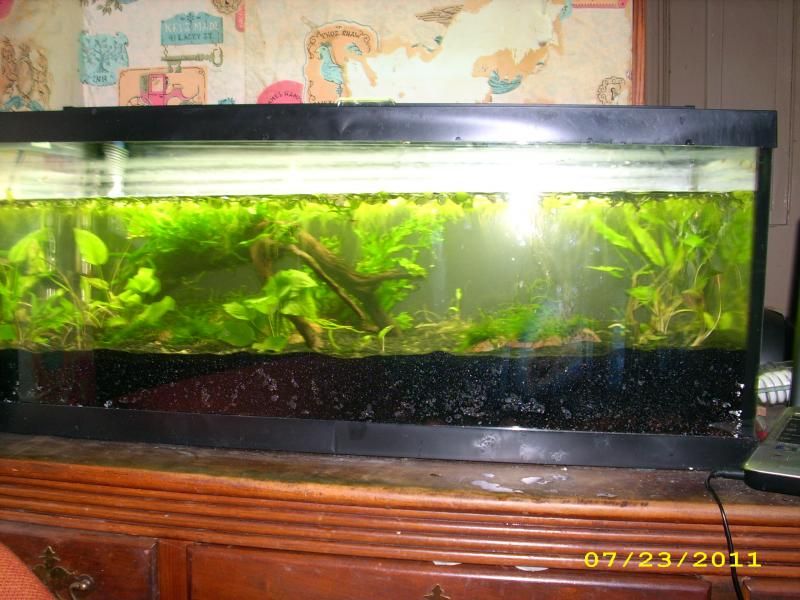 Loachy goodness to distract from the terrible pictures. Thank you Jes.
---
Last edited by BWG; 03-26-2013 at

12:25 AM

.
I love it! :) It's lookingso PRETTY in there! I can't wait for everything to come back fully - OR for the fish! It's going to be an amazing tank.

I'll tell Izzy to try to stop taking such good pictures, I'm sure she didn't realize that she's been hurting your feelings. . .
:-p Jes!

I can't really tell which crypts are which (mostly because the differences are too small), but it looks like it's coming along great! Those new plants made the right look very full. And when everything recovers from the move it will look wonderful. A crypt paradise!

And I completely forgot about the fish! We've been so wrapped up in your crypt adventure that fish slipped my mind. Lol!
The "unmentionables" should stop taken such good pics. lol

BWG the tank does look much better now. I think everything in the tank flows pretty well. Its going to look awesome when all crypts recover and fill in the tank. Its going to look even more awesome with the fish in there as Izzy said.
---
You all take too good of pictures if you ask me. No one is asking me though because then i would have to mention the unmentionables.
I do have the fish. They could probably go back in, but you know I kind of wanted them to have plants in their tank. Give me about oh 5 or 6 years and I might have that going for me. I'm still being patient, but it is pretty annoying knowing that each leaf that melts is about a week of growth. I lost count of just how many weeks of growth lost I'm up to now. The new green gecko? Yeah they melted the first night I had them in, we're talking almost gone melting. The old green gecko started too. The lutea is back up to it as well. At least though the Mi Oya babies are back and the lucens is working on a second new leaf. I think it might be time to put a filter on the tank. This is becoming slightly annoying. I've even half way considered DIY CO2.
lol Thanks for the compliments though.
When
(not saying if, when) everything grows back it should look good. Not sure why you can't tell the difference though Izzy they piles of green mush look nothing alike.
Aww! *hugs* You have to be patient. That's like the first rule of tanks! In my (very little) experience, it takes crypts about a month or so to get through transplant shock and start going again. My wendtii never melted, but it kind of paused for a bit. . . took closer to 3 months before it really started popping out leaves. I have way low light, but. . . the point is - don't give up hope! They're all still so new! I'm POSITIVE that if you leave them alone, they'll come back. *nods* SUPER cool that some of them already are! ;)
Concentrate on the positives! Some are recovering! I bet you would think it looked a lot better if you didn't look at the tank for a couple of days... er weeks maybe. Like when you go away on a vacation and return to find the plants a lot bigger than you remember.
I think I know why they call these plants crypts now... they send you to your grave!
(I'm terrible... I know this).
I'm just making sure my status for crypt melt president/king/whatever was decided on is applicable to the whole forum and not just this thread. Some are growing. I just wish I could speed those ones up.
Posting Rules

You may not post new threads

You may not post replies

You may not post attachments

You may not edit your posts

---

HTML code is Off

---