*cries* That was so painful to read. . . Y'all need to keep your club to yourselves, k? I do NOT want to join in your game.
lol I'm not just the president I'm also a member!

Basically if you thought the right side of my tank looked empty before, you should see it now! Then you would really cringe.
No kidding! You are the president! Not really too sure if that is an honor or a curse...

Most of them should come back, right? You've got a nice substrate in there and aren't changing anything about the water.
I really hope they come back. Some are already regrowing, but I've had some before that the new leaf melted even when the rest were alright. I don't care what it takes I'm conquering crypts. I have good lighting and the good soil. The fact that the tank is newly set up does work against me though. If I had been pumping CO2 I might have had less of a problem with the emersed plants. As far as I know that's the most problem free way to convert them.

My C. walkeri 'lutea' came today in the mail. Really nice size! I will be planting them soon.
KEEP THE FAITH! They will. With all that determination, plus back up determination from John, Izzy, and I - how could they not? You WILL conquer the Crypt!!! RAWR! I'm starting to feel like an honorary member by association of your little melting club, though. Not feeling like that's a good thing. . . toeing the line. Ummmm, I gotta go before they see me in here and join the meltfest!
P.S. HOORAY for the pretty newbies! May they live forever melt-free!
That's the spirit!! Conquer those crypts!!
Let's hope these new ones won't feel the peer pressure!
Rule of thirds in affect! Hit about one third across, back, and high with the driftwood where it branches. That's my focal point. No subordinate focal point, but I did throw some moss rocks where that would be. Not real impressed with the rock placement or the anubias. I took the coffeefolia and Lagenandra out for the pictures.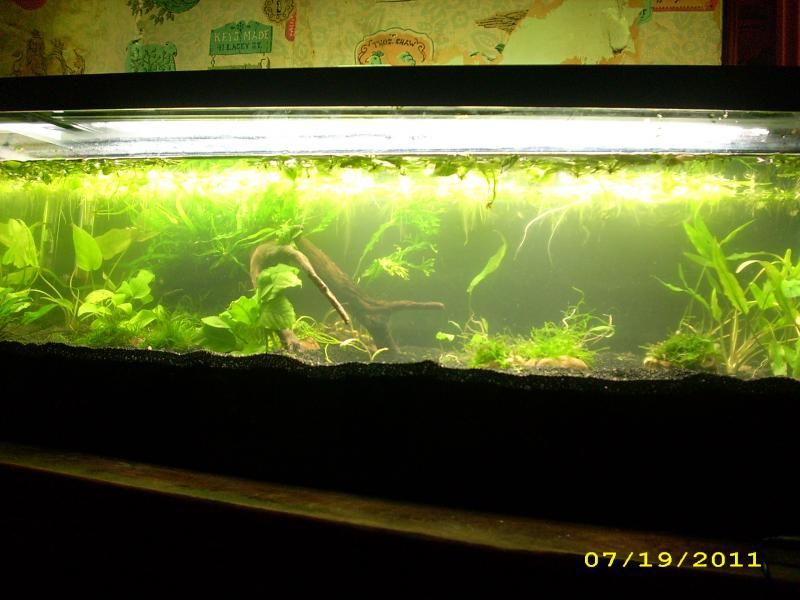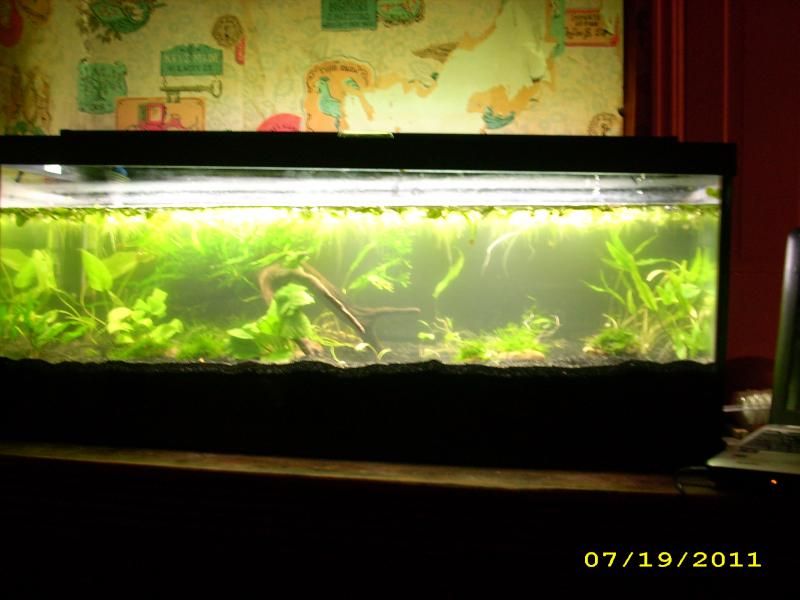 I'll try and get some better pictures later. With the rescaping I seem to have gotten tannins from the soil. I was wondering when they would show up. A water change will get rid of them, but last night they seemed to make taking a clearer pic even tougher. I have enough trouble doing that on my own, thank you very much!
That's the lutea on the right side. Since last night when I planted it, it has started to melt a little. That's fine. It's joining the pontederfolia which has started as well. That's right I can melt the crypt that everyone says doesn't melt! The affinis melted away, the wendtii green looks like it wants to melt away those last leaves, while the wendtii Mi Oya is happily doing away with all of their leaves. The wendtii green gecko is fine. Turns out that Lagenandras can melt too! Add all that to the C. tonkinensis and wendtii bronze that melted even before I got to the upgraded tank. I want upgraded from president to king. If I pull this tank off though I want known as the most patient man alive. I expected some difficulty, maybe not at this level, but some. It's still newly set up though and the plants are mostly new that are melting so I'm not worried. Except for the Mi Oya. We had a great time at first, now we hate each other. Don't worry my spite for it will live on long after it's gone...so maybe about a week.
ALL HAIL TO THE KING OF CRYPT MELT!!! *bows* MAY HIS CRYPTNESS LIVE FOREVER!

The tank looks fantastic, I REALLY like the changes you've made. Can't really see what you're talking about as far as the rocks are concerned, but great work! It'll look even more beautiful when those naughty crypts grow back!
Haha! Jes, I think you mean, may his melt be over soon. All hail Cory! The most patient person alive!

It is looking good! Or at least it will when the crypts grow back. At least your anubias isn't melting lol! Despite the tannins, that first picture is really clear. I really like your tank thusfar.

This is just a suggestion, but maybe you should look into more hardscape stuff. You know, in case your crypts melt again. If it does happen, your tank won't look so bare.
Posting Rules

You may not post new threads

You may not post replies

You may not post attachments

You may not edit your posts

---

HTML code is Off

---