Yeah, I looked it up right after posting and I remember reading that now. Knew it was something weird...

YAY for all those new plants!!! *GRINS* It's going to be sooooooooo gorgeous in there!
Those were the replacements. Basically I got four instead of just two. The two I didn't get won't be that hard to find elsewhere. I wouldn't even have to get Mi Oya since it seems I'll eventually have a bunch anyway. Fingers crossed at least.

Yep all going in the 20L. Haven't planted them yet, but I think there will be more I'm getting.

It is a pretty decently sized rhizome. I wasn't planning on more Java fern, but I have so what the heck right? Looks tall enough that it can go in the background. A Java fern rock too. I like that. I can get more of the windelov if I want a bigger group. I also have tons of baby narrow leaf Java fern that I wasn't sure what to do with.

I promise pictures later tonight after I make any changes. Least I can do for making everyone wait forever for pictures before this.
Delayed, yep, I'm sure everyone is used to it. Turns out I got two green wendtii. That means to make up for the two plants I paid for and didn't get I got 5 plants. Just a note the new plants (windelov, lucens, green wendtii, affinis, pontedefolia, and Lagenandra) are all emersed grown. I expect an ugly, but hopefully successful, transition.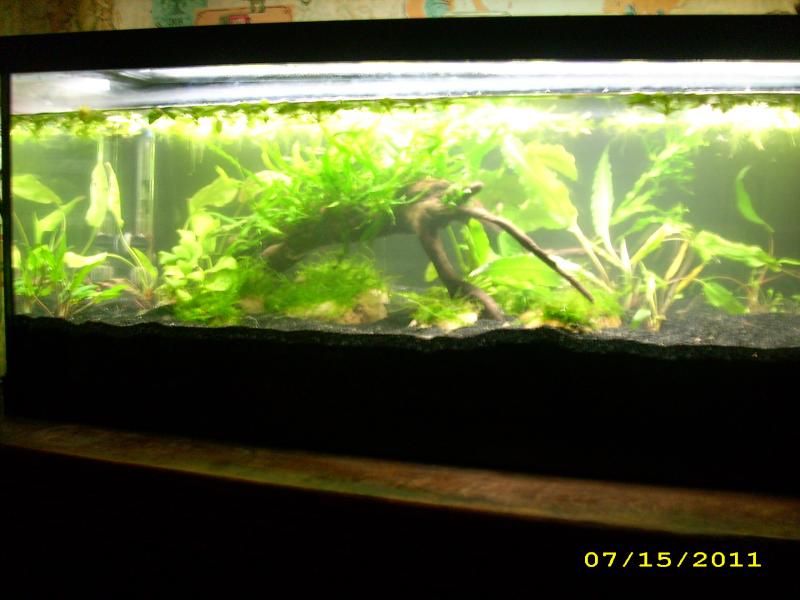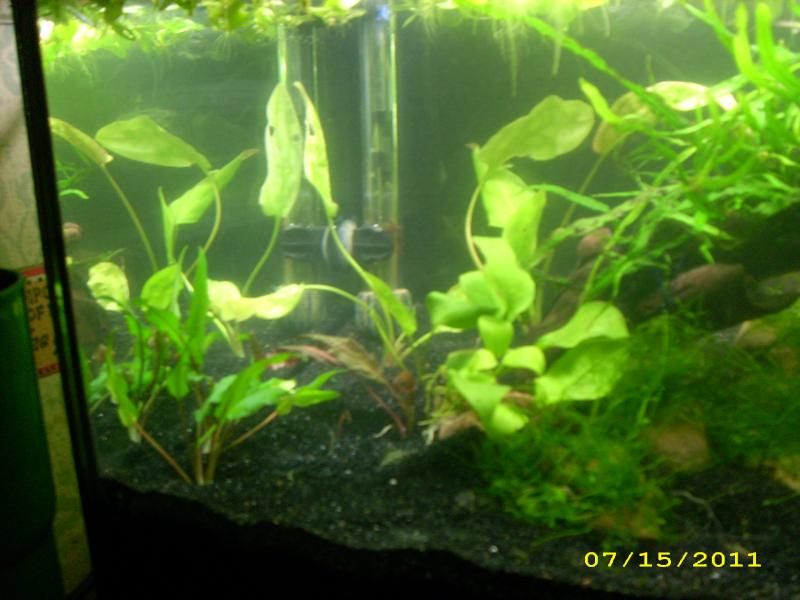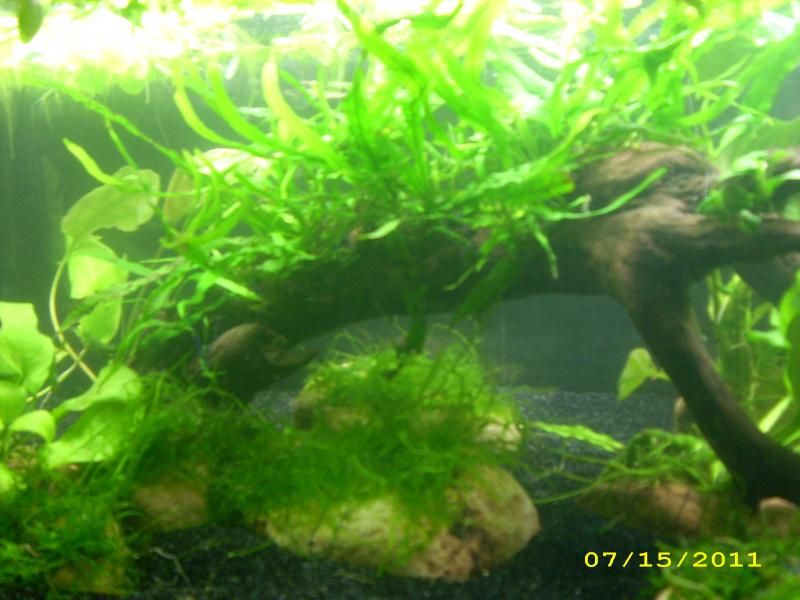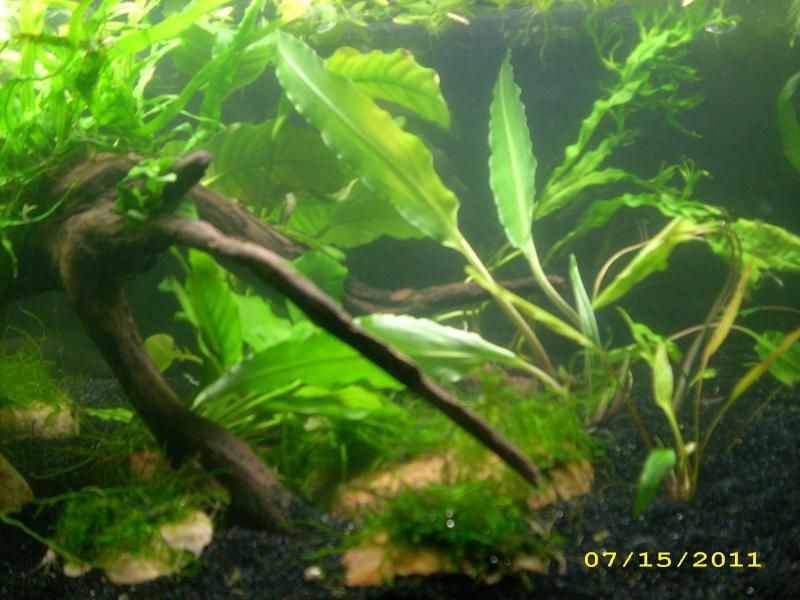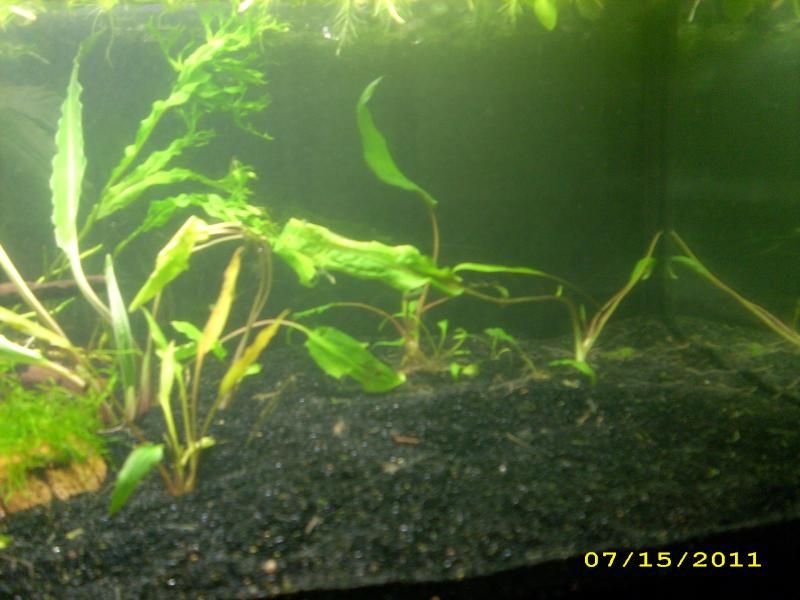 I'm thinking the Lagenandra (the big leafed plant in the fourth picture) should be moved. The last picture is a bit bare. Ignore the Mi Oya it hates me. I have some C. walkeri 'lutea" coming for over there and still might not be done. I'm thinking it is better, but maybe not quite there. Any thoughts for me?
Hmmm not sure what to tell ya to do with that right side but I agree its a lil bare.
Over all though the tank is looking really good. Onces those plants get done melting (though I hope this isn't the case but know it will be. So lets hope its fast and painless!) and start to fill out the tank it look great! Gotta love the Crypts!

In the fourth pic is that a Anubias Coffeefolia I see??? Just a thought and you might have thought about this already and didn't like it but IF that is a A. Coffeefolia what about moving that under the log betweent the two moss rocks? As where it is now is going to look full when the plants get to growing anyways and there will be nothing other then moss under the log.

Ohh I see you have the same problem as I do with your Java ferns wanting to learn to one side or the other. LoL
---
The Anubias coffeefolia is in the picture you said in the background. There is an Anubias nana in front of that. I think turning the nana so it okes out where you said would work well. I'll do that tomorrow so we can see how it looks. The Lagenandra will get moved somewhere so that should open up the area you were talking about too. Not sure where that somewhere is though. It's a little bigger than I expected, but not so big that I can't have it in the tank.

I have 4 C. lutea coming soon, so they should help with the left side. I also have leaves to put over there or could get some more moss for rocks, but I tried to keep the rocks where you guys suggested. lol I had also wanted some C. petchii and C. wendtii 'bronze'. Have to see if that would be too much.

lol That windelov is big and seems to do what it wants! I like my narrow leaf much better.

Let the crypt melt commence!
HOORAY, plants!!!! Grow, lil Crypts,
GROW!!!
No more melting. . .
I think it's PRETTY, I love the rocks, they'll look divine when the moss takes 'em over!
I love the mossy rocks, too! They will look so nice and the dwarf pangio will love them!!

The right side does look a little bare. Why not move the Lagenadra to the right more? Or did you have some other plans for it?
Thanks for all the tips guys! I will either do some tweaks today when the lights go on, or perhaps wait until the new plants come.

I did peek into the tank quick. Looks like the green wendtii is going to be the first to melt since all the large leaves show signs of it. The lucens should be a close second. The affinis is laying down, but not showing any signs of melt. Is there some slow trick to acclimating crypts to submerged growth or is simply a "wait and pray" deal?

Speaking of that C. affinis, that is a nice looking plant! I've had some trouble researching it. All the info I found said is was an old aquarium standby. That must not be the case now though because I have never seen it for sale, let alone the metallic red variety I received. I did see one C. affinis pahang 'mettalic red' that had previously been for sale for the low, low cost of $30. I've seen that pahang term before in regards to other crypts. I know it is a state in Malaysia and assume it refers to a collection point, but have no clue if they actually differ.

The Lagenadra is also giving me pause. Relative of crypts, but with a rhizome like anubias that shouldn't be buried. Nothing that I've read though say about attaching it to an object like you would anubias or Java fern. It is prettier to me than anubias. Not really a huge fan of those. The long bare rhizomes on the ends of some of my anubias are just ugly to me and not sure how best to hide them.

I forgot to mention I tied down the moss with cotton thread. No clue if that will work, but we'll see. I didn't have any fishing line. The rocks on the left are Java moss, while those on the right are peacock moss. For the most part anyway. Some of it might have gotten jumbled up a little. I only stopped with the rocks because I ran out of moss. My first time tying moss down so hopefully I did it right. I am thinking, and it has been suggested on here, about extending the rocks more like I had when this was the 10 gallon. I'll have to see what moss is for sale. Maybe get more windelov to tie to that same rock? Think that would look better if there was more to it?

Overall I'm happier with it then when it was first set up. You guys gave me plenty of good ideas for tweaking it to make it even better. Thank you!
Just went back to look at how the wood was positioned in the 10 - yup! I'm a sucker for a good diagonal! I don't think you need to cover ALL the rocks with moss. Its really dependent on your own aesthetics, though. . . I'd say that having a mix of mossy and not would look nice. Once the moss takes hold, it'll spread anyway to some extent, and give it more of a natural appearance.

Dunno about the rest, I've never kept Lagenandra, but usually see it lumped in with Anubias. . . so I've always assumed it was supposed to be treated in the same way. Don't suppose it would hurt to try attaching it? If it doesn't take, or starts to look sad, you could always try something else?

Cotton thread has worked for me in the past :) Easier to tie than fishing line, too. . . now I prefer to use those tiny rubber-bands. Sooooo much easier!

You could put some Java on the stones, that'd be pretty - especially since you have a huge piece coming. OR, I bet, if you were super clever, you could find a way to attach the Anubias to the stones and use the other stones and/or moss to hide the rhinzome?

Can't wait to see how you work it all out in the end. . . :) Looking nice!
Crypt melt update...pictures can be taken if anyone wishes.

Total rundown of each crypt in my tank.

All 3 C. pontederiifolia could care less that they were shipped and moved. Even the emersed grown one hasn't shown any sign of melt yet. One is growing a new leaf, but it came to me that way.

C. affinis will be one hundred percent melted by tonight it looks like. That was my big prize so I hope it grows back.

C. wendtii 'green gecko'. I had them in the 10 gallon and moved them. Neither cares, no sign of melt.

C. lucens from emersed growth. Down to the smallest leaf and a stem (?, don't think it is a new leaf).

C. wendtii 'green' from emersed growth. One is down to a single small leaf, while the other has two. Looks like they might be sprouting a new leaf each though.

C. wendtii 'Mi Oya' from my tank. Most of the baby plants have melted away. One plant is down to one leaf, but sprouting a new one. The other has maybe four leaves, but isn't sprouting.

Could be better, could be worse. Well still could get worse. Hopefully not the case. Even more hopefully the affinis returns. My only non green plant in there at the moment. Well it's almost gone so not at the moment but whatever.
Posting Rules

You may not post new threads

You may not post replies

You may not post attachments

You may not edit your posts

---

HTML code is Off

---