lol I did manage it. I worked out using a cup though. Kind of herded it with the net and then dunked the cup in front of him. The flow from that pulled the fish right along with the water. One reason for the challenge was that I couldn't remove the plants. if I did I would have pulled up the soil and had a mess that would have prevented me from seeing the little guy. Just finding it each time he got away from the net was a big challenge.
*giggle* You're so clever! Showed THAT uppity lil' fishy who was boss, neh? Rock on, man. . . *snort*
I'm not going to get the new tank set up tonight because of a complicated day. The Boraras are happy in the temporary set up though and I figured that was going to be the hardest part. Since I don't have pictures of a new tank to show here is the tank they are now in for the time being.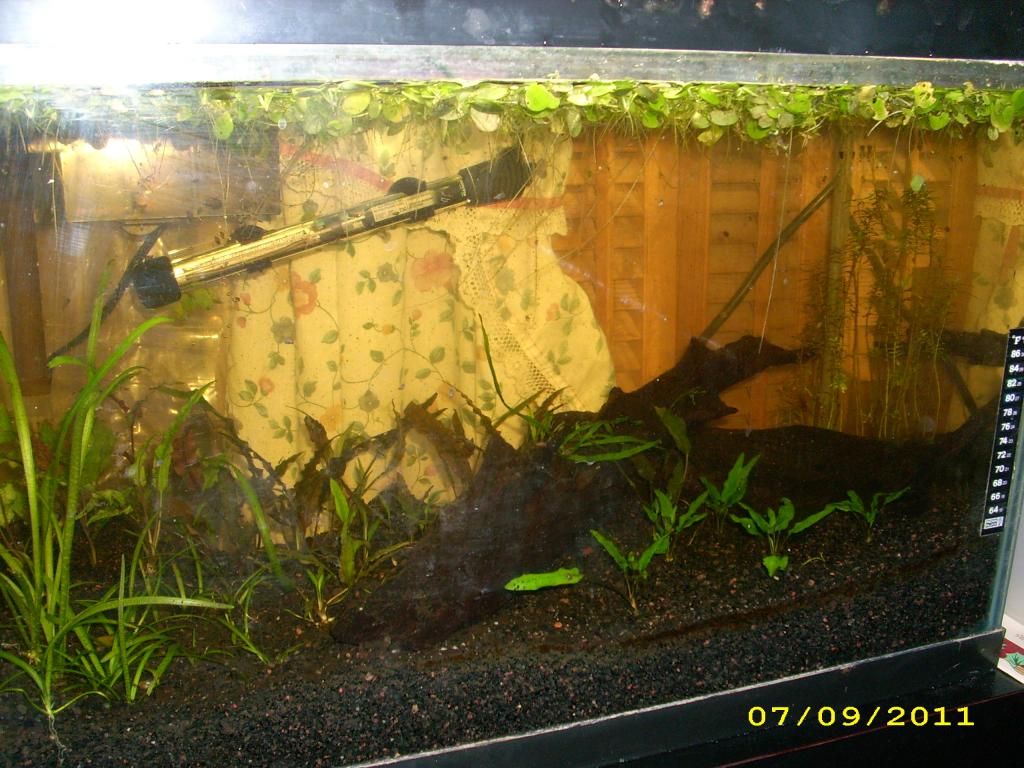 Yeah I really need to add a background to that. I just put everything in with no real plan and it shows, although give it time and it might look nice. In there is tons of Amazon frogbit (I annoyed it the other night pulling some out so most of the long roots broke off), narrow leaf Java fern, pygmy chain sword, at least 5 varieties of C. wendtii (Green, green gecko, Mi Oya, red, and bronze), and some Rotala rotundifolia that I believe might be immortal. The tank si heavily shaded with floaters, no column ferts, and yet the Rotala lives and grows. Doesn't look the best, but I'll work on that. My fish are happily swimming around exploring. I assume it's happily. I'm not a fish so how do I know? How about if I say swimming around ina way that is normal for them.
BWG it looks good though yeah it would look better with a background. The plant on the left is that Pygmy chain sword?? Its looks super tall? Is that a 10 gallon??
Ohh that reminds me I need to dose my fertz!!
---
I'm going to sneak over to your grandmother's house and steal all of her crypts ;) It's cool that you set up a plant tank for her - does she like it? I wonder if, now that she's got fish again, she's going to want it stocked, too? :) Give you another fun project. . . :D Swimming in a normal way generally means relaxed, and most people who are relaxed are ALSO happy, so it can be assumed that the fish are happy. Except, perhaps, for Butthead. Who didn't want to go!
There are 20 crypts in there. They and the frogbit were the only things I bought for her. 5 Mi Oya, 5 green gecko, and the other 10 are a mixture.

The chain sword was given to me as Helanthium tenellum. Given the size though it seems more likely to be H. bolivianum. I have to go look closely at the leaves and see if I can tell for sure. Either way it seems to like the tank.

Typical conversation with my grandma regarding fish.
"Ma, are you ready for fish?" "I'm fine with the snails."
"I told you I'd get you fish. What about (random fish and shows picture)?"
"How much does that cost?"
"(says price)"
"No that's too much"
"What about (finds something cool and cheaper, shows picture)?"
"How much is that one?"
"Two dollars."
"That's too much too. What ever happened to the fish you could get five for a dollar?"
"You mean neon tetras? They haven't been that price since I was a kid!"
"I like watching the snails."
I usually give up right around there for the time being.
Yes. The fish are all too expensive and according to her every plant she has looks like one she pulled out of the neighbors pond for her tank when she was a kid. Must of been some pond. She's crazy, but I love her.
Heehee! OMG, I love her, too! I think it's so nice that you were able to be raised surrounded with tankery. *nods* Very, very cool. :D
---
Last edited by Chesh; 03-12-2013 at

11:34 PM

.
Snails can be interesting!!! You should put some shrimp in there for her and see how she likes them! Ghost shrimp are pretty cheap! And red cherries would multiply! You can typically find them cheap for $1/shrimp.

Glad you were able to catch Butthead! I use that method to catch my bettas because it's easier on their long fins.
Posting Rules

You may not post new threads

You may not post replies

You may not post attachments

You may not edit your posts

---

HTML code is Off

---