They replaced everything for free, it just took longer to get to me. I ordered from aqmagic.com, they're pretty widely used, I got lots of recommendations (plus warnings about the pesticides), and have a live-arrival/refund/replacement guarantee. They seem to do everything legit, I think they just forgot a piece of paperwork, or didn't fill out a line, etc, on the customs stuff. They had me scan in the page that I received saying that my order had been destroyed, and shipped the replacements out the next day. Got them 2 weeks later, with no issues.

It was one of my first plant orders ever, I haven't ordered from there again, though. . . with Crypts, they just go ahead and chop the leaves off, since they'll melt anyway, but they did spring back very quickly. I actually only ordered from them because they had nano marimo balls for under $1 a piece with free shipping, and I was gifting a bunch of little 'luck jars' to friends and family (they love them!), so I just ordered a few plants aside from the mossies. Everything is still alive and thriving, though - with the possible exception of the Tiger Lotus bulb that *I* keep killing sprouts from, lol. But it's still trying again after all this time! So . . .no complaints!
I've only ever bought from an online store once. Can't even remember the name of it at the moment. Every plant I have currently has come from fellow hobbyists. So far with crypts I've had very minimal melting after getting them. Perhaps a leaf or two, although just as often none. I usually try to get some that are submerged grown, although I know plenty of people get emersed pots. lol I don't know if I have the patience for that.

Sorry, but what is a 'luck jar'? I have heard plenty about Aquatic Magic before, some good and some bad. They definitely sell all over the net. Seems you had a good experience which is great. I want to make you feel even better though. Your second longer order of plants from Asia still took less time to arrive than my instate TMS.
HAHA! Poor sand. . .
I've had really good luck with crypts, too. Even when I first bring them home, or move them around. . . the only ones that have ever melted for me were the C.spirallis - and not *EVERY* piece melted. I don't know how they'd fare being sprayed with chems and shipped for 2 weeks, though. My guess is they wouldn't have made it without looking like a pile of nasty plant pudding, lol!

The Japanese have a lot of superstitions/customs around moss balls, they're considered good luck, and if you take good care of one, all your dreams are supposed to come true, lol. I've read a lot of similar-themed things about them, thought it was cute :) So I got pretty little glass jars with cork stoppers, put a few pretty stones or sand or pieces of tiny sticks - they all look different - and a nano marimo ball in each one and gave them out, along with a little piece of paper with the 'legend' written on it. None have managed to kill theirs yet, they keep them on the window sill and change the water every few weeks. Cute, cheap gift idea - for the right kind of person :D
My first attempt at crypts was in my 29 gallon. I had a nice variety, none of them grew, total failure. That was nearly my first attempt at plants. My first attempt being some Amazon frogbit that I fried doing my first fishless cycle. Soft water meant constantly crashing ph swings. The frogbit went from fast growing and amazing to dead in days. I don't just kill snails...I kill easy plants too! Those first crypts did nothing but melt. I don't think I saw a new leaf in four months. I gave up and turned to stems until now.

I really, really should for once come up with an aquascaping plan instead of just winging it like I do. My tanks would be so much better if I had a plan and followed through with it. Right now I'm thinking hardscape. Not sure if the light rocks will look good on the dark sand. Not sure about that driftwood I have. Nice looking, but a pain since it doesn't sink. I'd have to weight down both ends. I didn't know if two smaller groups branching upwards would look better. This is what happens when I have way too long to think about something. lol
Doesn't sink, or won't sink, ever, lol!
WE DEMAND PICTURES *STOMPS FOOT*
You'll just have to try it with the stones and see if you like it or not. Even if you don't, a little bit of moss or plants could go a long way in softening the transition between the light rocks and the dark sand. . .

Frogbit, in my experience, isn't as easy as some people make it look! The stuff goes through cycles of doing great, and dying. . . just for fun. Plus I think it doesn't like the heat so much if you have a hood on the tank. Which I do, between small children throwing things around and cats. . . yeah. Hoods are GOOD!

I think I'm having such good luck with Crypts in my 55 because I have ridiculously low light, plus floaters. No plants should be living in that tank, really. . .but they don't seem to mind, which is good, because I'm not upgrading until I upgrade to a bigger tank!
lol I bought batteries yesterday. When the lights go on I will take some pictures. Or try at least. Getting good ones isn't easy.

I'm leaning towards the won't sink ever. It's part of an original batch I got when I was setting up my blackwater tank a year and a half ago. It was boiled and weighted down outside. After a few months I gave up on it and got Malaysian for that tank. The driftwood all stayed weighted down in water though. A year later this piece was in my 29, buried pretty good in the Eco Complete to keep it in position. Getting the pre-filter sponge off the filter though always caused me to bump it. So back it went outside underwater. Grabbed it for this tank and am using the rocks to keep it down.

I had also thought of testing a mix of dark sand and play sand. Might look ugly though. Like you said I shall just have to see since I'm clueless where I'd get dark rocks from.

I did find some nice driftwood. ADA branch wood. A couple small pieces might look nice. You can let me know after pictures tonight. I said pictures twice now, so I must mean it.

This batch of Amazon frogbit I've had for 2 and a half months now. Grandma's tank, my blackwater, and my 10 gallon. Her's is uncovered, mine both have glass lids. The blackwater doesn't have enough light given how deep it is, so the frogbit lives in there but doesn't grow fast. The other two tanks it grows like crazy. That's including mine where it's under a single T8. Much faster than dwarf water lettuce. I have to clear some out of my 10 gallon on a weekly basis. I won't know about the heat aspect until summer though.

Wait until you do your soil experiment and you see the difference in crypt growth. When my wendtii aren't dying on me they usually are growing at about a new leaf a week. I've heard that's a pretty good rate. Much better than my original 4 months of nothing. lol
I have dark and light mixed, and don't care for it - looks like salt-and-pepper. I used TMS and pool filter sand, though - the pool filter sand IS much lighter. . .

haha! That's IF I can do it without a cap and not just get a muddy mess like everyone says. THEN I'll cap it and go from there, lol. . .

Bummer about your wood! I don't believe it's still floating after. . .years!

SURELY the tank lights are on by now?!!
I still think loaches, catfish, dwarf cichlids would kick up a mess. For just plants I think it would be fine. Even for midwater fish I think it could be really good.

That piece of wood is off ebay. I heard after buying it that most of the trees in that area are softwoods. Luckily it never killed any fish if it is. A bit hard for me to tell now since it's not dried out.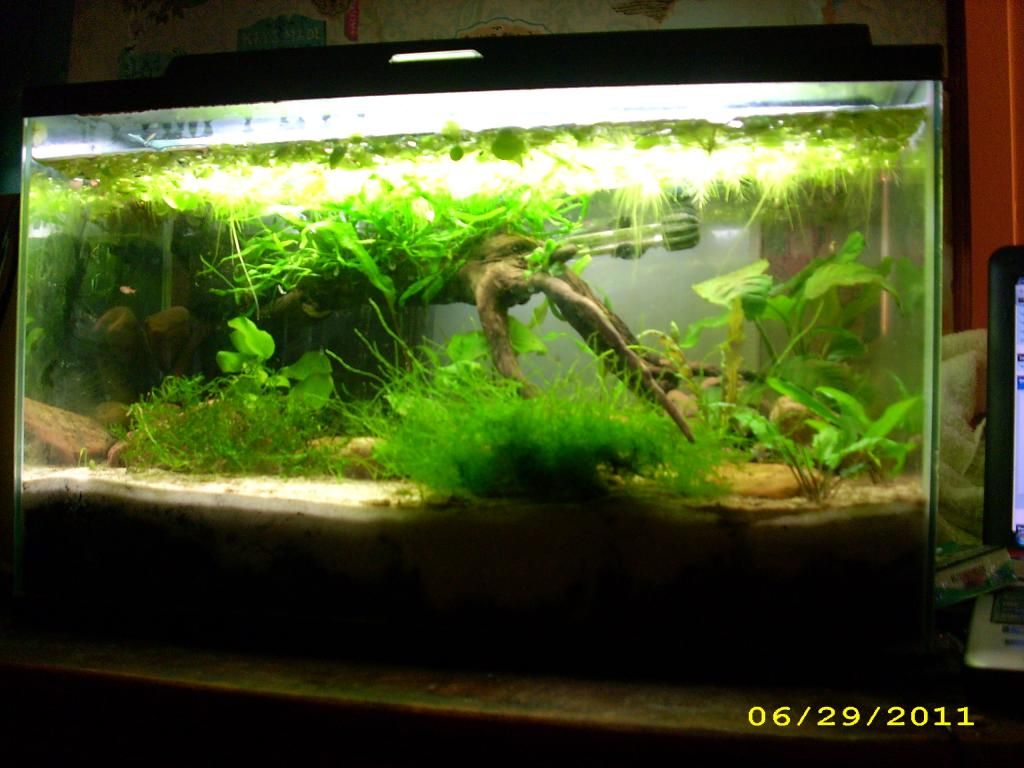 Tomorrow is water change day on this tank, hence the slightly low water level. Well that and I can't fill past the rim of it has a slow leak. One Boraras is slightly visible over on the left. I tried close ups, but they are too tiny!
's a pretty tank, for sure :) I love that wood - looks like a bony witch hand, spoooooky!!! I see the little bugger! Awww! Close-ups of tiny fish are haaarrd!!!
Posting Rules

You may not post new threads

You may not post replies

You may not post attachments

You may not edit your posts

---

HTML code is Off

---