My Recently Redone 75 Gallon Whale of a Tank
---
Just redone/cleaned/un-algeefied 75 Gallon Aquarium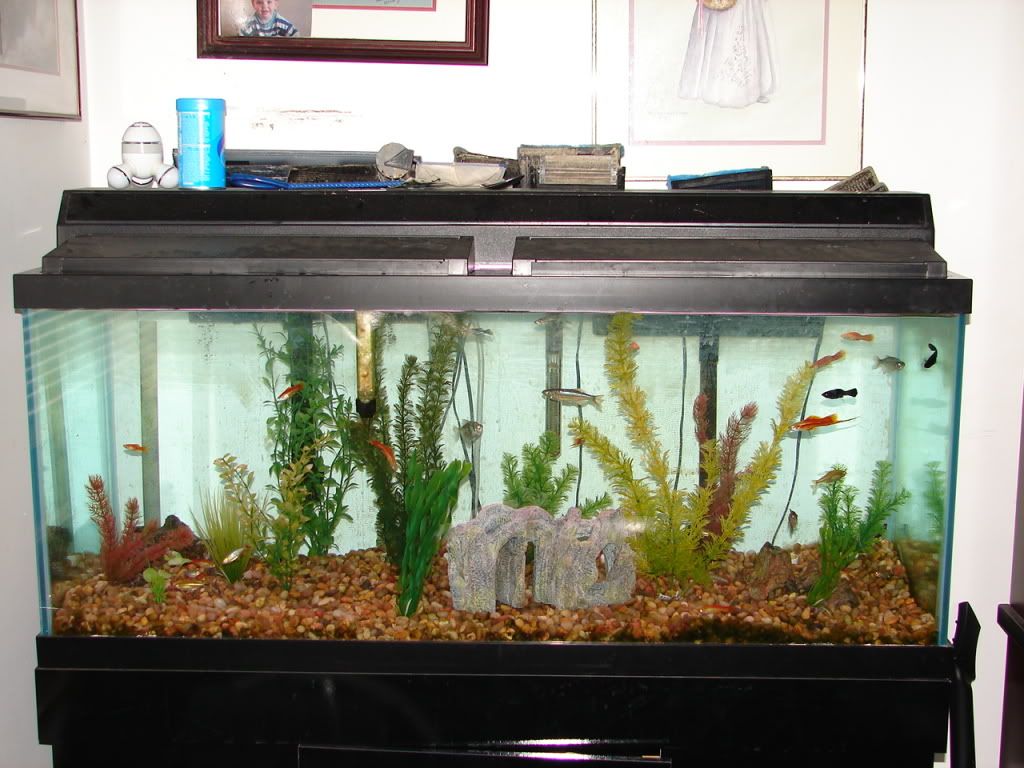 Suggestions?
I thinking adding a background would really look nice.
---
If you don't stand up for something you'll fall for anything...
Thanks, I was thinking of that. I'm going to my local pet shop tommarow I'll be sure to look for one.
hi
your tank looks really nice, :)
if you don't want to pay pet store prices,you could always make your
own one.Paint some parcel paper with black poster paint
allow to dry over night then stick it to the back of your tank.
either way,good luck.
:)
---
when you set up a new tank,hide an extra
sponge or two behind some decor,that way you have
something seeded for you next filter.
Those swordtails are beautiful. Are those small swordtails products of the others?
Quote:
I thinking adding a background would really look nice.
I agree. I think the best background is a a plain black one. I think the bright crazy ones take away from the fish. Really nice tank though
I would add more fish if i was you.A 75 gallon can hold about 60 1-2 inch fish i heard, but i would not add more than 4 fish every 2 or 3 weeks.oh ya nice fish.
Quote:
Maybe some mollies.
There are mollies in there, maybe some white or fancy mollies?
Have you ever thought about using real plants? I could see this tank looking green and beautiful. Not that it isn't already great
By all means your tank is pretty. But I'm picturing a jungle
---
And just before you laid dead weight upon its shores, I stung you in the face for that's the nature of my core.
Thanks for the feedback! I did get a backround but there is a situation with the fish right now that i'm trying to work out so once things are back to normal I will be sure to add some updated photos. I did think about getting real plants but I'm not that educated about them and I dont want to waste my money on something that might die in a few days besause my tank settings are not appropriate.
Posting Rules

You may not post new threads

You may not post replies

You may not post attachments

You may not edit your posts

---

HTML code is Off

---