My new tank - I need fish ideas
---
Well after I decided that i really wanted some fish and doing a bit of research I went out shopping today for the tank and supplies. firstI stopped at the local flea market looking for a tank. I found a pretty nasty looking 10g that looked like it probably had some kids goldfish it it because of the little rainbow gravel and lack of heater/filter and that it wsa being sold at the flea market. So I asked how much he wanted and he said $1 I was so happy. I willingly gave him my dollar and walked away.
Then I went to the local Petco to get the rest of the setup and ended up picking up a starter kit that had a Tetra Whisper filter, Tetra submersable heater, a pump with a bubble rock thing, 3 plants, and water conditioner. I also bought some decorations and some gravel.The thermometer that it came with appeared to suck so I am using the digital thermometer I was using for my geckos. Ive set it up and put the conditioner in. Petcoo said I can take some water there for them to test.
Now I just have to wait for the water to work itself out right? My real question is what kind of fishshould I put in there. I would prefer one two medium fish than 4-5 little guppies. I also am not very fond of "normal" looking fish, like black mollies and such. If I cantfind anything better I will probably just get a betta butI was hoping for some cool ideas. I was going to get a few dwarf puffers but they might be a little
too
small. and Im not sure if I can care for them properly.
Now after all the delay heres the pics: Its hard to see but there is a plant in front and behind both column things.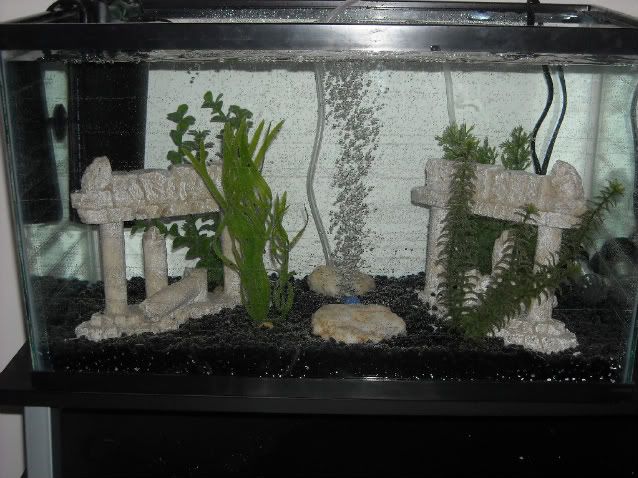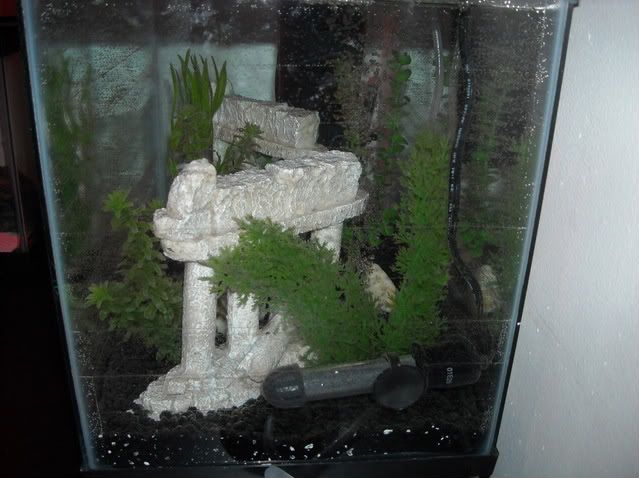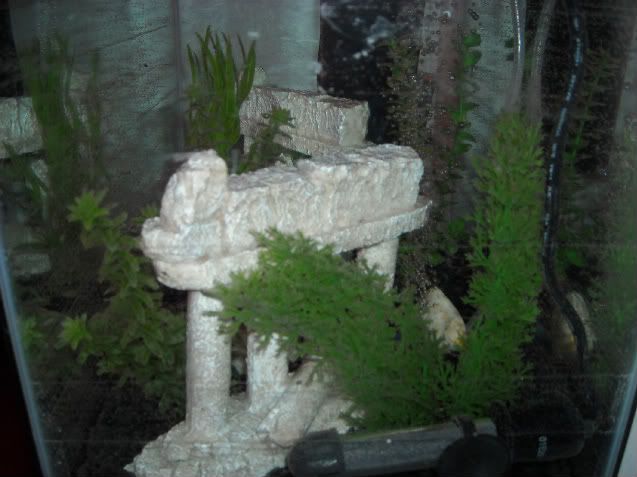 Ohh and when do those crappy bubbles that are covering everything in the tank go away.
Edit- I noticed it looks like the plants have brown stuff on them in the last pic, its just the bubbles on the plant+crappy pic quality.
And as you can see Im going to need a hood w/ light because you can barely see in there.
I don"t have any suggestions, just wanted to say all the trapped air bubbles will go away in a day or two.
bettas are cool, so are dwarf gourami and blue rams, altho blue rams are kinda hard to care for
---
~veganchick~

All things bright an beautiful,
All creatures great and small,
All things wise and wonderful,
The Lord, God made them all.


*Vegans Have more Fun*

http://www.petshopanimals.webs.com

congrats on the $ tank :)
it looks good. :)
and yeah the bubbles will go,don't worry.
---
when you set up a new tank,hide an extra
sponge or two behind some decor,that way you have
something seeded for you next filter.
I got a few updates-
Tank with new lighting: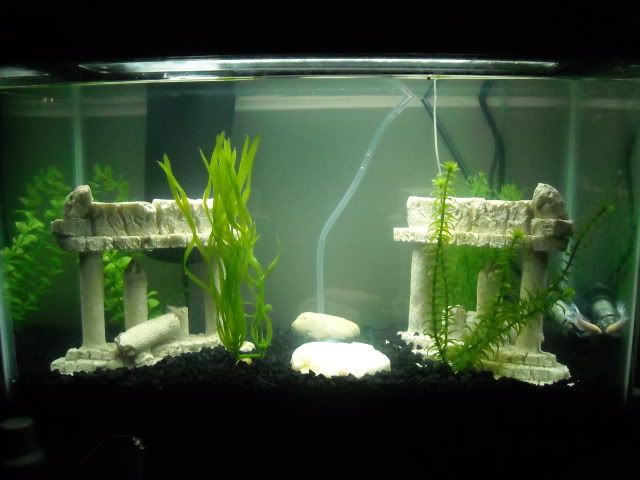 First Inhabitant: (Male Crowntail Betta-Snowflake)
Second-Seventh Inhabitants: (Neon Tetras-All named Neo):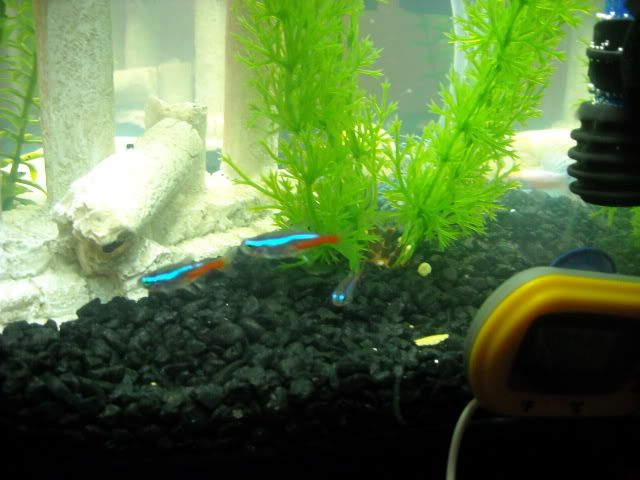 Inhabitant 8 + 9 are both ghost shrimp. One is in the tank hiding so I cant get pics of him, this is the pregnant female that is isolated in a fish bowl, wanna see if it can have babies: (shes the thing chilaxing on the plant)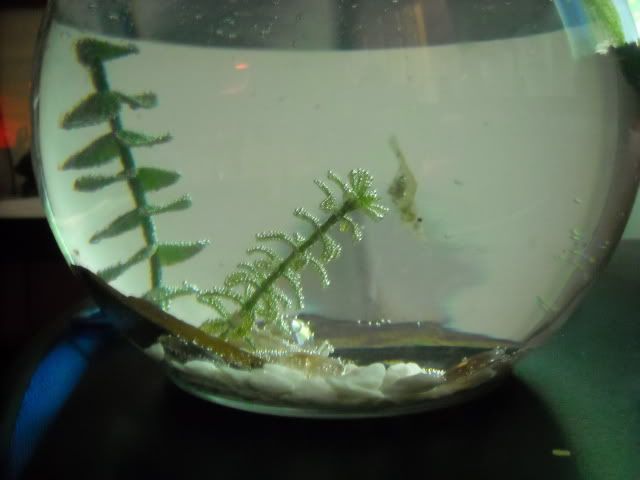 Inhabitant 10 is a little baby snail the size of a small pea, he snuck in with the ghost shrimp water, his name is lucky because he hasnt been eaten yet. No pics though hes too small.
the tanks look great.
snowflake is beautiful !
---
when you set up a new tank,hide an extra
sponge or two behind some decor,that way you have
something seeded for you next filter.
Wow $1 thats great! And ya Snowflake is gorgeous! You could get cleaner fish, but make sure its a small one that stays small, Zebra and Leopard Plecos are pretty small or 2 small cory cats would be nice too, depending on how many fish you have in the tank already.
Good luck!
Posting Rules

You may not post new threads

You may not post replies

You may not post attachments

You may not edit your posts

---

HTML code is Off

---