My new tank - complete.
---
Hi. Here are some pics of my finished 40 gallon. I just recently added the new driftwood, and created a sloping hill on the far right of the tank with a sunken ship partly buried under the substrate for effect.
Forgive the slightly blurry pics, I believe my unsteady hands are to blame for some of them.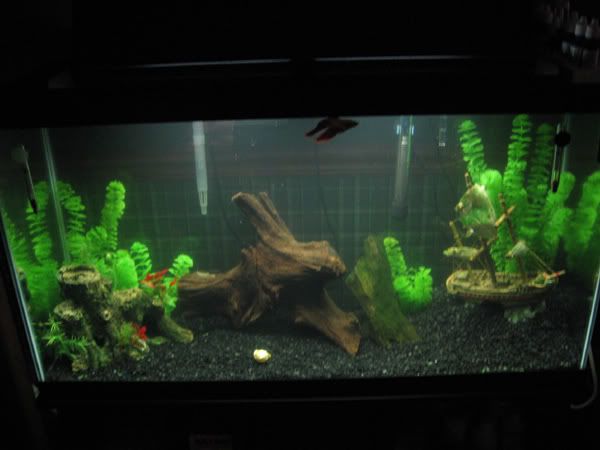 This is the tank in it's fullest.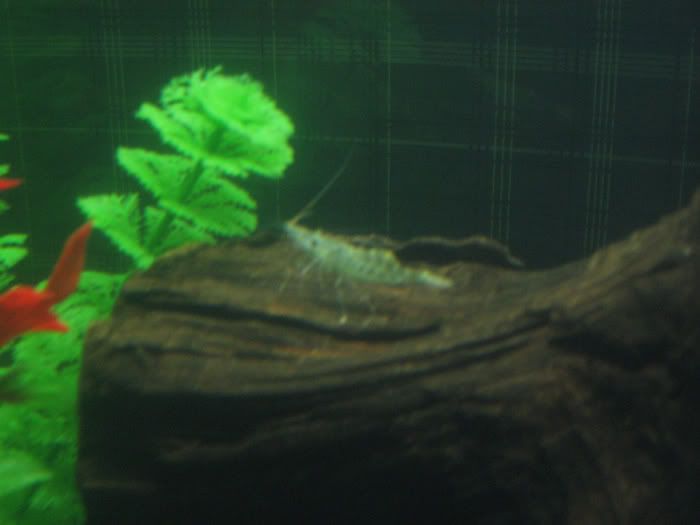 My largest Ghost shrimp. When it comes to food, he's pretty aggressive. He once had a crumble in his hands and withstood an attempt to steal it by my Betta and then shortly afterwards one of my Cories. A tough little fellow.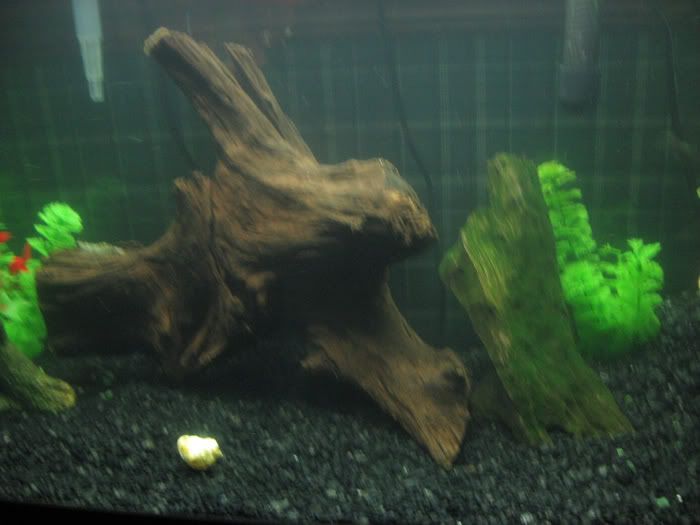 My driftwood. I specifically chose a piece that wouldn't take up too much floor room. This piece arches and rests easily.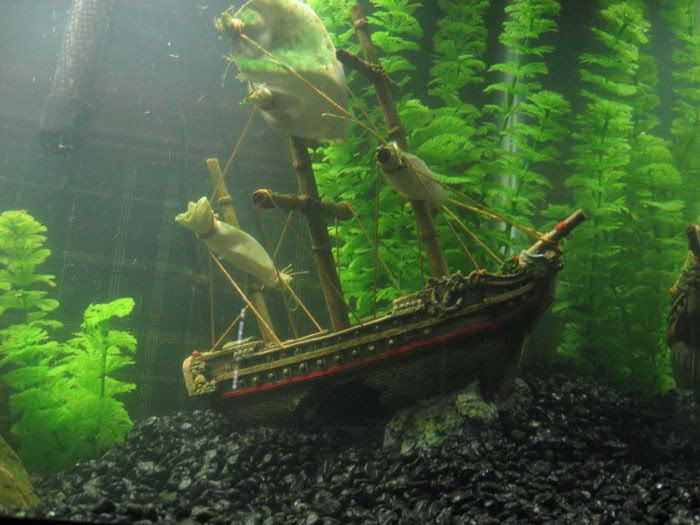 This slope was added to the far right of my tank to make the tank look larger, and also to make things more interesting for my bottom dwellers. I partly submerged the sunken ship under the substrate for effect, and I think it looks really neat. This ship, particularly the front inside end which is slightly raised, houses my Vampire Shrimp.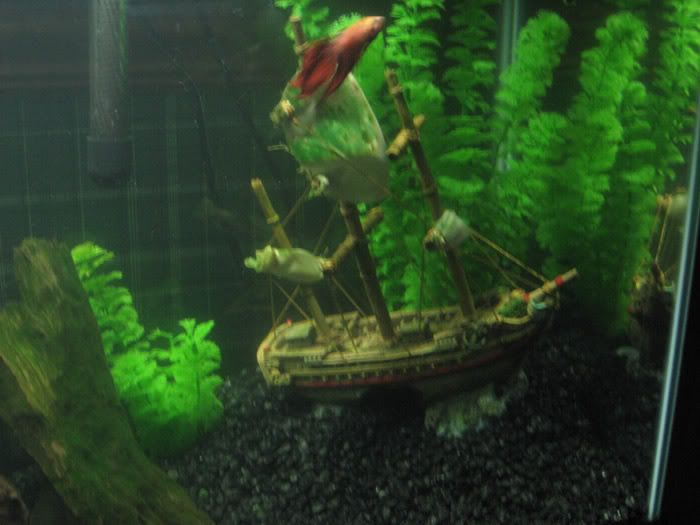 Slope again, this time with the Betta in frame for scale.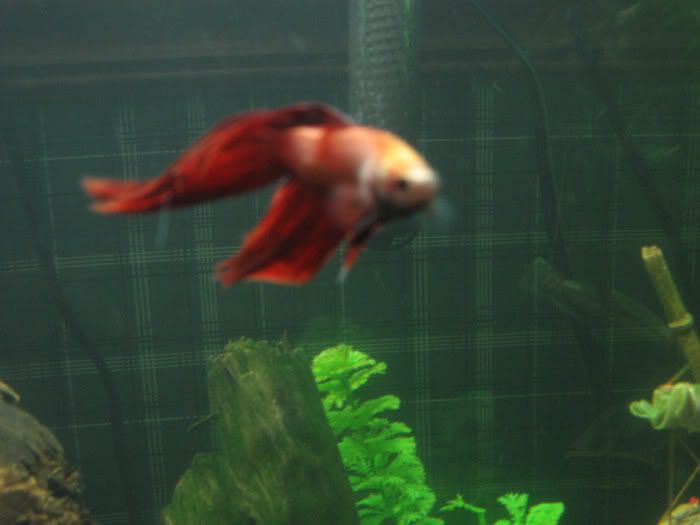 Any my prized veiltail Betta. He's very entertaining and recently won a battle with ich. I would have liked to take a better pic but when I'm as close to the tank as I was, he only stays close to the glass cause he thinks he's getting bloodworms. :o
This tank's full roster includes:
4 Sterba Cories
2 Ghost Shrimp
1 Vampire Shrimp
1 Veiltail Betta
Just, all of them didn't come out right then lol.
Hope you like my tank!
Matt, your tank is looking really good! I love the black gravel - it gives a nice effect. I'd love to see your sterbai's if you have any pics of them :)
---
ʎɐqǝ uo pɹɐoqʎǝʞ ɐ ʎnq ı ǝɯıʇ ʇsɐן ǝɥʇ sı sıɥʇ
Thanks.

I'll try and take some good pictures of them tonight during feeding. Usually everyone except my vampire shrimp will come out. Maybe I can get a group shot. I hope my new digital camera captures motion fine.

I also am torn between selecting either Angelfish or Silver Dollars as my centerpiece fish.
Here are my Cories dining on some meat crumbles. 3 of 4 anyways: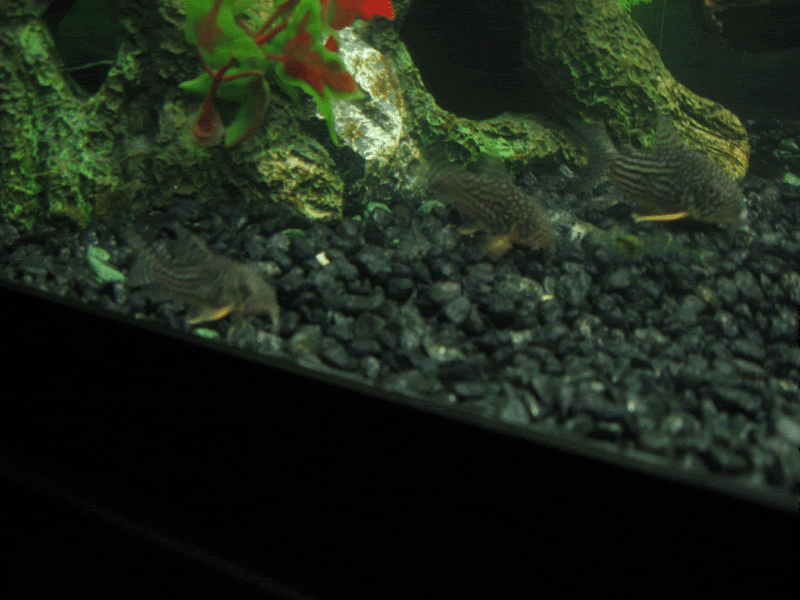 The other adult was wandering around the other side, and wasn't interested in food.
That's a really lovely tank, and from what I saw the fish and shrimp look really nice as well.

Do you plan on putting anything else in it?
Oh heck yes, I'm just giving it some more time to stabilize. Currently the water parameters are 0 ammonia, <0.2 Nitrite, 7.5 pH

I'm just giving it a bit more time, then I'm not sure what I'll be getting. I have a lot of room to work with, so it sure will be fun trying to figure out what to get.

Currently though, I believe I will be buying two angels. I was also considering buying a tank divider and sectioning a small area off for a Figure 8 puffer.
Sterbais are lovely Matt. One of my favs
If you're thinking of a fig 8 puffer I would recommend a seperate tank though, as they need ample space to swim around as well as good hiding space. :)
---
ʎɐqǝ uo pɹɐoqʎǝʞ ɐ ʎnq ı ǝɯıʇ ʇsɐן ǝɥʇ sı sıɥʇ
Yeah I know they do need lots of space, exactly what I was thinking as I was looking at how I couldn't really make it happen in my tank.
Thanks for the comments and help.
Here's my filter setup: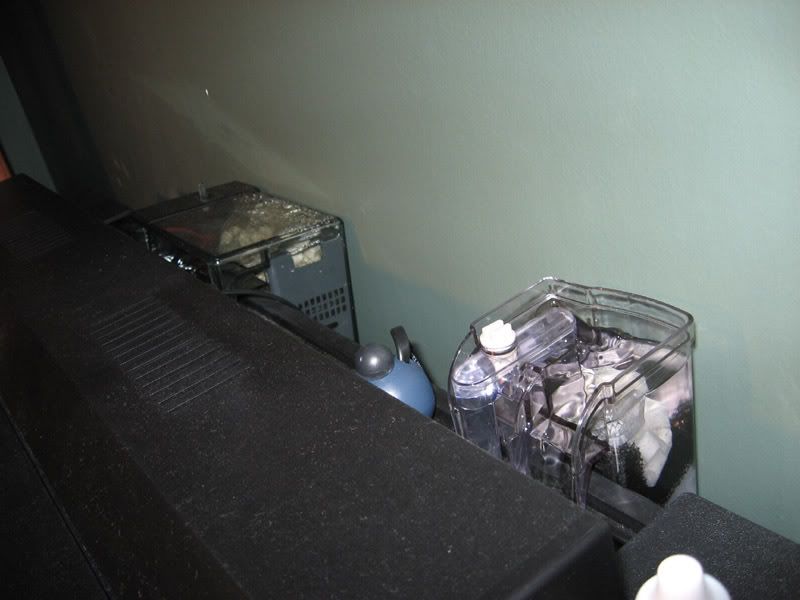 Currently there are two established filters running in my tank. The larger of the two is an AquaClear50, which used to be for my 20 Gallon. The other a Red Sea Nano Filter, suitable for up to 12 gallons. This was the filter used for my Betta and Shrimp tank, which ran for 17 days (cultured gravel and plants were used to boost the cycling period). The filter inserts for this had no ceramics, so I harvested it from my 20 gallon's inserts into a suitable pouch. I believe this is one of the reasons why my water parameters stabilized so quickly.
hi
looking great,
love the cories.
:)
---
when you set up a new tank,hide an extra
sponge or two behind some decor,that way you have
something seeded for you next filter.
Posting Rules

You may not post new threads

You may not post replies

You may not post attachments

You may not edit your posts

---

HTML code is Off

---