My new Fluval Edge tank... 23L :))
---
Thought I'd share this picture with you guys.
It's been cycling for a week now, with a few plants in and my snail :)
Can't wait to get some fish !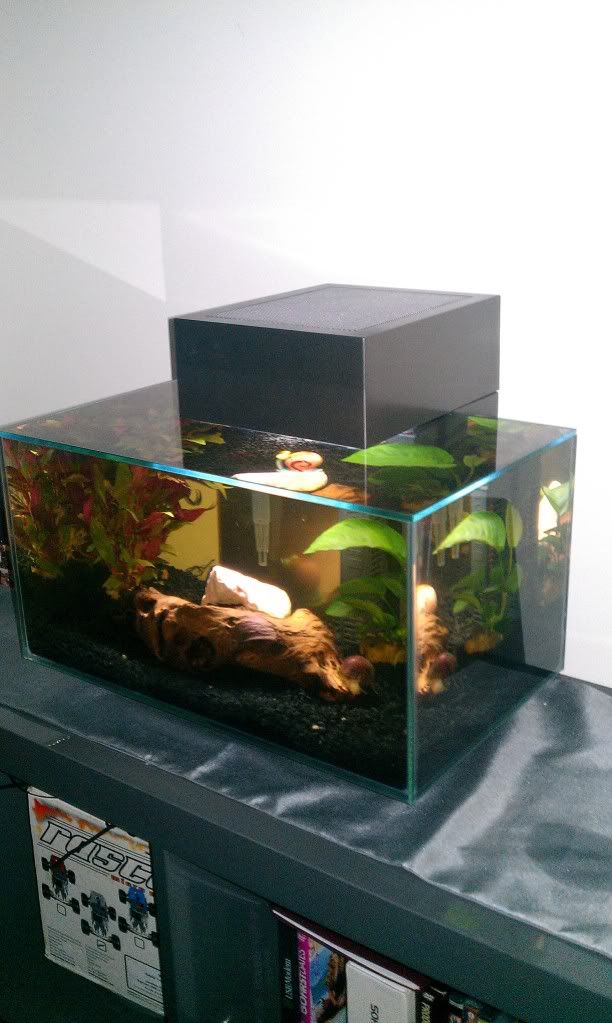 Posted via Mobile Device
BEAUTIFUL !!!!! There is one thing about these types of tanks that I dont understand. What opens up so you can clean ? Does the glass top have a henge or does the black box top thing open up ? And while on the subject, what is the box on top of the glass ? I DO LOVE IT THOUGH !!!!! It's SUPER BEAUTIFUL !!!!
---
Why Tip-Toe thru Life
only to Arrive
Safely at Death ??
Hiya thanks for the comment :) the box on top is a cover for accessing the tank, no hinges I'm afraid, under that top part of the box which lifts off is a gap of around 6 inches for you to access the tank... Takes some getting used to lol.
Posted via Mobile Device
They are very pretty tanks, but you'd have to take care in the fish you stock it with. You couldn't have any that like to take an occasional surface gulp such as any of the Corydora, any in the Gourami family, etc. Also rules out surface breathers such as ADFs and Beta.
Posting Rules

You may not post new threads

You may not post replies

You may not post attachments

You may not edit your posts

---

HTML code is Off

---