My new fish! - Jaguar Catfish
---
Just got this fella today. It is about 5"
Sorry no good pics. I managed to take one in a container before transfer and after that my camera 'w***e' of a iridescent shark kept going in front of the camera so no good pics of it in the tank
In the container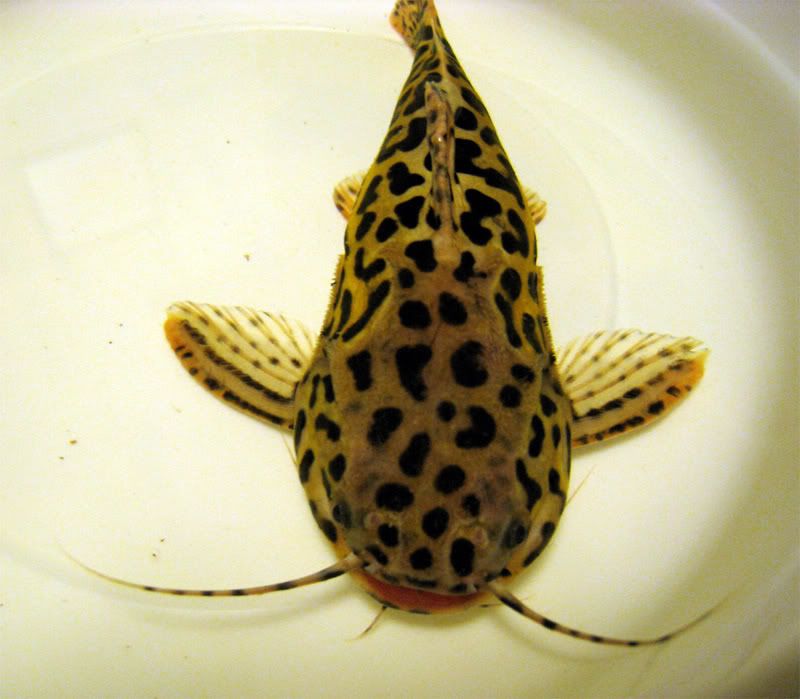 Grainy picture of it in the tank due to high ISO settings :(
That is an awesome looking Cat! I like the patterns and the overall look of it. I saw a tiger striped catfish just this week. I just want a tank large enough to keep one.
Very cool fish. How big will he get?
---
150 Gallon - Mostly American Cichlids
135 Gallon - Angelfish Community
75 Gallon - Odd couple (Polleni/Angelfish)
55 Gallon - African tank
20 Gallon Long - QT
10 Gallon - Empty

That's one gorgeous fish! I read they only get to be 8" is that right? Hmm...now I want one. Do you mind me asking how much he cost?
He's one awesome looking fish! Great pics!
---
ʎɐqǝ uo pɹɐoqʎǝʞ ɐ ʎnq ı ǝɯıʇ ʇsɐן ǝɥʇ sı sıɥʇ
totally awsome cat! where did you get him? i have never seen one like that before. he is awsome. do they cost a lot? too cool
It's not a monster cat so it's really suited for most aquariums
And it's not aggressive though it may eat very tiny fishes

It is WAYYY cheaper than the Gulper. I'm not sure how much it will cost in your locations but over here where I am, a 3"-4" cost about USD 45 and the larger sizes around USD 55 - 70.

An aquarium here wanted to sell me 2 around 4.5"-5" at USD 42 each
I got my 5" off a fellow hobbyist at around USD 38

They are very shy though and if you have lots of driftwood in your tank, you might not see it at all, though I don't think it hides as much as my spotted raphaels though (which I only see when I clean the tank)

They don't grow very big. Their max size is 8"-10"
Posting Rules

You may not post new threads

You may not post replies

You may not post attachments

You may not edit your posts

---

HTML code is Off

---