My new 55 Gallon Aquarium (56K Warning)
---
55 Gallon tank:
Lighting:
2 T5HO for 6 hours a day 2 T8's for four hours a day.
Substrate: Mixture of ordinary aquarium gravel and red Eco Complete with a sand dune in the center of the tank.
Plants:
Ludwigia repens, Baby tears?(HC), 1 Amazon Sword,
Leopard Italian Val, Wisteria, Anubias Barteri (I believe), Crypt. Nurii(its tiny), Crypt Wendtii (not so tiny), Limnophila Aromatica, and an Amazon Sword.
Fish:
White Clouds, Serpae Tetra, Bristlenose Plecostomus (also tiny see picture he's currently about the size of my white clouds)
Pondering on what else to add, was thinking a pair of cichlid though any ideas welcome.
Decor:
Small Sign that says No Skinny Dipping. (I still want to paint the sign to say Pro Skinny Dipping.)
Diy CO2:
2 liter Bottle planned second Bottle in the works.
Filter:
Anyone know anything about AquaTop Aquarium Filters? Was pondering on buying one looks legit from what I've read and I guess in theory a canister filter is a canister filter.
http://www.americanaquariumproducts....terFilter.html
Looks like a pretty decent deal. Considering a Fluval will run me over double the price.
Ok so now done with the specs and onto the pictures.
Front View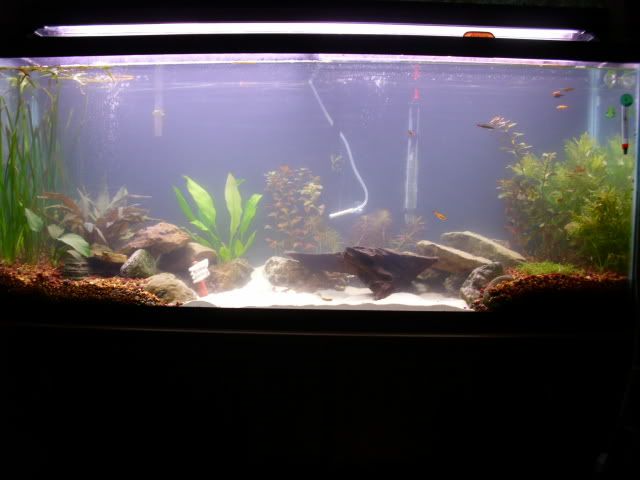 Left Side
Center Section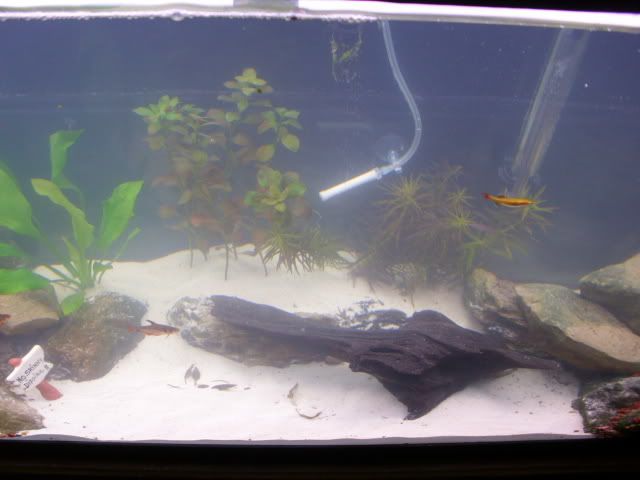 Right Side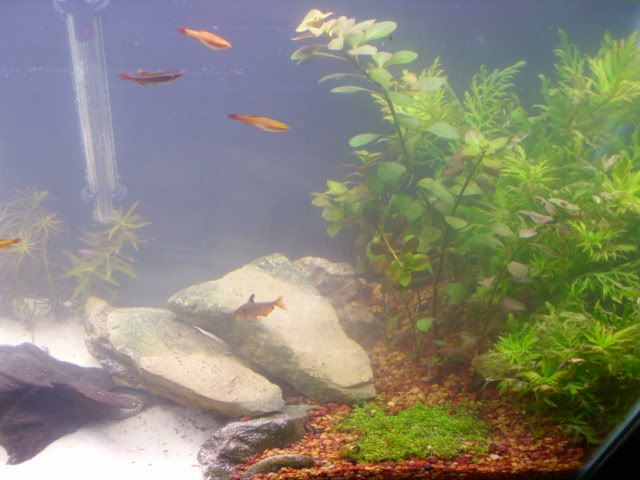 I love the sand dune in the middle, I'm trying for something like that in a 10g I have.
Great job on the layout
Welcome to TFK.
---
Animal testing is a terrible idea; they get all nervous and give the wrong answers.
The sand dune was a slightly random idea that just popped in there, I had a ton of rock laying around and just kinda wound up with it. I'm pretty happy with it, though need to find something that'll play in the sand.

Thank you it should turn out very nice once I can get the plants filled in a little better. I still don't have a clue what else to put in it though. Been pondering on it, think i might add some Kuhli Loaches. Other than that I haven't even the slightest clue to be honest.


Joe,
Some floating plants I think to finish it off, and reduce the glare from the white sand. Very nice work there.

Byron.
---
Byron Hosking, BMus, MA
Vancouver, BC, Canada

The aquarist is one who must learn the ways of the biologist, the chemist, and the veterinarian. [unknown source]

Something we all need to remember: The fish you've acquired was quite happy not being owned by you, minding its own business. If you're going to take it under your wing then you're responsible for it. Every aspect of its life is under your control, from water quality and temperature to swimming space. [Nathan Hill in PFK]
That is a really nice tank Joe. I also love the look of the sand dune. Your tank should turn out great once the plants fill in. By the way, were neighbors and we share the same name
---
Advice for anyone new to the hobby:
Do your research!! Before you do anything to your aquarium, take some time to research it. It has made a huge difference for me
S.A. Flooded Jungle (20 gallon)
A heavily planted tank. Inhabitants include: 7 Lemon Tetra, 1 Whiptail Catfish, and MTS.
Update to my 55 Gallon Aquarium
---
Ok there's a few updates in the tank. Mainly the Co2 System is now a paintball system. Some new plants and the stocks altered.
Plant wise, the Italian Val has well taken over as you can see, the swords well huge now and the crypt is still doing well. Now some additions, Three Crispus, the dwarf Sag in the front there and the hygrophila compacta.
Stock: 4 Angel fish
6 Odessa Barbs
2 Bristlenose Pleco's
4 Siamesis
Some random snails
1 other set to be added - possibly kribs or another round of tetra's.
---
Last edited by JoeFish80; 01-23-2012 at

02:35 AM

.
Wow that didn't take long! It looks great.
---
Animal testing is a terrible idea; they get all nervous and give the wrong answers.
Well done indeed.
---
Byron Hosking, BMus, MA
Vancouver, BC, Canada

The aquarist is one who must learn the ways of the biologist, the chemist, and the veterinarian. [unknown source]

Something we all need to remember: The fish you've acquired was quite happy not being owned by you, minding its own business. If you're going to take it under your wing then you're responsible for it. Every aspect of its life is under your control, from water quality and temperature to swimming space. [Nathan Hill in PFK]
Posting Rules

You may not post new threads

You may not post replies

You may not post attachments

You may not edit your posts

---

HTML code is Off

---