Updated pictures...I have reorganized my main tank and if you kept up with my "Emergency kenyi problem" thread on another forum you probably read up on my punkass kenyi causing problems. Well I like him too much to get rid of him and decided instead of finding more females of his size I would go for a 10 gallon for him for now. So below are the pictures of my new additions. Tanks now include:
26 gallon bowfront:
-1 3" Male demasoni
-1 1.5" male yellow lab
-2 1" female yellow labs
-1 4" male red zebra
-1 4" female auratus
-1 2.5" female auratus
10 gallon "timeout tank":
-1 3.5" male kenyi juvie (slowly transforming)
The demasoni is very photogenic and he has always been curious so pictures of him are easy. The red zebra is gorgeous-a light pink with a nice blue iridescent hue but camera shy-nosy every other time. The auratus is the same way..usually up in my face but not around the camera. The kenyi, well he's a punk and doesn't like taking pictures but I did my best.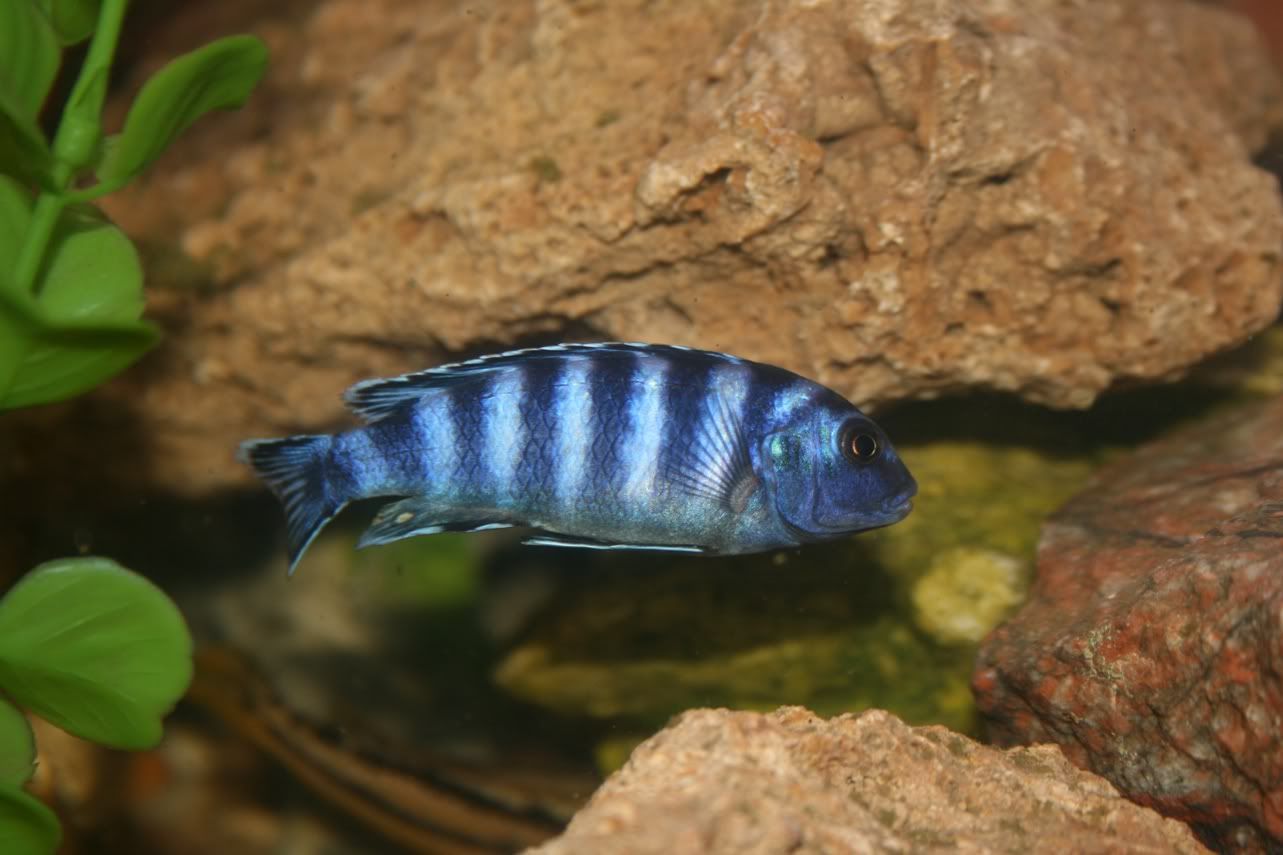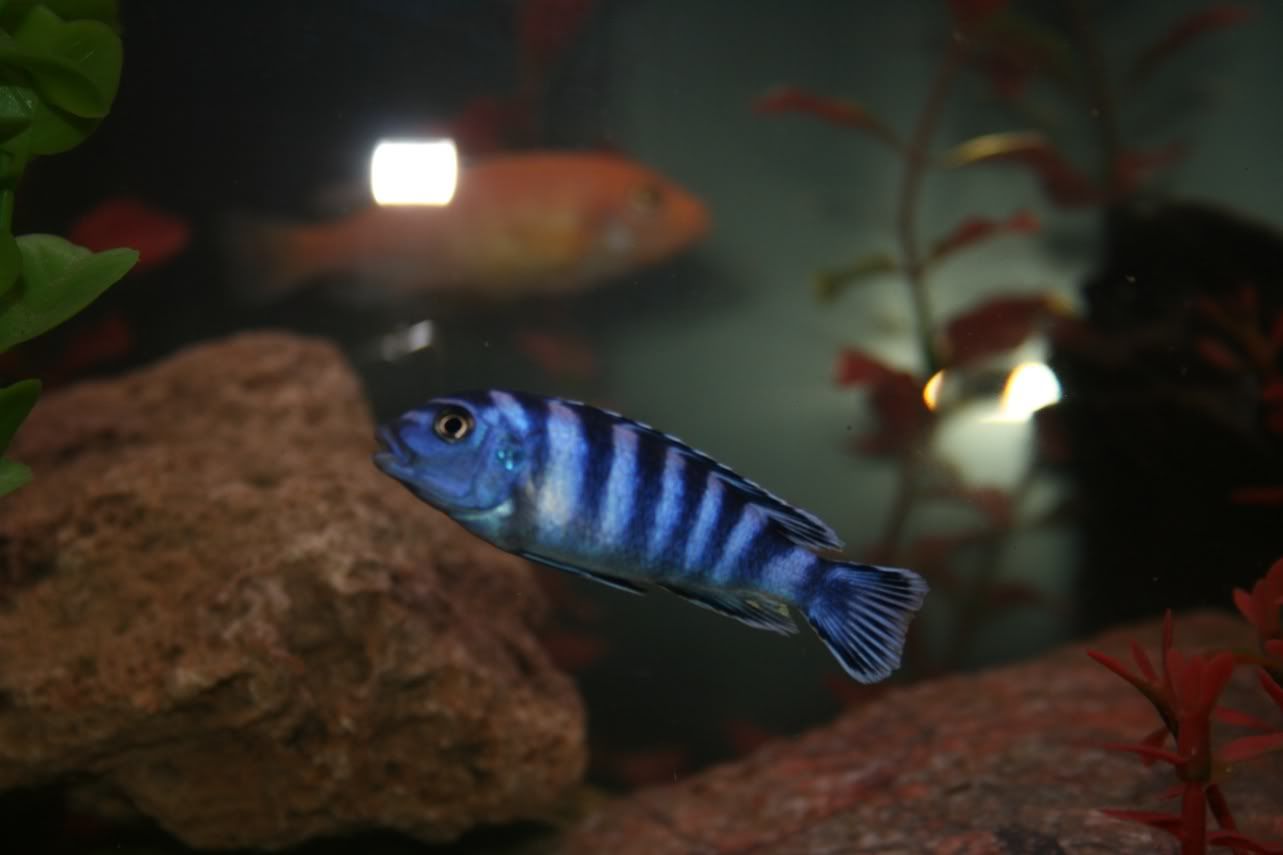 more:
(this has now been determined to be a red top kimpuma/hongi island line breed..sadly..I still love him)
a good one of the red zebra..exquisite and uncommon coloration:
new pics-the large female auratus passed away of bloat awhile back, and sadly my favorite fish the demasoni got bloat as well...he always hid so it wasn't unusual to not see him but he must have been hoarding food (purely algae based) as he passed quickly.
To augment the tank I added three maylandia crabro "bumblebee cichlid" and one labidochromis textilis (often called exasperatus but this is the incorrect name)...the textilis is very camera shy.
my female lab: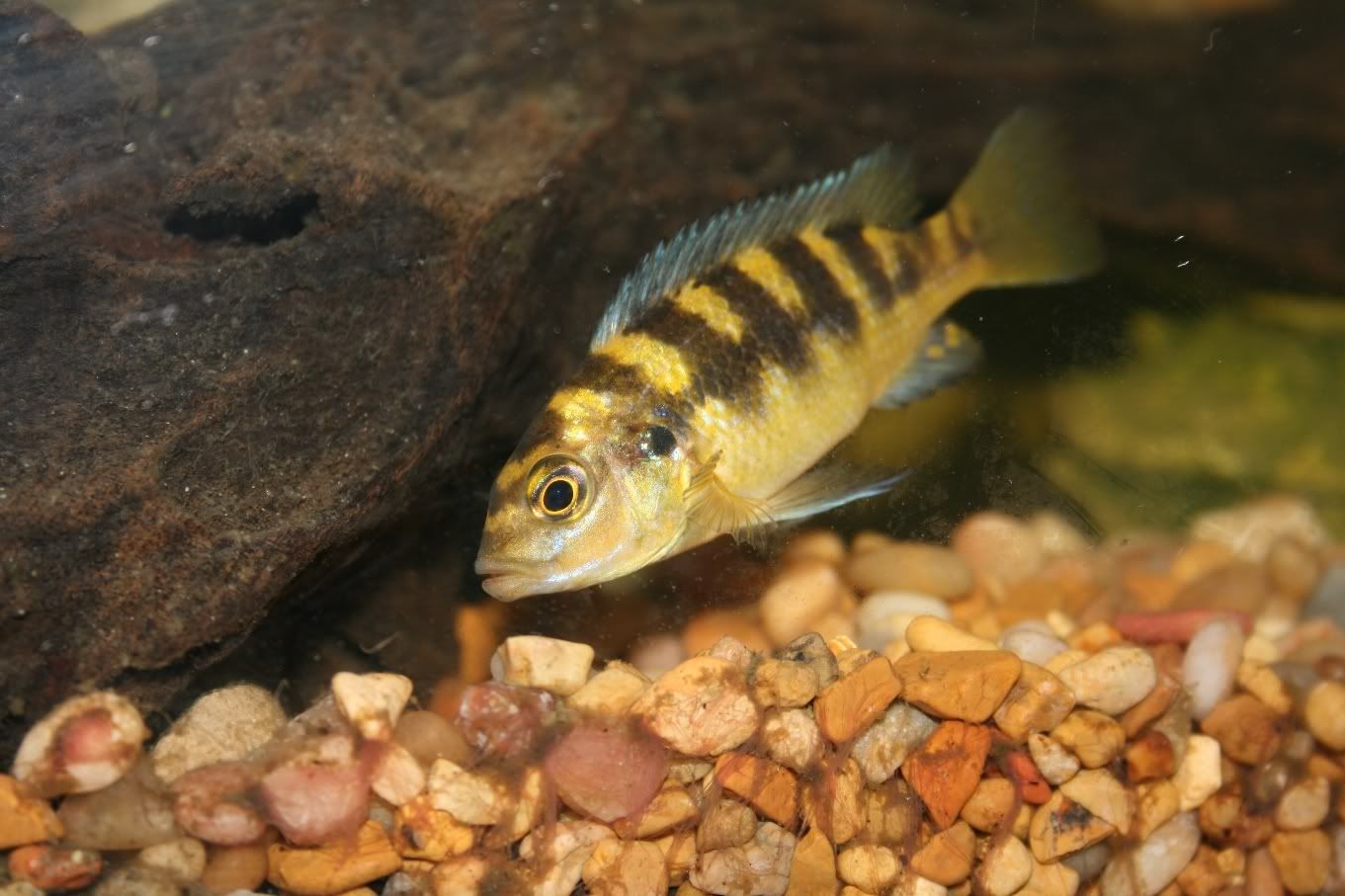 my hongi island and his mean teeth:
the nice guy red zebra: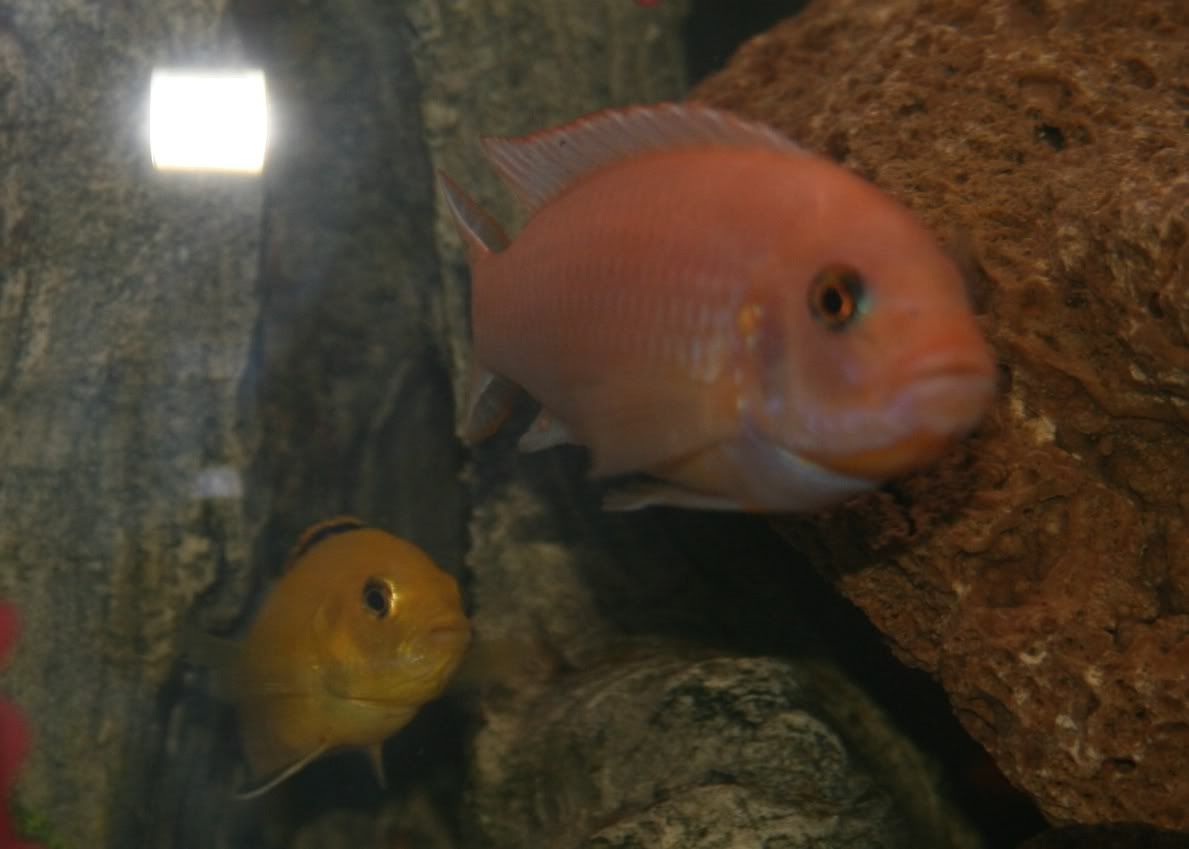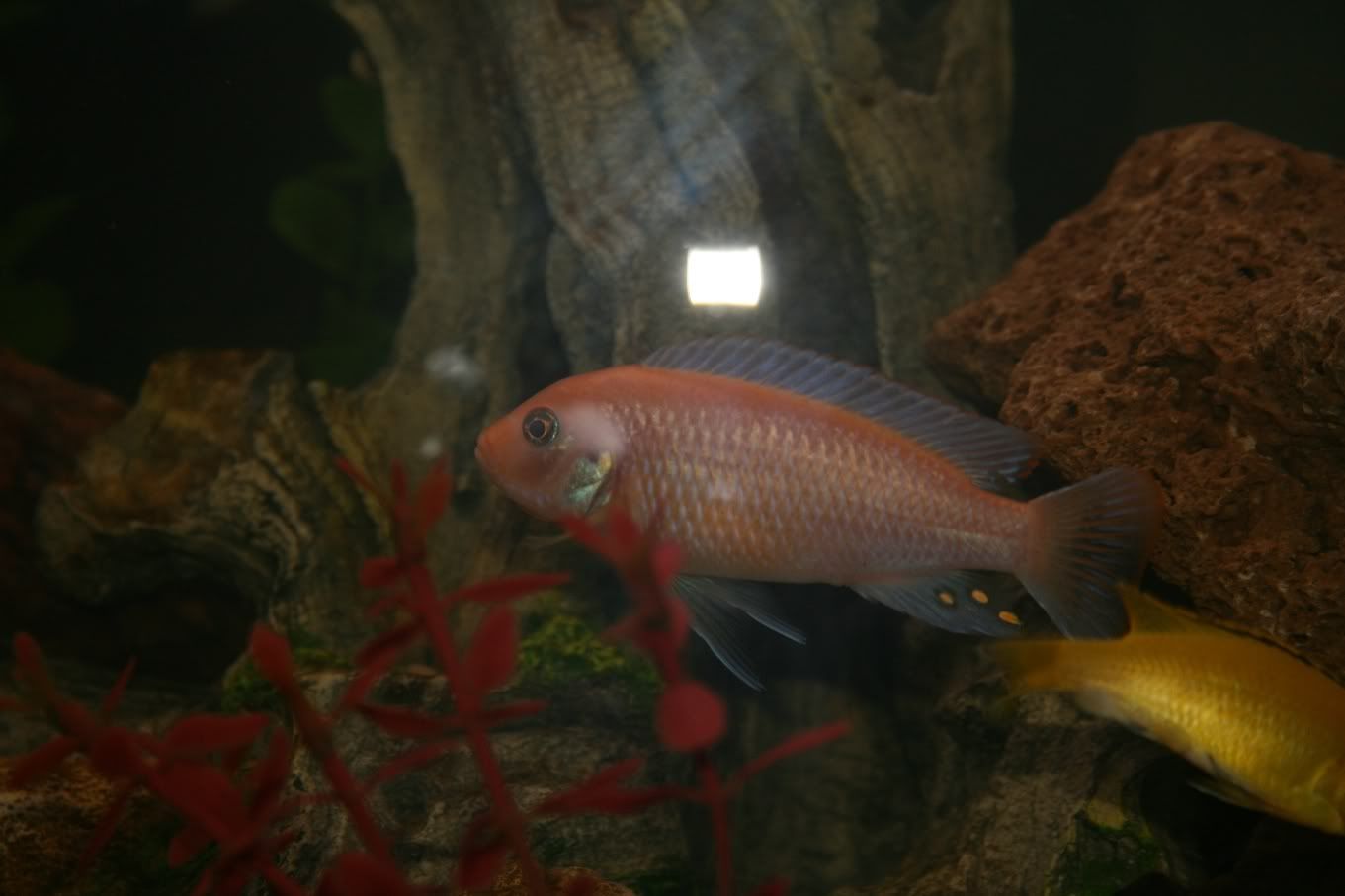 the albino chocolate pleco in the hongi island 10 gal: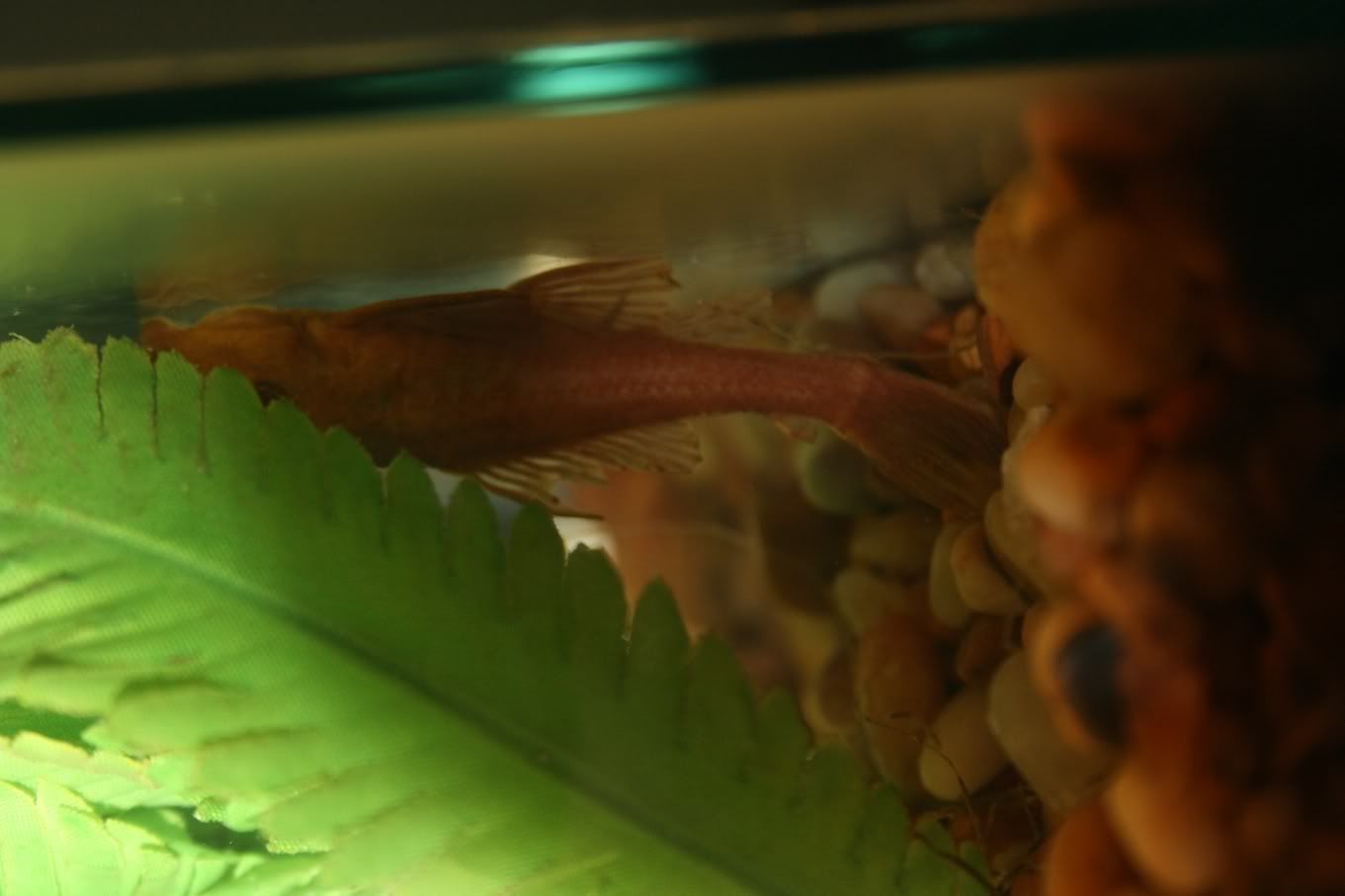 and the textilis:
and a note--they get along awesome-the crabro stick together (same spawn) and hang out with the labs, and the textilis and the zebra actually get along great..the zebra is insanely unaggressive to anyone
Loots great. I really wanted to do a Cichlid tank similar to that, but my previous experience with the meanest Midas Cichlid EVER steered me try a community tank this time.
the pictures are fab !
thanks for updating,the zebra is looking stunning,i hope mine
get to look as good as yours.
:)
---
when you set up a new tank,hide an extra
sponge or two behind some decor,that way you have
something seeded for you next filter.
I think the setup is great! I think its good to keep the stock levels down... Gives the fish some leg room...
Similar Threads
Thread
Thread Starter
Forum
Replies
Last Post
mbuna tank

lowco1

Cichlids

1

03-09-2009

10:56 PM

Tank mates (mbuna)

dagizmo19

Cichlids

1

02-26-2009

03:49 PM

mbuna tank

dawnki2008

Cichlids

6

01-05-2009

08:47 AM

Mbuna tank idea

mr2god

Cichlids

10

11-07-2008

09:08 AM

mbuna tank ideas

mr2god

Freshwater and Tropical Fish

0

11-05-2008

08:00 PM
Posting Rules

You may not post new threads

You may not post replies

You may not post attachments

You may not edit your posts

---

HTML code is Off

---