My Mbuna tank
---
Some of you may have read my thread on the growing pains on the tank but after a bit of research and thinking I quickly got it under control. Still doing every other day water treatments and closely monitoring the parameters but all the fish are healthy, active and their typical Mbuna turd selves...ie PITA. A blast to watch however. The tank contains 1 male Lab, 2 female labs (all juvies), 1 male Kenyii (biggest pain in the tank) and 1 female Demasoni. So far aggression is relatively in check; the labs and dem get along great, in fact the labs are like a bunch of mice as far as following each other. The kenyii has hit a recent streak of aggression, particularly at feeding, towards all of them. For the most part he leaves the labs be, but likes to chase the demasoni. There are plenty of hiding spots but the dem typically doesn't go in them for some odd reason. Usually the kenyii is hanging out in his mancave (pictured below).
Tank setup is a tad unorthodox; false driftwood and artificial plants aren't quite your typical Mbuna environment but they seem to enjoy it, particularly the demasoni and labs as they enjoy swimming in and around the plants. I will probably be adding some more rocks to the rear in the future-I found a large artificial rock setup with many hiding spots that will fit perfect however take away from some of the color in the tank. If I do add more Mbunas (undecided as of yet..they stay away from the top of the tank and I am considering experimenting with something at the top of the tank to fill it) I will probably get it. All comments are welcome; needless to say it's been a steep learning curve with these guys but it has been fun!
(click for the fullsize of each)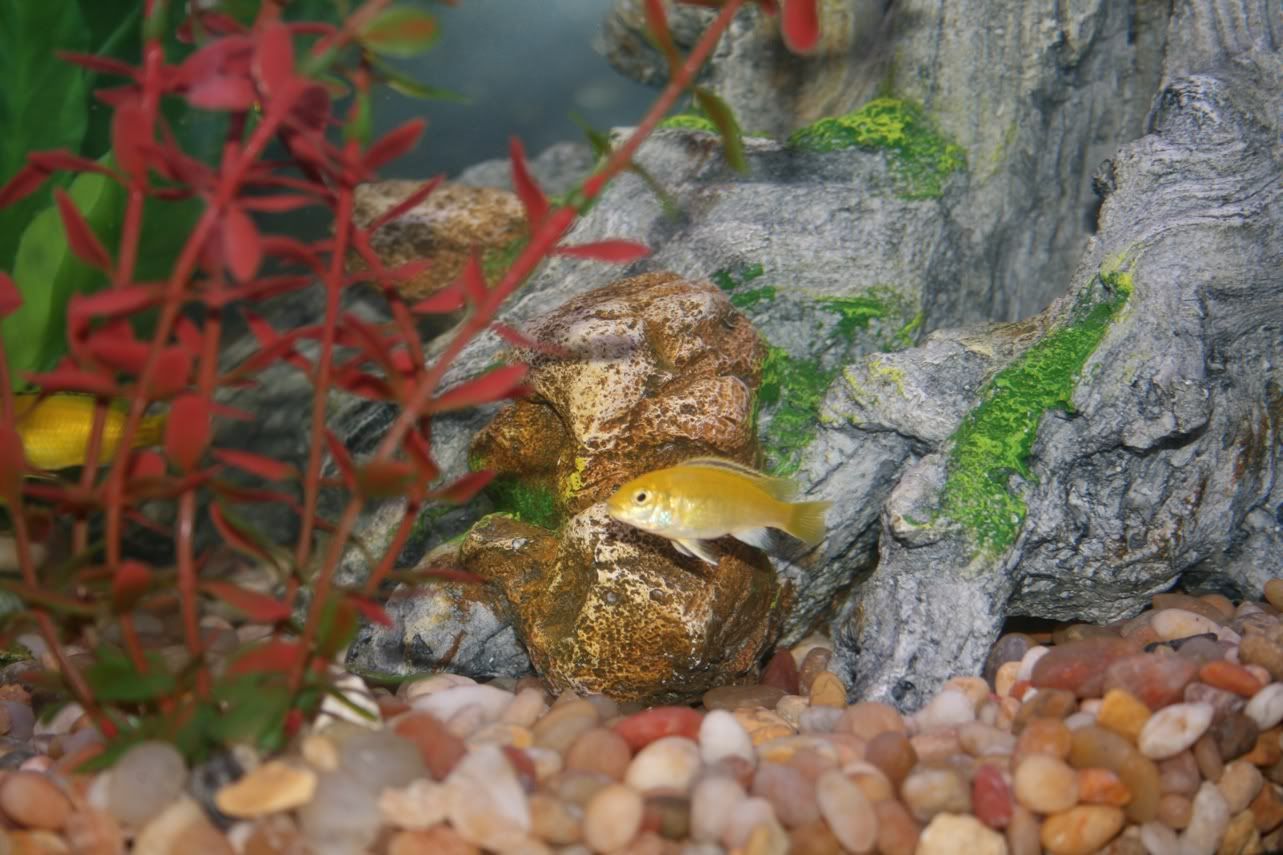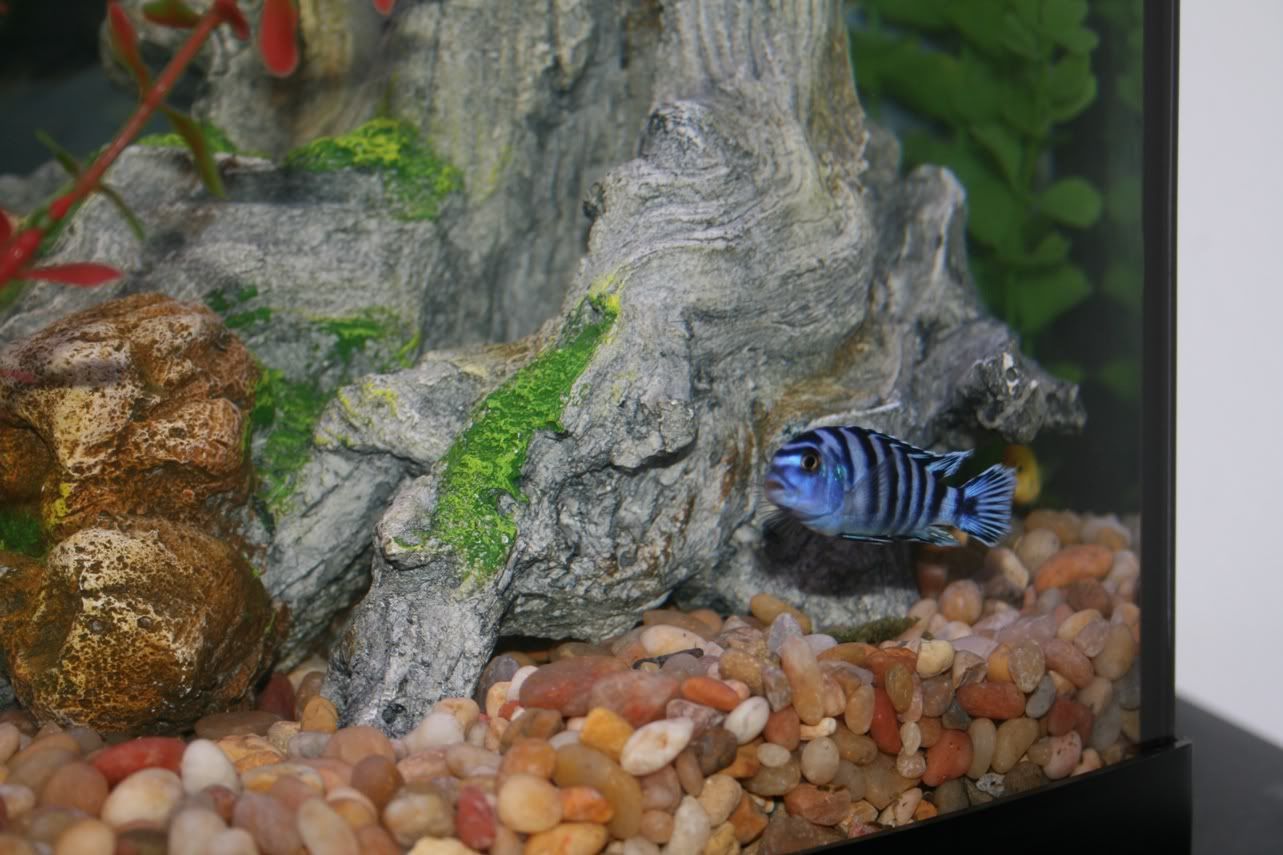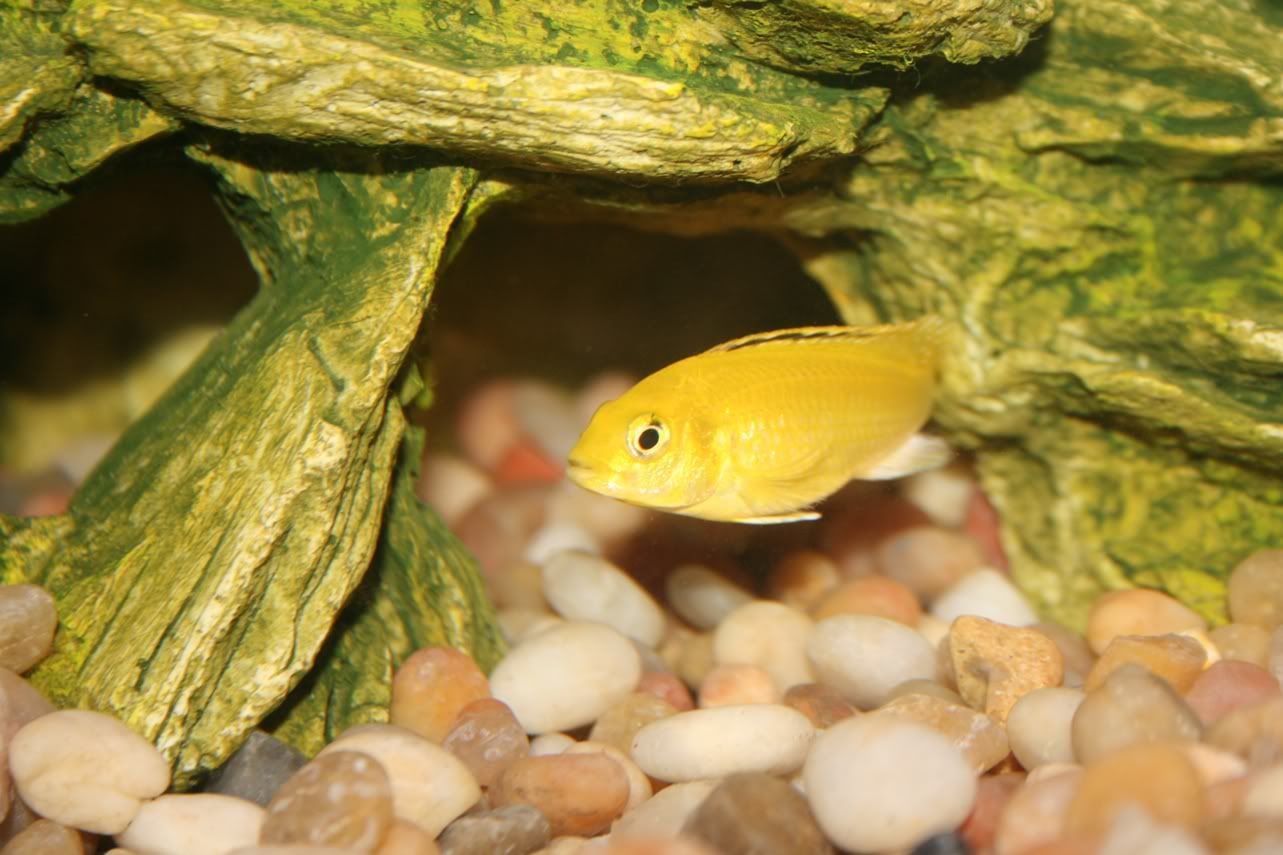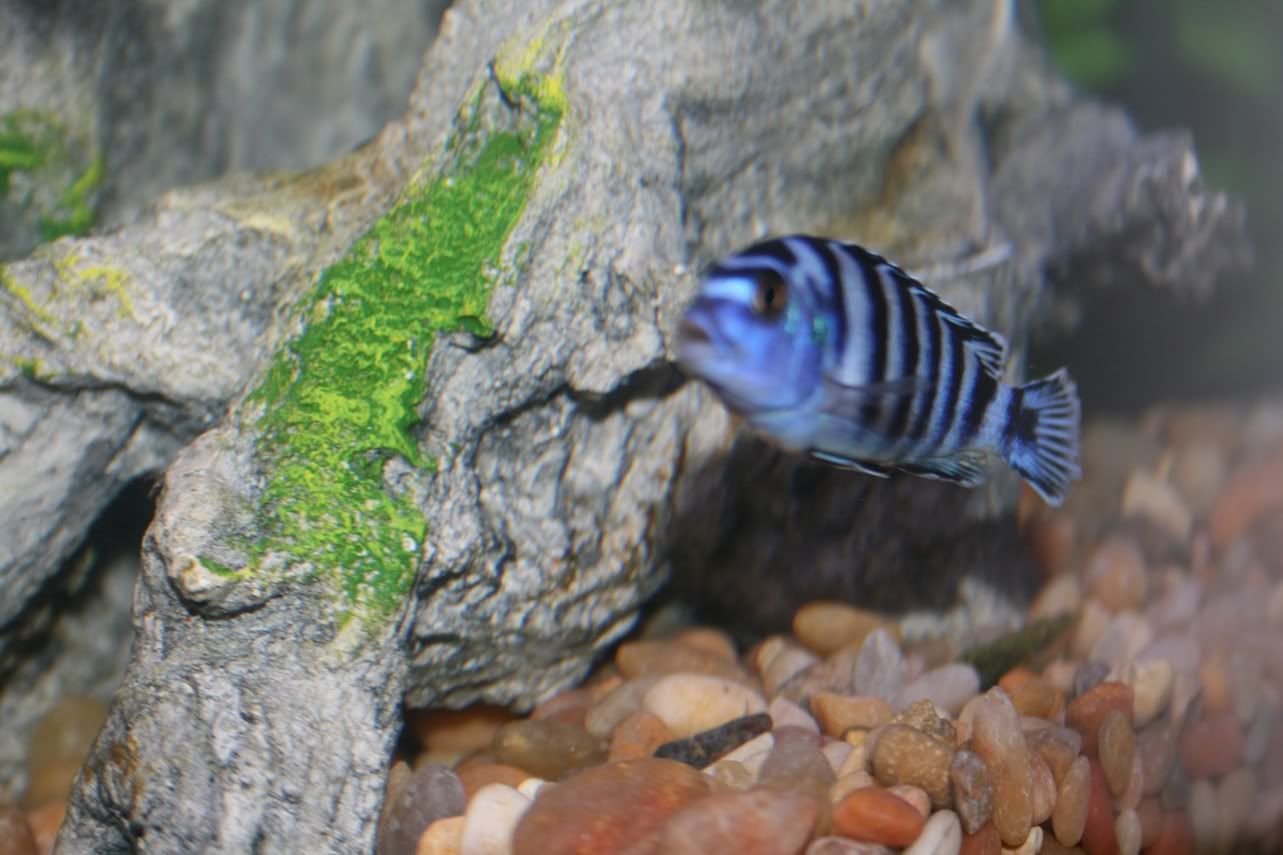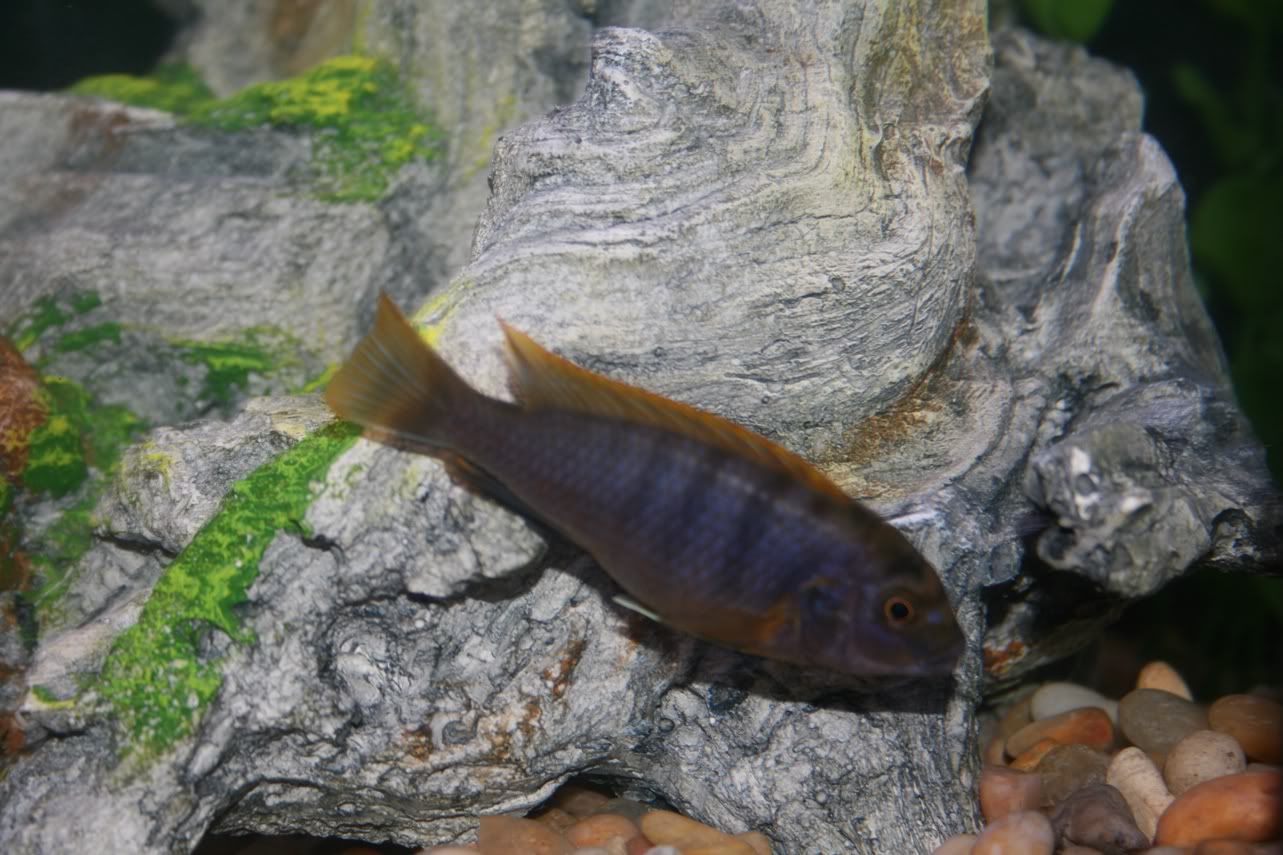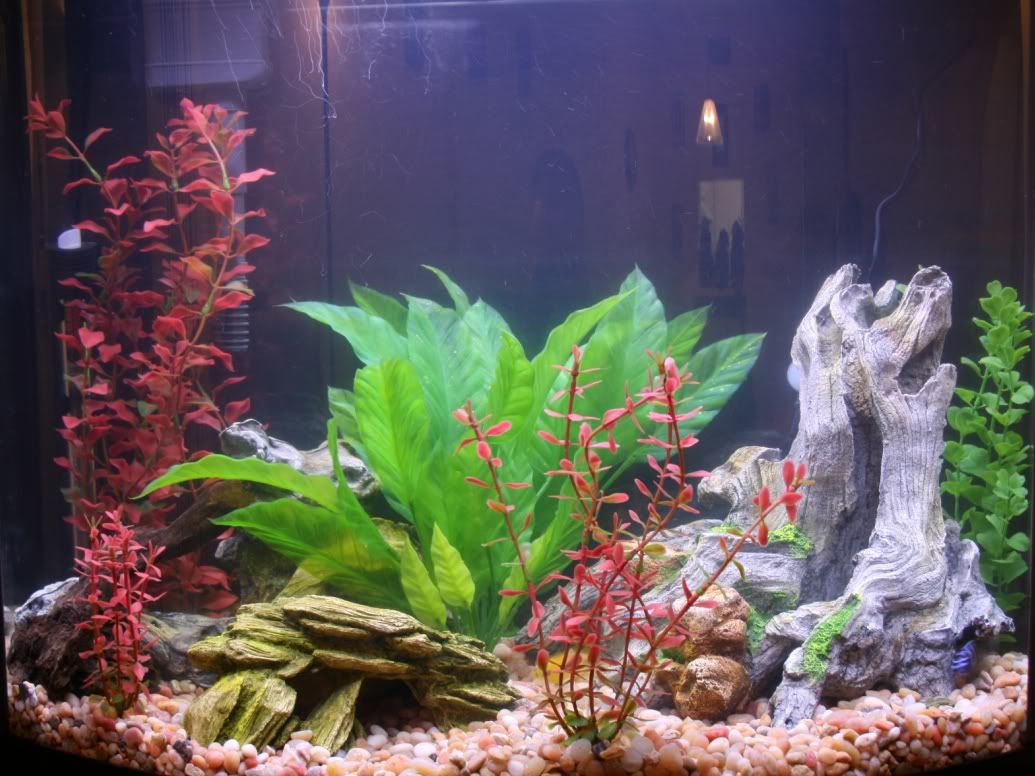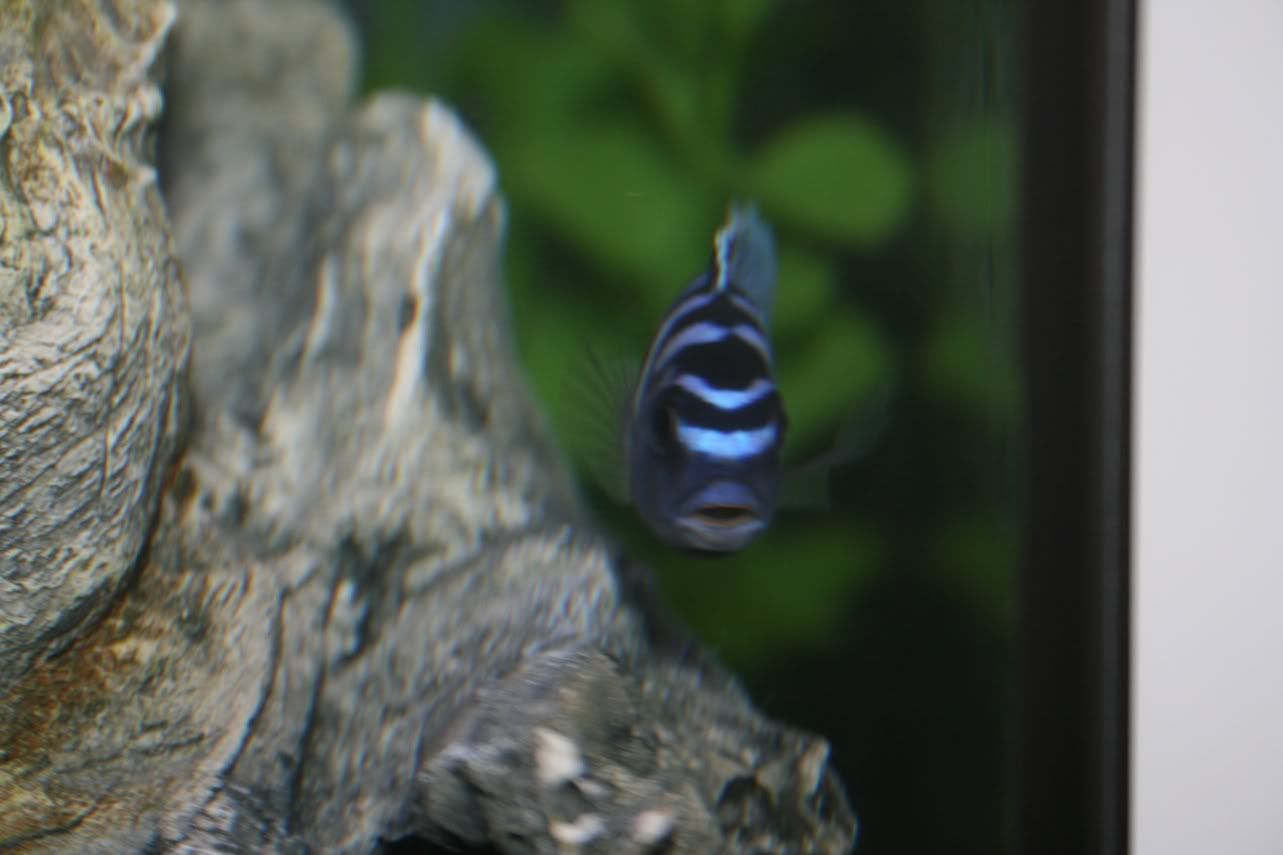 very cool! what size? The striped guy is sooo cool!!!
---
~veganchick~

All things bright an beautiful,
All creatures great and small,
All things wise and wonderful,
The Lord, God made them all.


*Vegans Have more Fun*

http://www.petshopanimals.webs.com

I like it! As for the decorations, they actually look pretty natural for fake, and the whole tank looks good to me. I mean it's not like you got hot pink gravel or anything ;) The fish are gorgeous too! And they take good pictures :)
---
20 gallon long: 3 adult Neolamprologus similis + about 11 fry of various ages; low light planted tank
20 gallon long:2 freshwater dwarf puffers (Puff Puff and Poofer); medium-light planted tank
10 gallon: 1 male betta named Wormy; low light planted tank
10 gallon: 1 male betta named Dante; low light planted tank
2, 5.5 gallon tanks that are currently empty (I see more fish on the horizon
)
Very nice looking fish. You take very good pictures!
---
If you don't stand up for something you'll fall for anything...
Thanks for all the comments. As I said I took a bit of an unorthodox approach and I have been fairly lucky so far. In about two weeks I hope to add some more fish, we'll see what mbunas strike my fancy at the time.
sweet tank dude. I personally have a 112 gallon malawi tank and i have at least 7 types of species. just remember with africans its better to overstock to keep the agression down as well as put more then one fish in at a time and rearrange the tabk decorations when you do add new fish.
hi
very nice indeed :)
you take lovely pictures,and i like mabunas for the way they behave infront of the camra.
---
when you set up a new tank,hide an extra
sponge or two behind some decor,that way you have
something seeded for you next filter.
They don't seem to mind the absence of rocks! I like the cave thing u've got in the front, where did you get it?
---
~veganchick~

All things bright an beautiful,
All creatures great and small,
All things wise and wonderful,
The Lord, God made them all.


*Vegans Have more Fun*

http://www.petshopanimals.webs.com

Similar Threads
Thread
Thread Starter
Forum
Replies
Last Post
mbuna tank

lowco1

Cichlids

1

03-09-2009

10:56 PM

Tank mates (mbuna)

dagizmo19

Cichlids

1

02-26-2009

03:49 PM

mbuna tank

dawnki2008

Cichlids

6

01-05-2009

08:47 AM

Mbuna tank idea

mr2god

Cichlids

10

11-07-2008

09:08 AM

mbuna tank ideas

mr2god

Freshwater and Tropical Fish

0

11-05-2008

08:00 PM
Posting Rules

You may not post new threads

You may not post replies

You may not post attachments

You may not edit your posts

---

HTML code is Off

---