Back to my lights. I have a T5 HO 6700k and a colormax. These are currently on for 10 hours a day. Should I cut it back to 8 hours, would that be enough for my plants?
You can safely cut back the hours of light for the plants down as much as 6 hrs as for cutting back from 10 to 8? Well are getting algae problems? If so you can try that. If everything seems to be OK then I would leave it alone and let it run its course till something does show up.
Quote:
Yes, I'm getting algae.
Then I would cut back the hrs of light and see what happens
Quote:
Any idea on some good community fish to go along with the 3 platies? I was thinking of getting 6 or 7 neons, but maybe I should stick with a fish that's not so fragile. Any thoughts?
Your platy's prefer hard alkaline water pH 7.4 to 8.0 and Neon's would do better in softer water pH 6.5 to 7.2.
Glowlight tetra's,Pristella tetra's,Blood fin tetra's,Silver tipped Tetra's,would do better than some in wider range of water paramter's (hardness).
---
The most important medication in your fish medicine cabinet is.. Clean water.
1077 is right the silver tips are really pretty.
---
Kindest Regards,
Amanda
Keeping fish its not a hobby it is a passion!
I have a 55 gallon, 40 gallon, 29 gallon, 20 gallon tank, 5 gallon , and a 2.5 gallon all with real plants.
Purchased a narrow leaf chain sword today. Had to cut a lot of the leaves that had brown tips but it should grow back hopefully. I placed it in front of the driftwood. I"m hoping that it'll spread out overtime.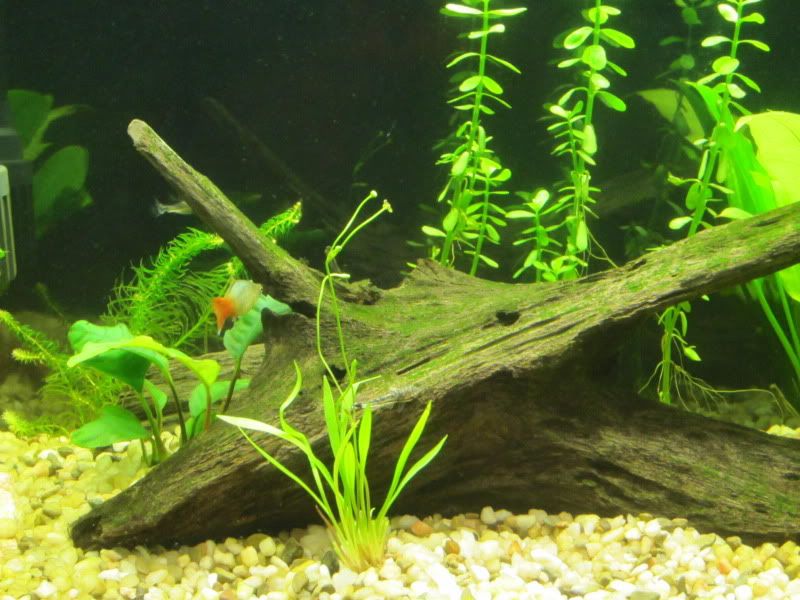 Posting Rules

You may not post new threads

You may not post replies

You may not post attachments

You may not edit your posts

---

HTML code is Off

---