My first aquarium
---
I've had aquariums in my house my whole life while growing up.. now that I've moved out this is my first very own tank and I'm giving a planted tank a go.
I converted a red sea max 130 salt water tank that my mom had into a freshwater. I've got to replace the lights eventually but for the time being I'm gonna give it a go with what I have.
Here is my freshly planted tank, trying to start on the silent cycle.
Its a little cloudy from planting still.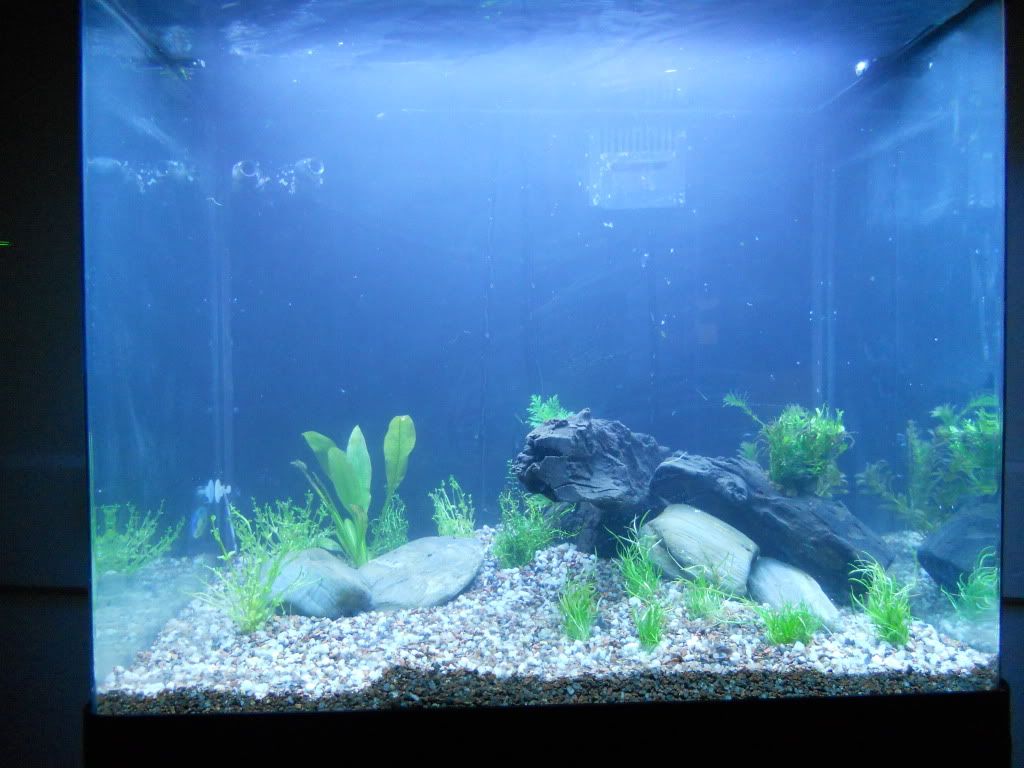 Looks good. Welcome to TFK.
---
Animal testing is a terrible idea; they get all nervous and give the wrong answers.
What fish are you adding to the tank? make sure to upload pictures when you do!!!
Thanks all! The only fish I know for sure I want is glolight tetra. How many of those would work in my tank? It's a 29g tall tank. Keep in mind i'd like to get other fish as well.
Posted via Mobile Device
Heres an update after 1 week. I can already see some growth in my java fern and my wisteria! Also my microsword is sending out a few runners! Its so exciting. I'll be getting my some fish this week too! Probably 8 or 9 glowlight tetra! I'm going to try to keep sort of a picture diary here so I can track my growth..maybe a picture every week.
---
Last edited by Jbrofish8; 07-17-2011 at

07:59 AM

.
That is a very nice layout, good work there. Yes, glowlights are fine, a group of 7-8 would be good.

Byron.
---
Byron Hosking, BMus, MA
Vancouver, BC, Canada

The aquarist is one who must learn the ways of the biologist, the chemist, and the veterinarian. [unknown source]

Something we all need to remember: The fish you've acquired was quite happy not being owned by you, minding its own business. If you're going to take it under your wing then you're responsible for it. Every aspect of its life is under your control, from water quality and temperature to swimming space. [Nathan Hill in PFK]
Thanks!

So while I was picking up some flourish comprehensive from petsmart today, i walked over to the fish to have a look and they had Cochu tetra! 7.. so i got them all! I wanted some of these so bad but I couldnt find any sellers online! (at least I hope theyre cochu's, you never know with petsmart)

Heres a few pictures, they are so hard to take pics of..really fast!
Posting Rules

You may not post new threads

You may not post replies

You may not post attachments

You may not edit your posts

---

HTML code is Off

---