My AMAZING GT
---
My green terror is a 2 inch male purchased at the local petco. I had been looking for a gt for a while then this beauty popped in front of me. I love him. He is the coolest fish ever. Awesome personality and sweet colors. He is in a 10 gallon tank quarantining/waiting until my 55 gallon is ready for him(Nitrites are almost gone!!). He did kill two of my zebra danios that were in there with him, but i still love him. Final stocking will be him and some giant danios if he tolerates them.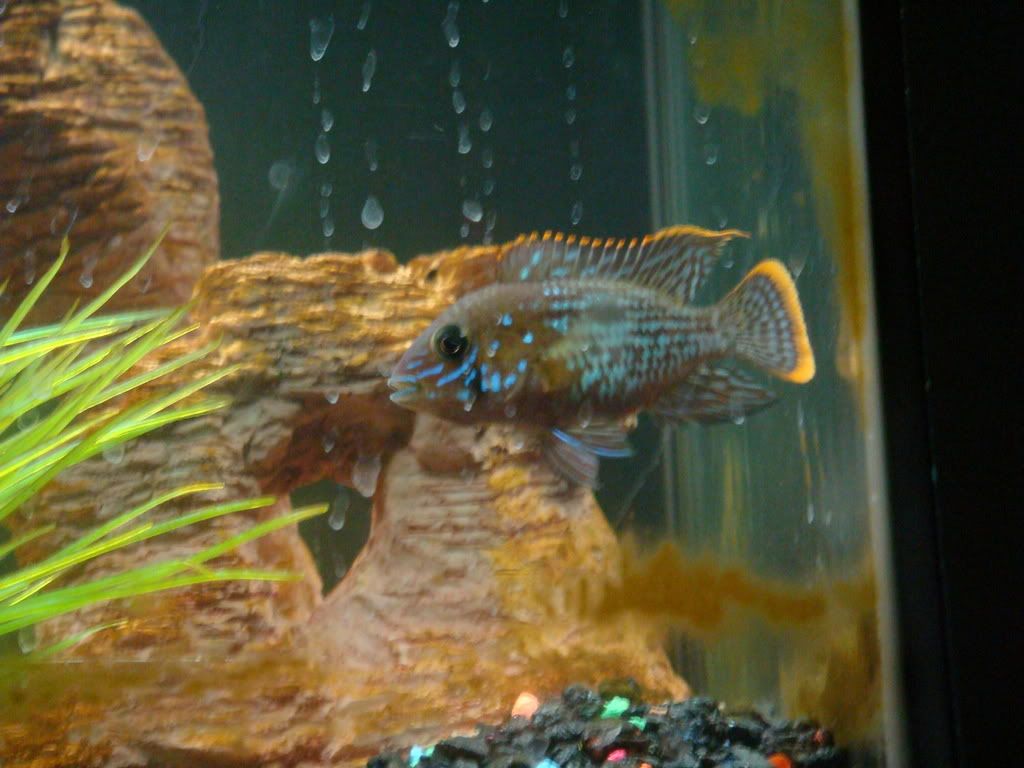 I know the outside of my tank is filthy. please excuse.
Max
edit- how do i make the pictures smaller? Thanks
---
Last edited by Max77; 01-21-2009 at

03:35 PM

. Reason: Pictures are huge
He's a handsome little guy! I've always wanted a GT. Maybe some day...
---
150 Gallon - Mostly American Cichlids
135 Gallon - Angelfish Community
75 Gallon - Odd couple (Polleni/Angelfish)
55 Gallon - African tank
20 Gallon Long - QT
10 Gallon - Empty

If only the parents would let have room for some nice cichlid like that.
He is very pretty.
Hmm... 7.5 years of school and then a 75G.
lovley looking GT. :)
---
when you set up a new tank,hide an extra
sponge or two behind some decor,that way you have
something seeded for you next filter.
looks GREAT!!! he is sooooooooo pretty!!
---
~veganchick~

All things bright an beautiful,
All creatures great and small,
All things wise and wonderful,
The Lord, God made them all.


*Vegans Have more Fun*

http://www.petshopanimals.webs.com

Thanks for the compliments. I hope he grows into a huge fish. I would love him to be pushing 10 in when he grows up. Good water and food
. I can not wait until he gets big. Anyone know how to shrink the pics?
Max
hes so cute!
and his home is lovely =]
---
Proud owner of Bagel the Warrior.
RIP Ivan the Terrible and Billy the Kid
Here is his future home. Still a little cloudy; just went through a bacterial bloom.
Whole tank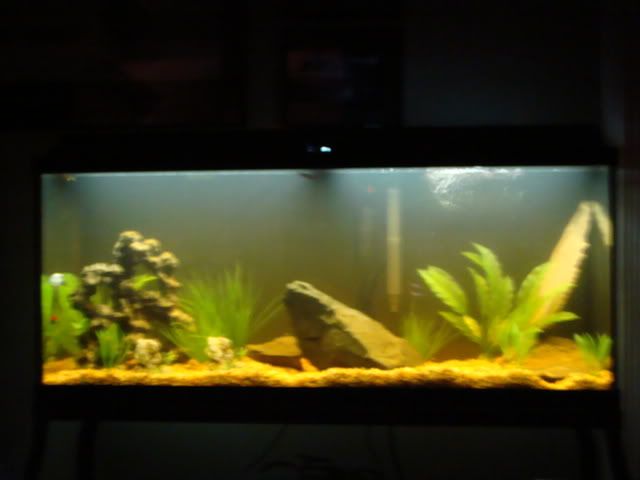 Left side
Right Side
I had a Huge piece of driftwood in there, but the tannins were bugging me so i replaced them with rocks that i found. Running an ac110 and will invest in a canister as he grows.Stealth heater and fake plants. Almost went sand on this tank, may switch later. Will also get a background when i get around to it. What do you guys think?
Max
ps pics are blurry cause wrestling killed me today and my arms are shaking. sorry
---
Looks great. I like it.
---
150 Gallon - Mostly American Cichlids
135 Gallon - Angelfish Community
75 Gallon - Odd couple (Polleni/Angelfish)
55 Gallon - African tank
20 Gallon Long - QT
10 Gallon - Empty

Posting Rules

You may not post new threads

You may not post replies

You may not post attachments

You may not edit your posts

---

HTML code is Off

---