My 29 gallon
---
I borrowed my girlfriend's camera and figured I'd take a few pics of my tank while I had it. It's my first attempt at taking pictures of my fish, so bear with me.
In my tank, I currently have 5 Khuli Loaches, a Marble Sailfin Pleco and a Tiretrack Eel. My eel is usually the most active guy in there, but he really didn't want to come out for the camera. I even tried coaxing him out with food and he wouldn't budge. Oh well. My pleco is apparently camera shy too, so a pic I took of him with my phone will have to do for now
Full Tank Shot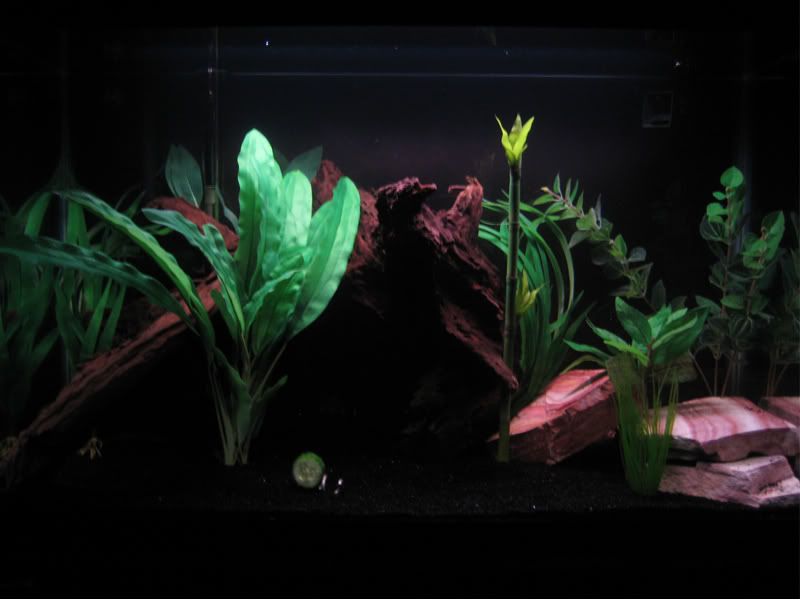 Tiretrack Eel, named Shipwreck, poking his head out
A couple shots of the loaches... the only decent ones I could get. They're too quick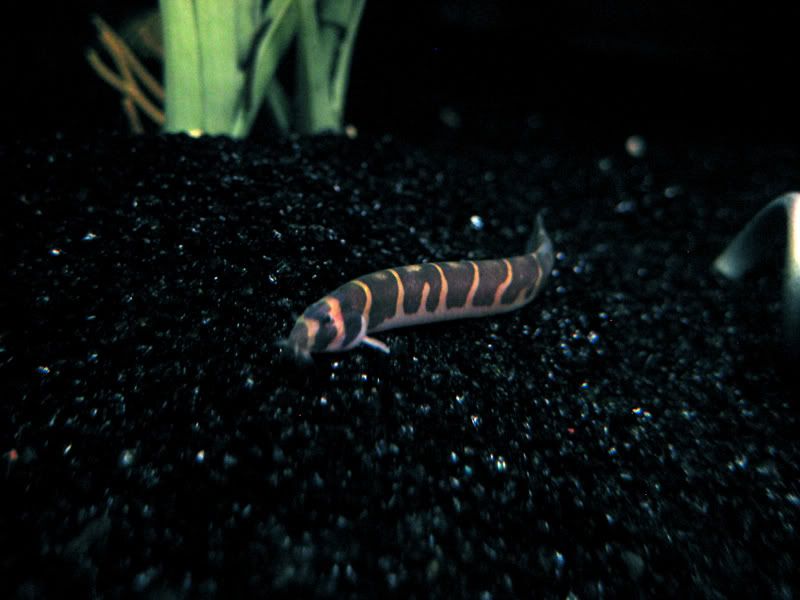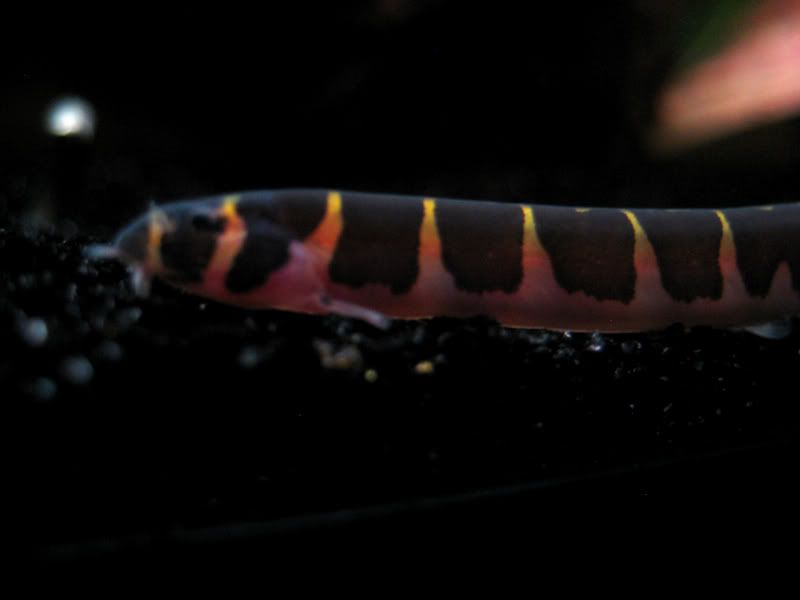 And last but not least, my pleco, Biggie.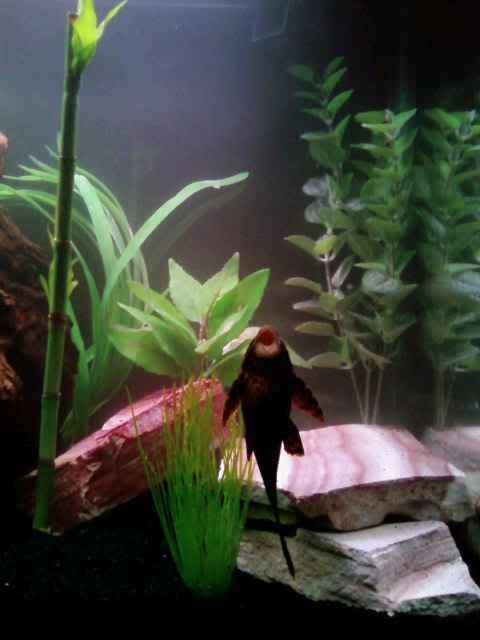 I'll post more pics as soon as I can get some better ones.
Thanks for looking!
The eel finally gave in and came out of his hole to eat. Here's what I could get..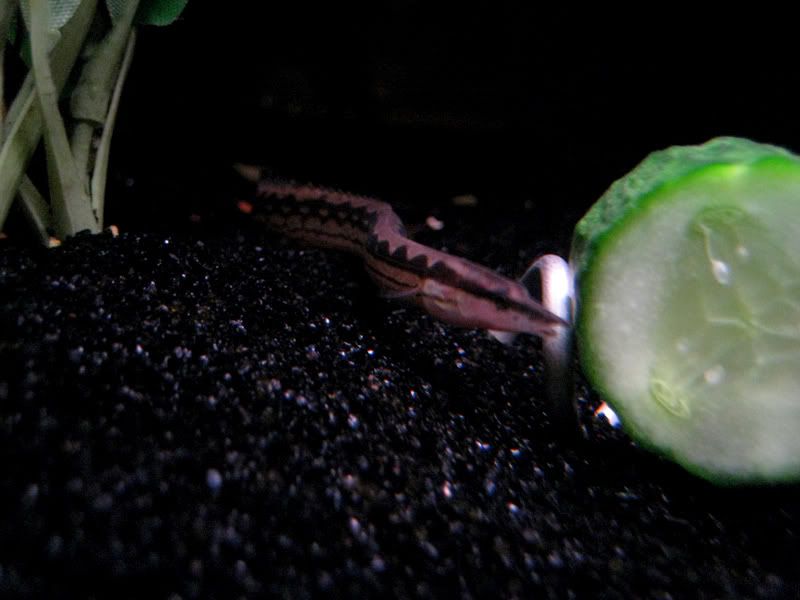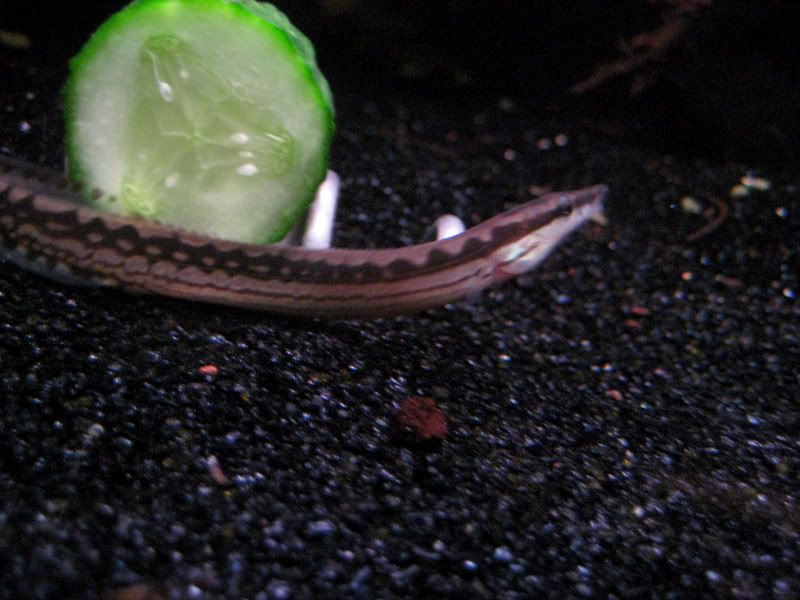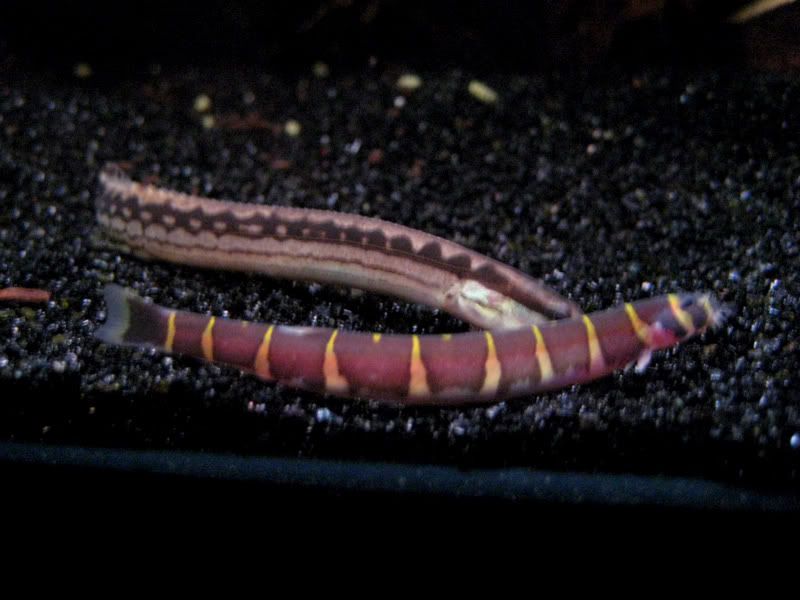 I still couldn't get any of my pleco... he came out and ate while the camera battery charged, but hid once I got it out again. The guy at my LFS told me the eel might pick on the loaches once he gets bigger, but I'm half doubting it because right now he seems to think he's one of them. Whenever they're all together, he joins them.
I liked the pictures!
You have a very nice tank. I have some kuhli loaches but seldom see them except for during tank maint. I hope the eel continues to pal around with the loaches.
---
The most important medication in your fish medicine cabinet is.. Clean water.
eel goes in the driftwood often?
how about more shots of that? thats awesome
Thanks! Yeah my loaches are really good at hiding.. when I drop food into the tank, I see them come out of all sorts of holes in the driftwood and from under the rocks. I hope the eel stays peaceful too... he's the newest member of the tank but as soon as I got him he was out exploring. He didn't hide or anything, and he's not jumpy or scared when I stick my hand in there or do water changes. He's pretty tame! I'd hate to see him pick on other fish.
Yeah there's a little tunnel in the driftwood that he loves sitting in. Pretty much whenever he's not swimming around, he's in there. Next time he goes in I'll take a couple more pictures for you.
that's a sick tank sir
---
46 Gal. Bow Front
-Blood Red Parrot (orange)
-Green Terror
-Jack Dempsey
-Blood Parrot (yellow)
-Large Gold Gourami

10G Community
3 White Skirt Tetra
3 Black Skirt Tetra
1 Otto
1 Rainbow Shark
I like it! All the black, makes all the other colors stand out so nice! Is the eel eating off that cucumber, or just checking it out?
Ahaha thanks!
Yes, the eel eats the cucumber. he kind of pokes around it for a while then seems to almost stab it and chew. Surprisingly, my pleco is the only one that won't touch the cucumber.
Posting Rules

You may not post new threads

You may not post replies

You may not post attachments

You may not edit your posts

---

HTML code is Off

---