My 27 Gallon
---
Hey guys just thought Id show off my Gourami tank. I have 5 gourami total. 2 Blue and 3 gold. Just got them last week (with the exception of one. I had one female gold gourami for about 3 weeks before I got the others) Should I add more plants?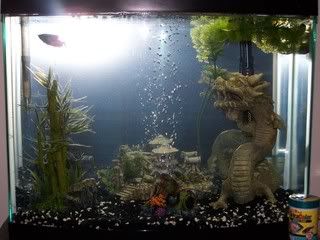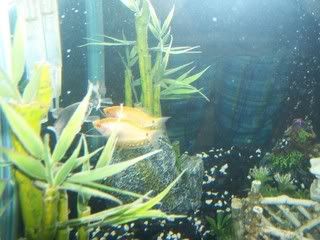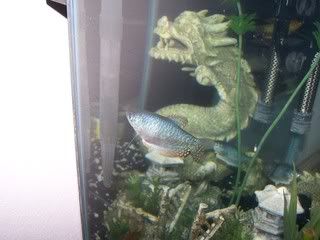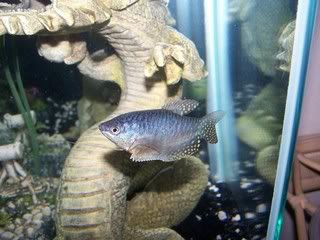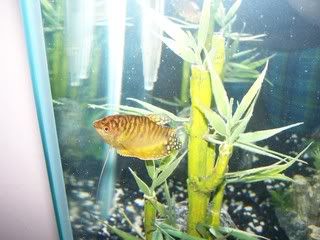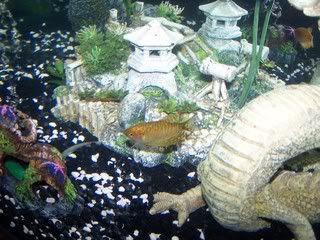 And here is a quick video...
http://www.youtube.com/watch?v=axVOXVUed7M
---
Last edited by Elloria; 03-24-2010 at

01:45 AM

.
I like the Asian decor theme. :) I have always wanted to do an Asian fish tank with Oriental pottery and stuff.

I have some broken Indian-looking pots in my South American tank. I've been looking for something Mayanish, or maybe some large arrowheads.
Posted via Mobile Device
Nice tank. I love that dragon ornament.
---
Animal testing is a terrible idea; they get all nervous and give the wrong answers.
Ty guys! I plan on adding live plants in the near future. Java moss I hope. The Male golden gourami loves to sit inside the mouth of the dragon. Its his hiding place hehe.
more plant would also provide more cover if an indavidual became aggressive :):):)....nice set up and good luck with the G's
---
190L Tropical Aquarium
a wise fish keeper said to me "your not a fish keeper , your a water keeper the fish just live in it"
5 Pristella Tetra
2 Bristlenose Plecs
5 Angels
Posting Rules

You may not post new threads

You may not post replies

You may not post attachments

You may not edit your posts

---

HTML code is Off

---