Thanks Mike. He's in the doghouse after biting my finger a few minutes ago
---
ʎɐqǝ uo pɹɐoqʎǝʞ ɐ ʎnq ı ǝɯıʇ ʇsɐן ǝɥʇ sı sıɥʇ
The Sterbai cory is quite lovely.
Glad you posted it.
---
Sent from my desktop or phone or whatever else I am holding on to

I'm ready for the pressure.
The drama and the pleasure!

If there is one thing I want to see here, it's HUMOR.

I believe I can fly!
I believe I can touch the sky!
I think about it every night and day!
I stand in awe of my body.

this is probably a stupid question but im curious as to how you clean your gravel since its sand rather than, well gravel? i always do a gravel vac to keep mine clean but i dont imagine you could do that with the sand. i know loads of folk have sand, but it was just when i saw your pictures there and how clean it looks that i thoguht to ask.

im in awe of your tank - its really nice
Thanks Julie. To clean the sand, I use the gravel vac but instead of putting it right down to the bottom, I hover it just above the sand. Because the fish waste is lighter than the grains of sand, it lifts without taking the sand with it.
It took a bit of practicing to get it right - the first couple of times I ended up with a dirty bucket load of sand
---
ʎɐqǝ uo pɹɐoqʎǝʞ ɐ ʎnq ı ǝɯıʇ ʇsɐן ǝɥʇ sı sıɥʇ
Kate:

I remember when you were contemplating purchasing your Sev's and getting prepared for them to show up.

They are very nice fish and I hope you are appropriately pround of them.

TR
Hi Ron, thanks. I remember telling you before I got them - I was really excited. They are doing really well, growing quickly and will even let me touch them now. They're fine with the bottom dwellers, showing absolutely no interest in them at all. As predicted they completely destroyed my live plants, but I can live with that (will just have to get another tank for planting) 8)
---
ʎɐqǝ uo pɹɐoqʎǝʞ ɐ ʎnq ı ǝɯıʇ ʇsɐן ǝɥʇ sı sıɥʇ
Hi kateyoup, wonderful tank! I just set up a 20 gallon long and I'm thinking of switching to sand (I also will have some corys, love them) I think the bottom dwelling corys would appreciate the sand instead of gravel. But I was curious on this whole toxic gases that builds up in the sand that is released by stirring it. Do you have any information on this? Do you simply disturb the surface sometimes to stop the "black spots" from happening?
Any info on keeping your sand clean/healthy would be great!
thanks!
Hi Firebelly girrl,

I used to keep gravel in my tanks, and at first was slightly worried about keeping the sand clean etc, but I've never had one problem with it. I bought proper aquatic sand, as this won't compact like regular playsand.

Each time I do a water change, I hover the gravel cleaner just slightly above the sand, this way all the fish waste is lifted but the sand isn't sucked into the gravel cleaner (it takes a bit of practice to get the technique right). I go over the surface of the sand a few times using this method, until there is no dirt left.

I then use a plastic fork, and rake through the sand - just going through it once is enough. I leave it to settle for about ten minutes, and any missed dirt that has been disturbed has then settled back on the surface of the sand, and I repeat again with the gravel cleaner once.

Then I just fill her back up. It may sound time consuming, but it's not once you get the hang of doing it. I find the sand much easier to maintain than gravel, because with sand you can actually see the dirt, whereas with gravel it gets trapped between the stones.

Hope that helps :)

Oh - and the corys absolutely love digging about in the sand!
---
ʎɐqǝ uo pɹɐoqʎǝʞ ɐ ʎnq ı ǝɯıʇ ʇsɐן ǝɥʇ sı sıɥʇ
It's four months since I updated this thread, so I thought I'd post a couple of more recent pics.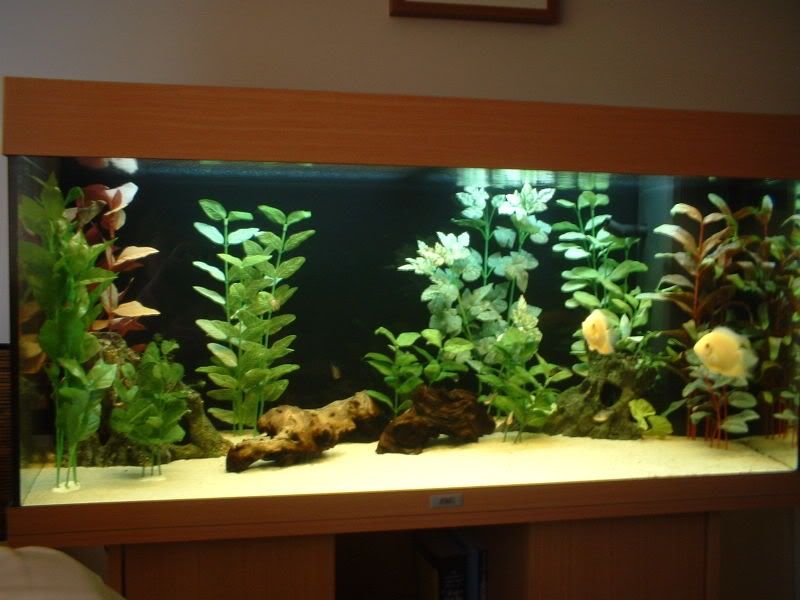 Posting Rules

You may not post new threads

You may not post replies

You may not post attachments

You may not edit your posts

---

HTML code is Off

---