Johnny's 55G Renovation!!
---
Hey Y'all...as you've gathered from some of my posts, I've been in the slow process of slowly converting my 'arctic' tank to a more natural look....
This is what the original tank looked like.....it was great at first....but I got sick of the brightness and I learned my fish didn't appreciate it also....here's the 'before':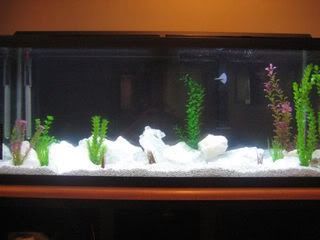 Over the past few weeks, i've slowly swapped out the gravel, to avoid a mini cycle....here's a pic before there was any extras added....the huge rock was something I picked up over christmas...
I decided i didn't like to look of the darker blue background and switched it back to black...I also ordered some driftwood....I fell in love with three pieces I got....2 tall ones and 1 'humped' shaped piece for the middle..here's the first one that was added...I also added my new dual lighting unit i got in a few days ago....
Next came the middle piece....
Then the other 'tower piece'...
So the whole new tank looks like this....
And here's a picture of my new favorite fish...my kribensis!! I've never had a fish photograph better than this guy.....
All and all, i've never been more exicted about a tank....here's the total before and after shot....
BEFORE: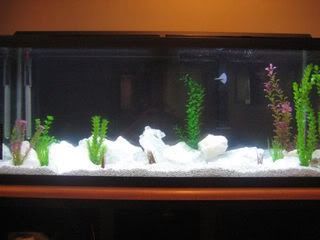 AFTER:
Thanks everyone for checking out my updates!!! I'll update my plant build soon enough....i'm still working on my plant shopping list...
What a transformation. That krib is beautiful!
---
If you don't stand up for something you'll fall for anything...
---
thats a very nice transformation.. I too like the black background....
looks much much better this way.....
any more plans ??? or ideas ahead?
---
210 Gallon
180 Gallon
120 Gallon
75 Gallon 1
75 Gallon 2
55 Gallon
30 Gallon
20 Gallon
10 Gallon

Take a look at the pictures
of our tanks on the profile
page.....
Posting Rules

You may not post new threads

You may not post replies

You may not post attachments

You may not edit your posts

---

HTML code is Off

---