Jinithith2's picssss part II
---
OK got some fresh bats for my camera and took some shots.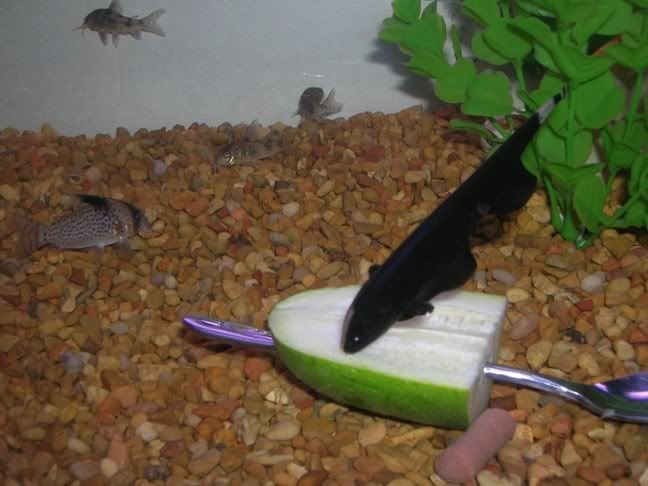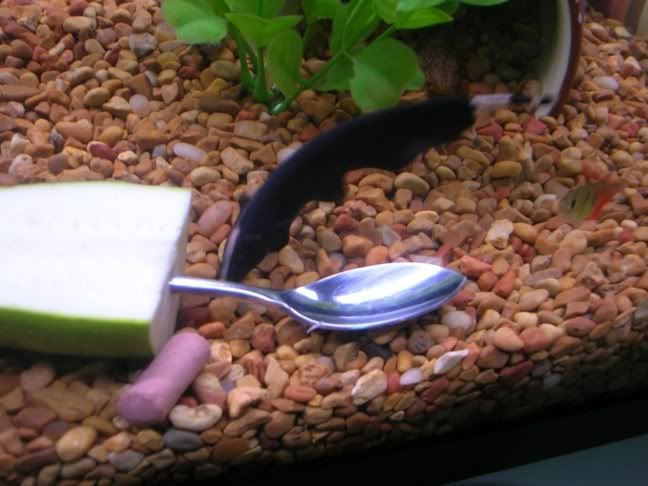 My BGK enjoying some zuchinni (weird...I thought they were carnivorous)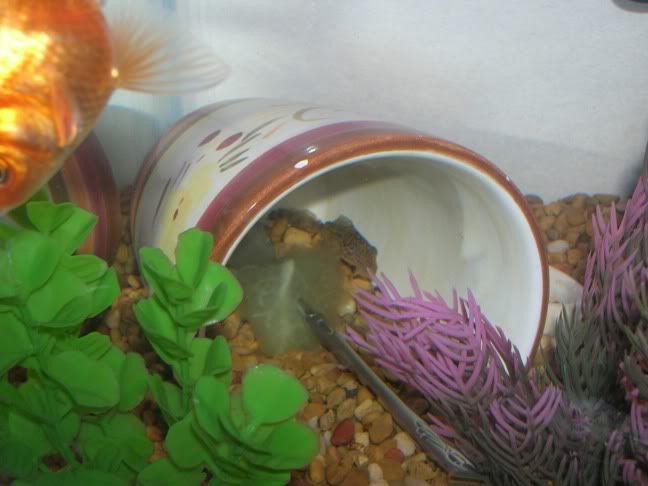 second cave placement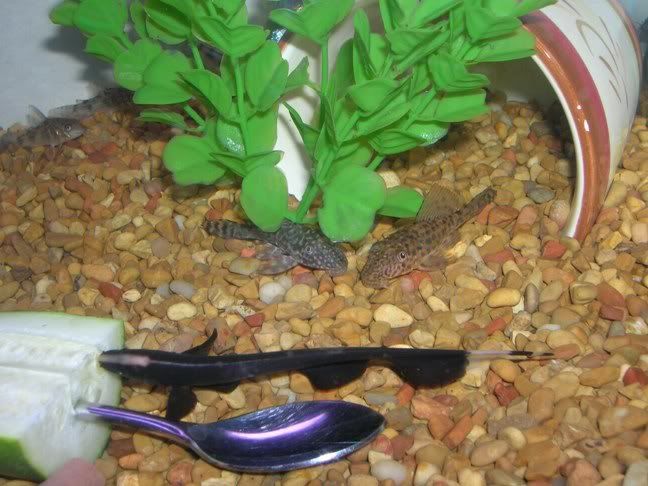 Two plecos chatting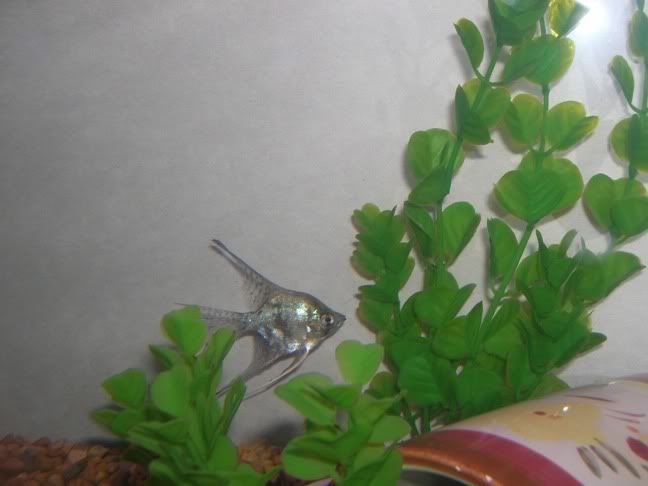 Shy angel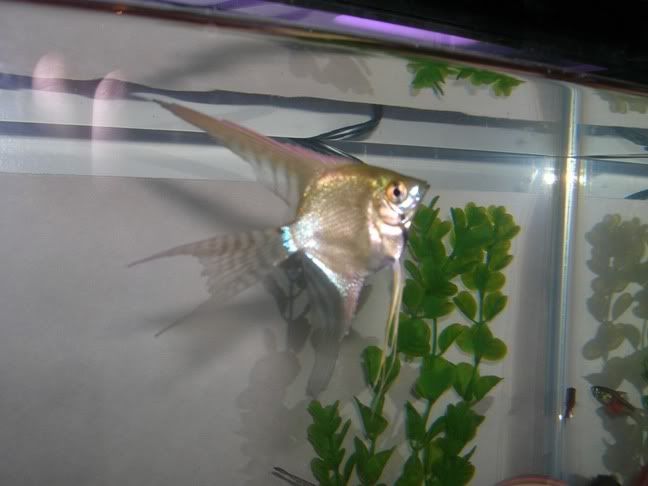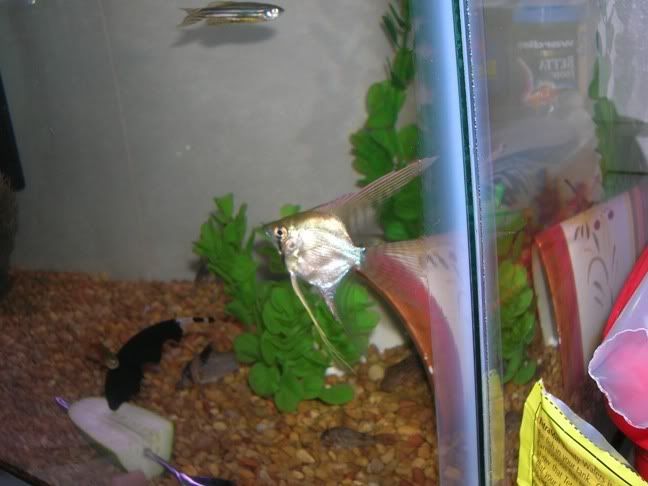 Gregarious angel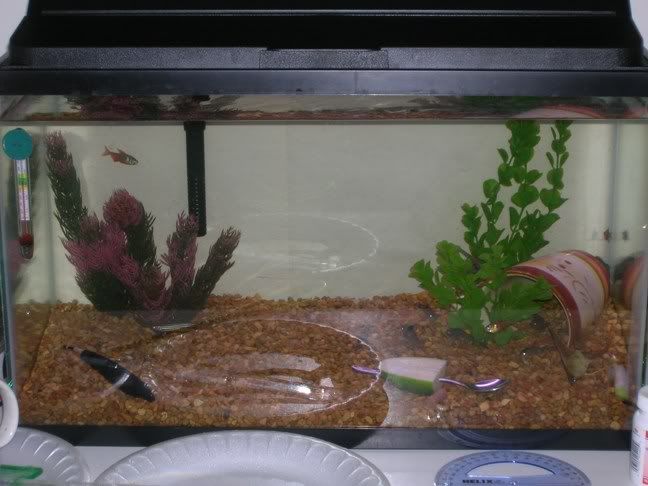 and finally...my tank!
Enjoy! :D
he comes out now and then but he shares a home with my shy pleco. At first, the pleco chased it out but now its happy to have a cavemate :D

-edit-
he is skimming along the surface upside down and is exploring the tank a lot now! He makes little clicky noises whenever he tries to bite something like zucchini or the floating plant pod, but never any of his tankmates. He has been peaceful with them, but sorta bumps into them once in a while. Gave my bluish common a good scare when he "clicked" right above his head :D
thats the same pleco i got from prtsmart they said it was a common do u no what it is?
nope. I got it from Pet Supplies Plus and they are a lot more knowledgable than PetSmart, but the person said that he didn't know for sure but pointed me to some clown plecos, other ones labeled as common plecos and some really cool clown knives :D
what is a bgk? and is that a 10 gallon tank? it looks similar to my setup. nice pics. =)

bri
Quote:
Originally Posted by girlofgod
what is a bgk? and is that a 10 gallon tank?
Black ghost knifefish, and yes it's a 10 gallon
I didn't know BKGs could be kept in a 10g
They can't.

jinithith2, I would suggest that you either return the fish or get a much bigger tank to keep the BGK in.

A fully grown BGK can require a tank of around 60 gallons upwards, and can grow as far as I'm aware to around 20 inches in captivity.
---
ʎɐqǝ uo pɹɐoqʎǝʞ ɐ ʎnq ı ǝɯıʇ ʇsɐן ǝɥʇ sı sıɥʇ
I am keeping it for the moment for a friend who owns a 100 gallon tank, so when he grows any more, I will give it to him
Nice BGK, angels and other fish, Jinithith2.
Agree with Kate on the BGK's size and requirements.:)
---
Sent from my desktop or phone or whatever else I am holding on to

I'm ready for the pressure.
The drama and the pleasure!

If there is one thing I want to see here, it's HUMOR.

I believe I can fly!
I believe I can touch the sky!
I think about it every night and day!
I stand in awe of my body.

Posting Rules

You may not post new threads

You may not post replies

You may not post attachments

You may not edit your posts

---

HTML code is Off

---