i read this,and looked over at my atari and frankie.then i just lost it.i would be a complete mess if i lost them.i know i will someday.waddles just reminds me so much of atari.she received the best of care before she passed.you are such a dear izzy.my heart goes out to you.
---
bettas-goldfish-shrimp-snails-planted tanks
Thank you, Sandy. You and Jes and so many other people have had such kind words for me. Waddles was such a special fish. Not only to me but to a lot of people. In this case, it truly is better to have loved and lost than to have never loved at all.
I just couldn't let another goldfish go to a bad home. Someone I knew bred her fish and needed homes for some. I brought one home with me. The little guy arrived today. He's only about 4 months old. He's tiny. I forget how small they are when they start out.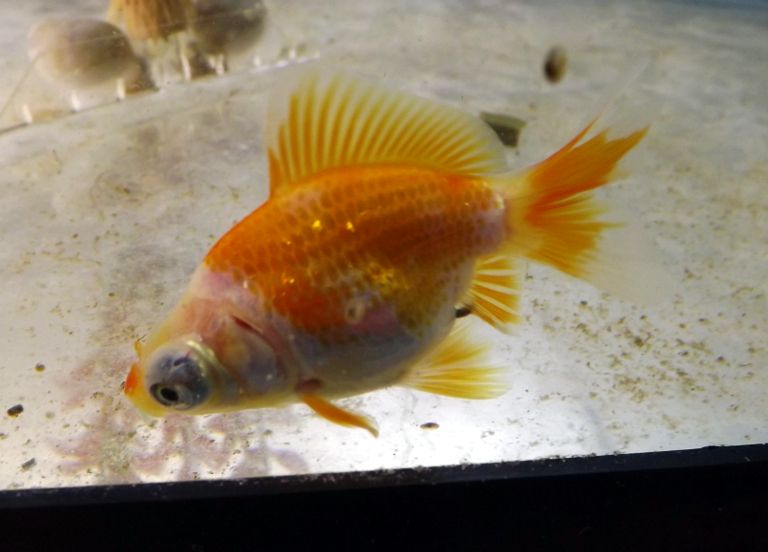 Pardon the limpets on the glass and dirty floor. He's to blame for it. He's already tried to eat everything and make the biggest mess he can.
looks like a demekin. cute lil' guy
---
bettas-goldfish-shrimp-snails-planted tanks
Thanks, Bekah! He has such the personality!

His parents were demekin, but he didn't get the butterfly tail. He and the other plain ole vieltail were the last ones left. I would have taken them both if I could.
He is one cute goldfish! And sooo small too!
---
540L/140G - 'Tidal Jungle' (Crabs) | 254L/67g - 'Backwater Pool' (Fish/Snails) | 96L/25G - ''Twisted Minds" (Fish/Snails)

I've never had any problems with 'Impulse Buying'. They're just animals that I forgot I had planned to get.
BABIES!
-swoons- Baby goldfish party! :)
Name ideas yet?
Posted via Mobile Device
Yes!! I forget how small they are when they're young! You know, I never thought I'd like telescopes, but your pictures did break me down, Olimpia. And the adorable face of this guy.

As for names, I'm a bit stuck. I'm torn between: That's not Food, Don't eat that, or something like Rocket. He's the fastest fancy goldfish I've ever seen. I've also been thinking about Harley after .
Posting Rules

You may not post new threads

You may not post replies

You may not post attachments

You may not edit your posts

---

HTML code is Off

---