Yes, I laid down some egg-crate, mainly just as a precaution in case some of the rocks tumble. Plus it helps spread the weight of the rocks out along the bottom of the tank. You can never be too safe.

Also, when I went to the local stone place, they didn't have any "raw" stone, but they gave me a bunch of chunks of the finished granite counter top material. Do you think this would be safe for an aquarium?
yea, i put eggcrate down in my saltwater tank as there the same issue. rocks. my new tank may be bare bottom though so i might just have to risk it however the tanks glass is 1/2

counter top is just polished granite, it should be just fine.
1/2 glass will surely make that tank stronger than most. Still might not be a bad idea, just in case. I really didn't want to come home and find 55 gallons of water on the floor.

Excellent, maybe I will just use the granite counter-top material, it would surely give the tank a unique look. Plus it is going to stack alot easier (its perfectly flat).
well if i go bare bottom adding eggcrate wouldnt work so well. if anything cutting boards do the trick. i still might add a thin layer of sand so idk.

counter top is expensive, no? regular old slate does the same trick and i would imagine it being cheaper. i have piles and piles of it due to someone taking their roof apart, the only issue is that slate chips easy and little pieces are in the tank.
I wish I could find slate or some other natural rock this time of year. I can get the "excess" counter-top material for free, they actually appreciate me taking it, because they pay per ton to have it removed and recycled.

So I have a bunch of odd shaped pieces that are ~6x6, give or take a few inches.
you can usually find slate rock at harware stores. i picked up a bunch from home depot.
aspects, urs are awesome!
---
~veganchick~

All things bright an beautiful,
All creatures great and small,
All things wise and wonderful,
The Lord, God made them all.


*Vegans Have more Fun*

http://www.petshopanimals.webs.com

Wow I really like that rock background! Im going to have to try that on this tank.
Sorry it took a while to get some photos up. It turns out my computer got a bug and now makes up its own mind on what it wants to do, mainly lock up!
Cost: So far 10 bucks for the hinges and a sheet of veneer "sp?" Not counting nails, glue that I already had. Most of the wood is scrap picked out a outdoor pile behind the shed. Tank was for free!
I still need to poly coat it. With the weather/ temp it takes up to a week for the stain to dry so I just put it to use for a week or two.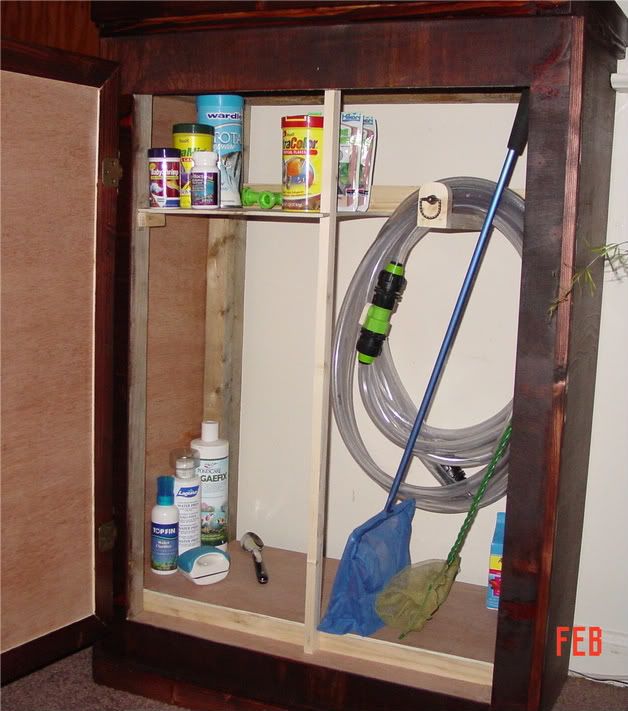 Going back to my other post about shimmering light in the tank I found with the help of you all that it is caused by a single or more light source set high above the tank. It will have three LED lights on the hood, 2 to the side and 1 center to the back. The top will be open. I wanted to make it odd, like nothing you will see in the store.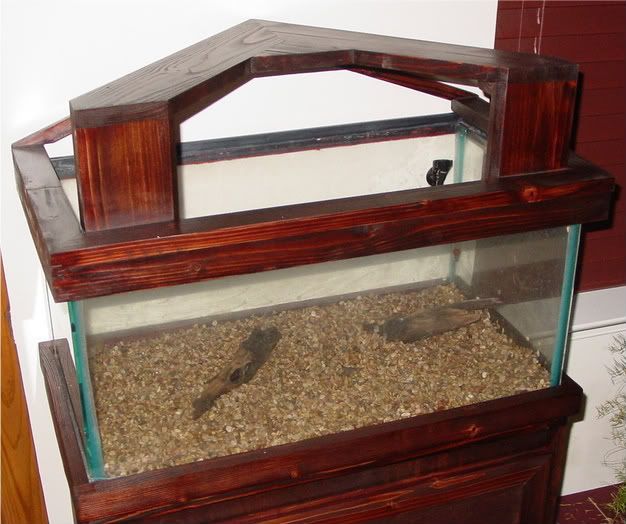 The poly coat should make the wood grain pop a little more.
Posting Rules

You may not post new threads

You may not post replies

You may not post attachments

You may not edit your posts

---

HTML code is Off

---