Help me ID a "suckerfish" inherited from a friend
---
Okay, so a friend of mine was breaking down their 10 gallon and asked if I wanted the last inhabitant, a "suckerfish." I assumed it was a pleco, and said that I'd take him and put him in my 55 gallon. When they brought him, I realized he was not a pleco, and I honestly have no idea what he is. I've googled and searched, but still have no idea. I'd appreciate any input.
Thanks,
Jen
He's about 4 inches in length.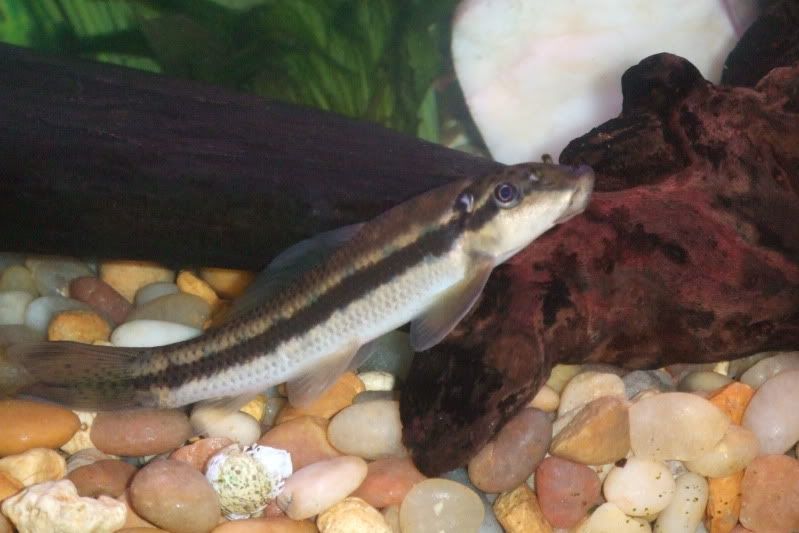 Looks like a chinese algae eater...Gyrinocheilus aymonieri

When small, it's a nice algae eater for a community tank... Unfortunately, when it gets around 6-7 inches long it will stop eating algae, become territorial and mean-spirited able to torment larger fish to death.

It maxes out at around 11 inches long, but I suspect it would get even bigger in ideal conditions.

The Chinese algae eater has a distinct 'sucker' mouth, so I assume thats what you have.

If it's mouth is less sucker-like, it could be a Siamese algae eater, which is a peaceful community fish.

edit- now I'm doubting myself. could be a flying fox. Definately one of those three... Get to googling. :)
---
__________________
Soil Substrates Guide:

Part 1
---------
Part 2
_____________________
---
Last edited by redchigh; 01-04-2011 at

11:52 AM

.
I think it is a Chinese algae eater now. The SAE has whiskers like a cory.... Your fishes coloration is almost identical to the typical SAE (the good one), but CAE are highly variable...

Now I'md doubting myself again.
Wait, no, If it has no whiskers, it's a CAE. Thats my final answer.
I have to agree with redchigh, its a chinese algae eater. I had one before and it died, so i bought another one and that died as well. I think my water quality was the problem. Mine never really got to the 6-7 inch stage so I never saw any signs of aggression. It barely cleaned any of the algae in my tank too. I know that a lot of what you're hearing about it now isn't very encouraging but my advice is just keep the fish and see if you like it. If you don't, then just bring it to your LFS and ask if they will take it. My LFS sell them as 'Sucking Catfish', so you may want to say thats what it is if they ask you or just say Chinese Algae Eater. Good luck with the new fish :D
Posting Rules

You may not post new threads

You may not post replies

You may not post attachments

You may not edit your posts

---

HTML code is Off

---