That is one lovely tank willow, it looks fabulous! :D
---
ʎɐqǝ uo pɹɐoqʎǝʞ ɐ ʎnq ı ǝɯıʇ ʇsɐן ǝɥʇ sı sıɥʇ
aww guys thanks for the lovely comments,it means alot :)
the only plants that are not real is the one on the back
of the tank,it;s a silk one from a graden centre,htere are
a couple of them in there,the rest is real,however it escapes me
what it is called,all i can say about it is that it is a fantastic grower
considering it just has juwel lights,it grows really well
in the big tank also.
The groumai are new as of tuesday,and i have only now been able
as of yesterday ge some pictureas of them,the little girl is really shy.
Ihave wanted the pearls for a while now,and got them at what i feel
was a good price,so i'm happy.
The reason the fighter is in there is because i had a rescue g/F
and it's now residing in the fighters tank,until i can arrange
a new home for it,however the funny thing is ,is that it swims around
most of the day with the pelvicachromis.
Question for Herefishy.............
do you know these by any other name ?
It is truly a lovely tank! Thanks for sharing.

I just wanted to know the actual size of it.
from the big tank.
please excuse the glass,these pics are before a water change and an algae scrape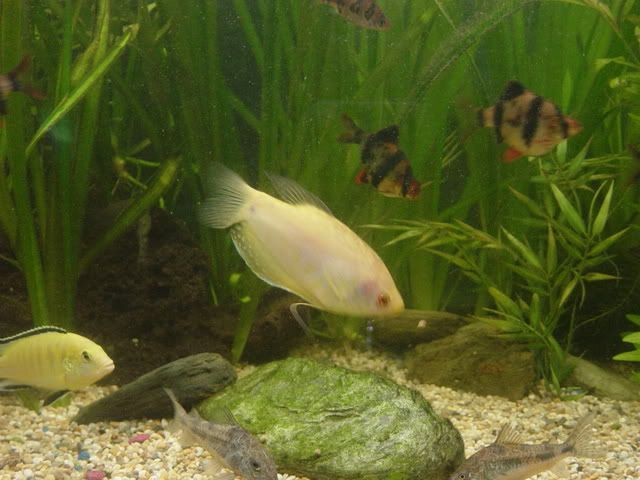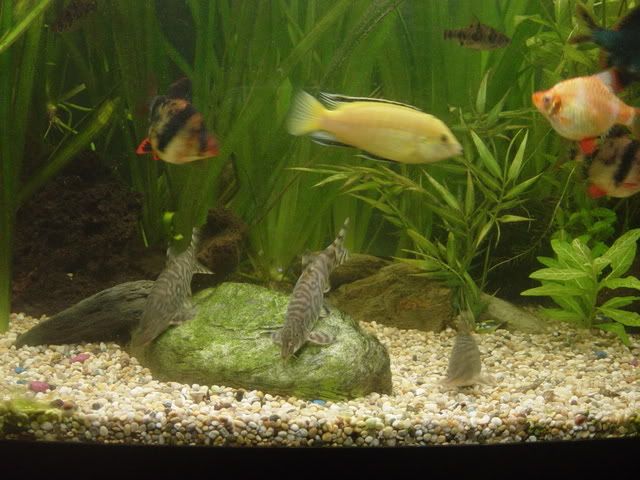 Oh, that was beautiful!

I see, you have gourami together with tiger barbs, so how are they coexisting? I was thinking of relocating two golden gouramis into the 40 gal barb tank. I have the same roundish tigers and albinos, plus some green barbs. They are not aggressive, but they have no tankmates other than some cats and applesnails.
hi
that male gourami really holds his own with the tiger barbs,
my barbs have not been overly agressive any way to be
honest,the only time they are rabib is if there is shrimp
as they took out one of my mountain shrimp,which was
3inches long,and ripped the poor thing apart.:(
the gourami had a female but he harassed her almost to death,
he constantly chased her day in and day out.
so i re located her,he has been in there ever since,and
he swims around and does his own thing,
the tank that he is in is a 240lt 4ft bow front,so he has
plenty of places to go should he need to.
the only fish to annoy anyone else are the YoYo loaches.
Posting Rules

You may not post new threads

You may not post replies

You may not post attachments

You may not edit your posts

---

HTML code is Off

---