first try at El Natural
---
My 1st real attempt at the El Natural method. 15 gallon tank about 4 months old. Still working on it, but the plants have filled in for the most part. Still not finished stocking though. I need to swap one of the light bulbs too cuz its too green/hates my camera. Its still slightly cloudy from me tearing it up a few days ago(one of the downsides of this method I guess). Currently has 17ish fish, untold number of snails/ shrimp, 11 species of plants. I'm pretty sure it follows all the El Natural rules, except wcs might be too frequent.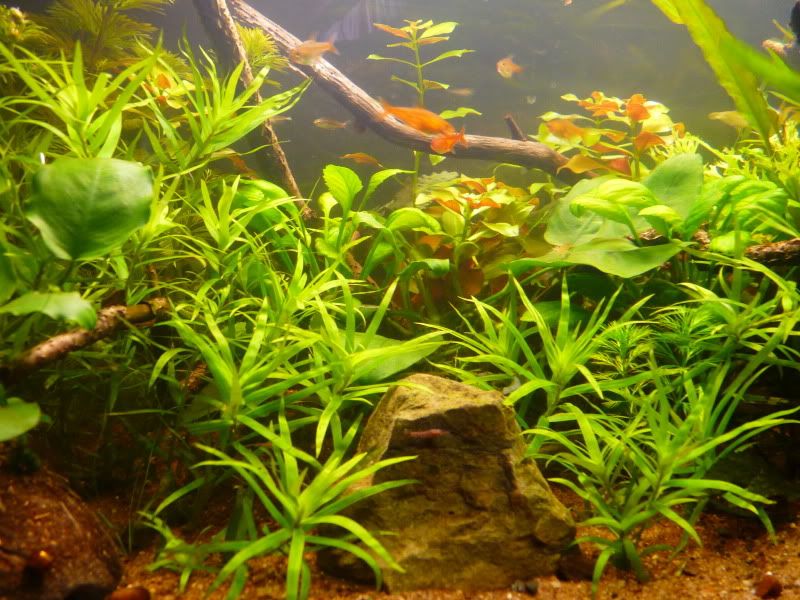 Sooooooo nice! You did a great job
---
Animal testing is a terrible idea; they get all nervous and give the wrong answers.
What is the plant around the rock?
---
"I know you'd rather be sad than stupid. Genius by day, Junkie by night. By the grace of breeze, I never scraped a knee that didn't help me see bleeding isn't what it seems."
~Eyedea
Good job!!! What are you lighting with?
---
When looking for a solution to an Aquarium problem go slow and change only one parameter at a time!

The foreground plant is stargrass.

Lighting consists of what I had laying around. Two fixtures on this tank. A striplight over the back half retrofited with 2 X 14 watt spiral compacts. Then the same fixture on the front with the normal 15 watt T8. The tank runs pretty much 3wpg. It started with 2wpg for the first month I think before increasing it. No algae.... so far lol.
Posted via Mobile Device
Lovely. Can't wait to see it fully stocked.

There's no rule that says your water changes are too frequent, it's just an element of el naturale that the tank is ok if you slack off. :)

Too bad that endler won't stay still... Looks like one of mine.
Very lovely indeed. A good symmetry, nice contrast in shapes. Beautiful. Well done.
Byron.
---
Byron Hosking, BMus, MA
Vancouver, BC, Canada

The aquarist is one who must learn the ways of the biologist, the chemist, and the veterinarian. [unknown source]

Something we all need to remember: The fish you've acquired was quite happy not being owned by you, minding its own business. If you're going to take it under your wing then you're responsible for it. Every aspect of its life is under your control, from water quality and temperature to swimming space. [Nathan Hill in PFK]
yeah wc's are 30-50% a week. This tank decimates the 20ppm of nitrate in my tap water, way more either of my high techs. I can't deal with low nitrate so I do wcs lol. Final stocking is going to be around a GBR pair, would like more nano fish but they are not too common around here. Current stocking is 3 sparrow rasboras, 7 ember tetras, 4 P. gertrudae, 3 male endlers, cherry shrimp, then various hitchhiker snails.

Setting up the substrate too a long time. I didn't mineralize it or anything. Just dug everything out of a wooded gully by my house. Clay, dirt, and then sand. I'm kinda use to the cloudiness by now, but the only powerhead in this tank is slightly too strong. No filter either, so it tends to just blow stuff round and round.
Was this the tank done in response to Redknee's challenge a while back? It looks absolutely fantastic. Its hard to believe its only 15gallons, the way you planted it gives it amazing depth.
this tank is 15 gallons
---
38 gallon :
Pelvicachromis Taeniatus Nigerian Red not yet breeding pair
4 Pangio Kuhli
12 Hemmigrammus Bleheri
2 Botia Lohachata
1 Botia Straita
1 Ancistrus Sp.
6 Poecilia Reticulata




The Wet Spot Portland Oregon!!!!!!
ADA: Do!aqua Iwagumi 10 gallon size!
7 Clown Killies
7 Ghost shrimp
Similar Threads
Thread
Thread Starter
Forum
Replies
Last Post
El Natural... I'm pretty sure

Mean Harri

Beginner Freshwater Aquarium

11

12-29-2009

07:28 PM
Posting Rules

You may not post new threads

You may not post replies

You may not post attachments

You may not edit your posts

---

HTML code is Off

---