Finished Set-Up =D
---
i had to get Bagel a filter cos a rediculously thick protien film kept developing on her water. afte a partial water change and a couple hours with the filter, its pretty much completely gone. but yeha, getting a filter shouldnt be too difficult right? wrong! took me like four days to get everything up and running. i had to get a surge board to plug everything into and i needed to get a 15 foot extention wire. then i found out my outlet doesnt have ground plugs, it only has two prong sockets so i had to get a ground converter. when that was all good i duct taped the extention wire around my closet door. all i needed was the filter. which took me three days to get. everywhere was out of the 3i whisper filter. they had every size but that one XD. i only got it cos the manager at pet co was having someone from another store drive in some dog food and he got the guy to drive in a 3i filter too. kept it int he office for me so no one would take it =D
but anyway, i feel like posting pictures of my set up now cos i feel very accomplished after four days of total rediculousness.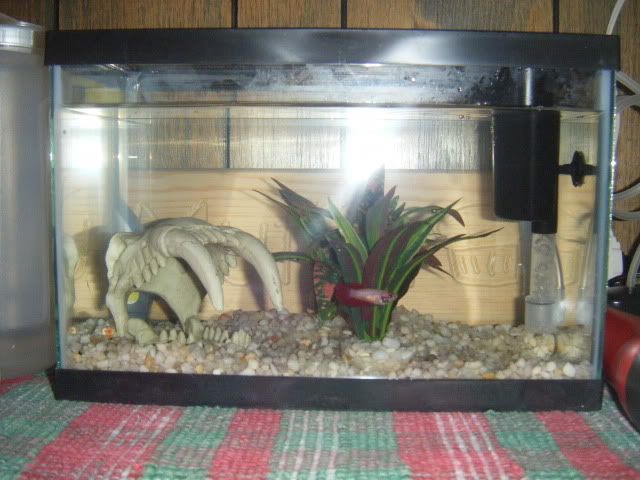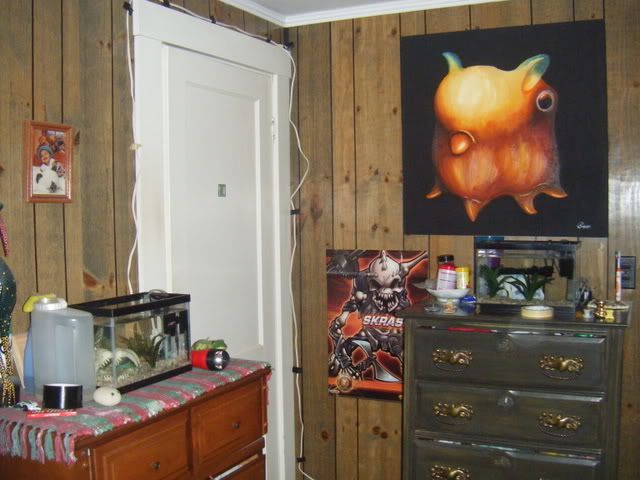 i had to re-do the tape in one corner cos it came loose. thats why the wire looks so droopy XD
---
Proud owner of Bagel the Warrior.
RIP Ivan the Terrible and Billy the Kid
I am sure Bagel appreciates your efforts. :D
---
The most important medication in your fish medicine cabinet is.. Clean water.
haha it was so worth it
bagel is a happier fish good job
---
I am against piracy, please dont sink ships
:)
I really like the Sabre Tooth Tiger skull in the tank! It looks great. And ditto for me on Bagel appreciating your efforts.
---
"One fish, two fish....red fish, blue fish."
NICE!!! Be careful not to get your hand caught in that cats mouth!! :D

It looks good.
---
80 Gallon--One 12" Albino Tiger Oscar(Whitey),One 11" Common Tiger Oscar (MC-THE OSCAR),One 5" Male Convict(TURNBUCKLE),Three 4" Male Convicts(STATE,MR.DESTRUCTO,ADREI),One 13" Pleco(RILO)

20 Gallon--One 4" Female Convict (Sparky),One 2" Female Convict(WRIGLEY),One 6" Pleco(BEAVIS)

10 Gallon--One 4" Female Convict(COUNTY),One 5" Albino Pleco(SUCKER),One 1" Female Convict(PHEEBE)
I'm sure Bagel will love you for it. Or maybe just be a little less grumpy for a while :)
---
This is the song that never ends...
the weird thing was, bagel was never any less active or grumpy-ish when the protien film was there. although she prolly is happier now that its easier to eat and breathe.


haha thanks i love that skull. its all rawr!
it makes an awesom cave. my fish seems to enjoy swimming in and out of the various holes in it =)
---
Proud owner of Bagel the Warrior.
RIP Ivan the Terrible and Billy the Kid
Looks like a nice home for a little betta. I'm planning on getting a betta sometime later this year and I'm getting a T-Rex skull for his tank.

That painting on the wall, did you paint that from a magazine? I just threw away an issue of... well I can't remember that had that exact little weird squid thing on it.
---
Tetra Fanatic
Watch my tank progress from Craigslist salvage to fishy habitat:
Aaron's Tank
The only things that happen quickly in an aquarium are bad things.
yay t-rex skull! the place i got it from had the sabor skull and a triceratops one XD

haha yeah, i dont remember what magazine either. i just though it was the ugliest and yet the cutest thign ever. so i did a 30in by 30in oil painting of it
---
Proud owner of Bagel the Warrior.
RIP Ivan the Terrible and Billy the Kid
Posting Rules

You may not post new threads

You may not post replies

You may not post attachments

You may not edit your posts

---

HTML code is Off

---