a few pics of my wolf fish
---
this is my latest addition, a 4 inch wolf fish
Hoplias malabaricus
this was taken on the first day I got him, around 7 days ago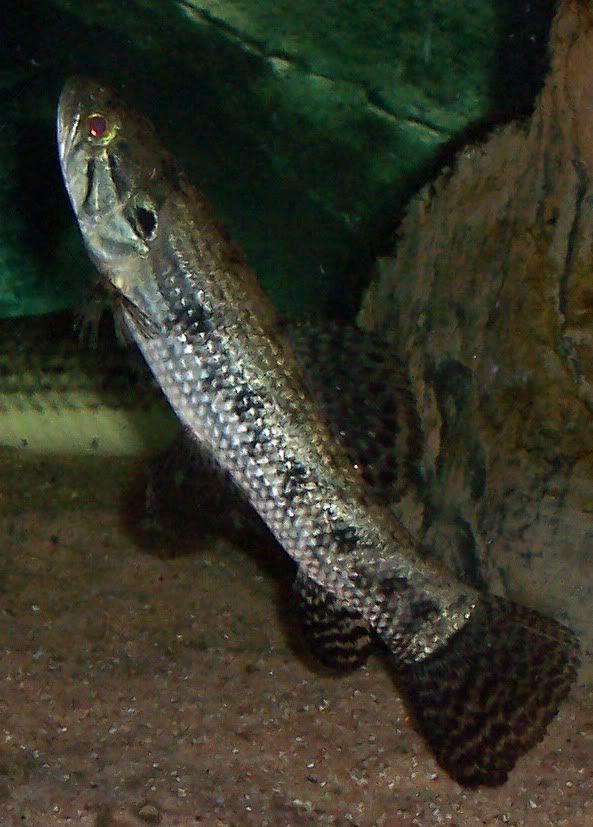 these show just how quickly they gain weight with a decent diet
any comments are welcomed
Quote:
Originally Posted by blueblue48
thats a super wierd fish! how much did it cost? how big does it get?
he was only £14.95.
they max out at 2 foot in the wild, but 18 inch would be large for an aquarium kept one.
the most amazing thing is, in the wild adults will hold off attacks from schools of piranah
0_o? sounds like a beast to me, do you feed him live foods? id love to see that guy eat
wow! fab fish there :)
i too will be interested to watch him grow,
will he pose any threat eventually to your other fish ?
dang man... i need to get a bigger tank... maybe build a 20,000 gallon to the side of my house so i wouldnt have any stocking limits accept compatibility
btw
---
http://img374.imageshack.us/img374/2559/bf2kingnq9.png
Signature Created By Codey
Oddities Aren't Wrong, Their Addicting
awesome fish! will he eat your other fish? post more pics as he gets bigger please
Similar Threads
Thread
Thread Starter
Forum
Replies
Last Post
Pics of my fish

Twistersmom

Freshwater Journals

20

01-12-2009

05:57 PM

The-Wolf

willow

Off Topic Discussions

6

12-06-2007

01:22 PM

who's afraid of the big-bad-wolf

The-Wolf

Introduce Yourself

8

03-16-2007

12:01 PM
Posting Rules

You may not post new threads

You may not post replies

You may not post attachments

You may not edit your posts

---

HTML code is Off

---