WOW... love it. Such a simple layout, yet with the subsrate and lighting.. it looks absolutely amazing! I love your gourami too. Never really looked at pencilfish, but will start now, Seem pretty intereting.
---
"Everyman dies, not every man truly lives." - William Wallace
Thank you so much for the kind comments everyone. I'm surprised that pencilfish aren't more popular in the aquarium hobby, I think they're astounding little fish. They're very interesting to look at when the tank lights are out - the whole pattern on their body changes from horizontal to vertical markings.
Guppyluver4ever - I don't mind at all if you copy my landscape, thanks for the compliment. I'm going to be replanting the tank very soon, so it's not going to look like that for much longer.
Aunt Kymie - I wish! How cool would it be to work for National Geographic as a living?
---
ʎɐqǝ uo pɹɐoqʎǝʞ ɐ ʎnq ı ǝɯıʇ ʇsɐן ǝɥʇ sı sıɥʇ
Couldn't resist posting this picture of my gourami, Fred. I've been trying for days to get a clear shot of a rosey barb, but it ain't happening - they're just so fast!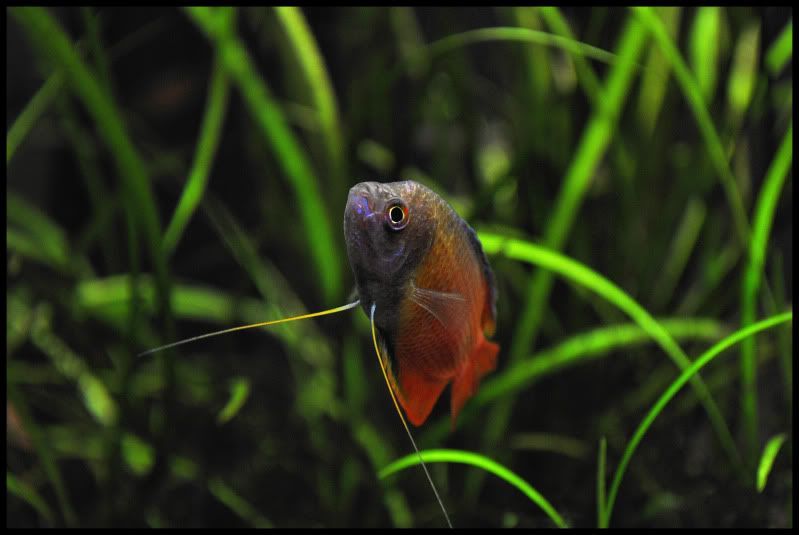 ---
ʎɐqǝ uo pɹɐoqʎǝʞ ɐ ʎnq ı ǝɯıʇ ʇsɐן ǝɥʇ sı sıɥʇ
Wow, these pictures really are amazing! I agree that the fish appear to be floating in mid air!
Crazy crazy! ! ! should try and enter some contest to win money with your fish shots def could win no problem.
hes copy and pasting the fish thats why its so clear!!!! naw jk but nice tank :P
Wow that is amazing lighting...what settings did you use and what kind of camera??
---
Proud owner of: 45g hexagon w/angels,red tail black shark,3 white clouds,2 white skirts and 1 glow light tetra. 2 bettas and two african clawed frogs. 1 spoiled dog,2 pampered kitties. One large male iguana and 3 lop ear bunnies. 2 red ear sliders.
Posting Rules

You may not post new threads

You may not post replies

You may not post attachments

You may not edit your posts

---

HTML code is Off

---