Feeding Ms SassyPants tonight plus quick view of my 75
---
I can't help but play with this tank. Can't wait for my other tank of psychos to be ready enough to screw with lol. My family and friends would think I'm crazy if they saw how I like to mess with these guys...no harm just fun. These are videos of the Blue crayfish I'm kinda trying to get her to get used to my hand(kind of!! crazy pycho girl!) actually had success after I found the boy feeding him without a glove.
*disclaimer! I do talk to them but in my defense I've been talking to kids all weekend and my brain is "kidified" *
Also I keep saying "bite" because I'm used to talking about fish...I mean t say pinch but I was too busy playing haha. Video cut off so here is the actual feeding. but look at the purple plant. Turns out the boy was in there I think the whole time. And I was able to feed him sans gloves! He really isn't as mean as she is.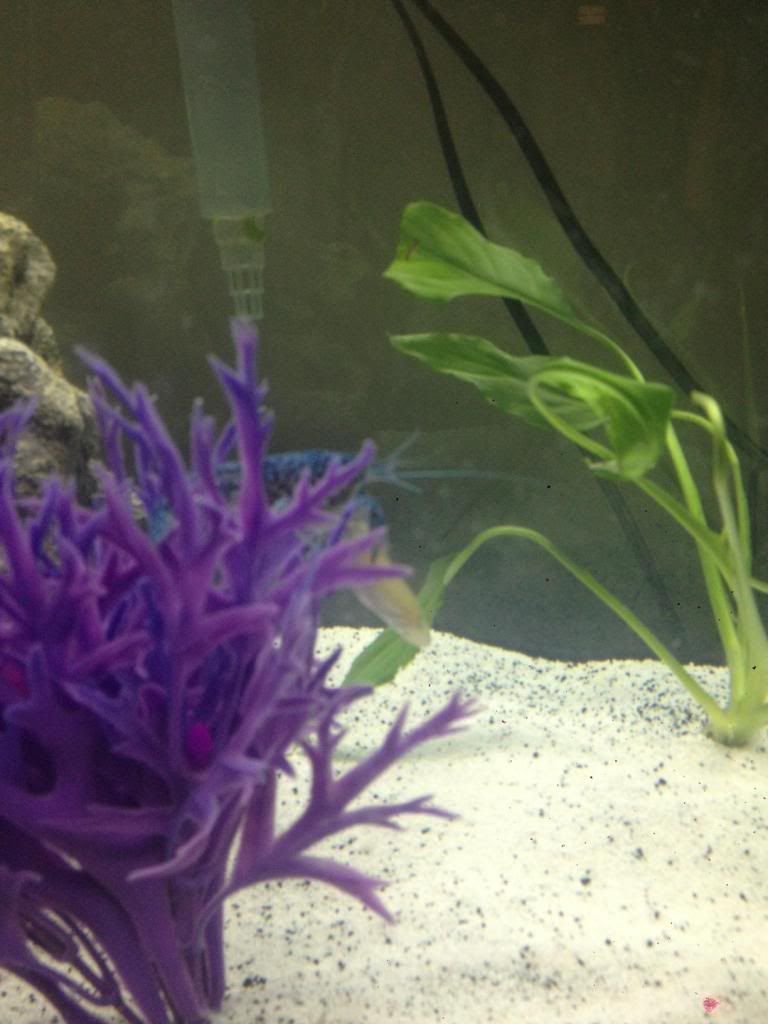 ---
Last edited by Agent13; 06-17-2013 at

01:29 AM

.
Cute videos! She sure is aggressive!!
If that's an Iphone you are using, turn it horizontal with the camera lens in the top left corner and your videos will upload wide rather than tall. I take all pics and video that way, less manipulating after.
---
Every kid, regardless of what they are going through, is ONE caring adult away from being a success story. ~ Josh Shipp, Teen Behavior Expert
didn't think to do that haha. I really need to put the life proof case back on also and take in tank videos.
She is aggressive!! She has anger issues lol. It's funny to watch her storm around the tank charging at the barbs murdering the plants and tossing stuff around. The crazy person in me says I can tame her but my rational side says NOPE haha. I like a challenge
Beautiful crayfish
I love how they pop against the substrate.
---
Animal testing is a terrible idea; they get all nervous and give the wrong answers.
Quote:
Beautiful crayfish
I love how they pop against the substrate.
Thanks Romad! I just don't love it how she "pops" against my fingers haha.. she gave me a heart attack this morning when I was target feeding with turkey baster and no gloves. She normally clamps on to the end of it and holds it in place while she eats but this time she was a little over excited and jumped at it/me a little higher then I was emotionally prepared for
. But I do tend to do most of my tanks with mix of 75white 25 black sand or gravel(unless it was the ones the kids put input on lol) but this tank I decided 90 white would be nice because she is soooo bright and so is the boy.
looks awesome! I saw some at my local store the other day and I was really tempted but chickened out. I feel like he'd go after my one of my cory or small tetras sleeping at night. haha
Quote:
looks awesome! I saw some at my local store the other day and I was really tempted but chickened out. I feel like he'd go after my one of my cory or small tetras sleeping at night. haha
You're right. They will prey on bottom sleeping fish or really most fish. Seems the barbs can handle my psycho crayfish fine but I had to set up a new tank just for these guys lol. Honestly I'm not all too safe with the girl specifically. We are trying to iron out our issues and talking things out but she just keeps on going back to that whole "I want to kill you ...or your fingers!" thing
Quote:
they're so cuuute <3
And so cuddly! She's so snuggly like a honey badger hehehe
Posting Rules

You may not post new threads

You may not post replies

You may not post attachments

You may not edit your posts

---

HTML code is Off

---