Damos 60L tank pics
---
hey this is some pics of my tank hope you like its only 26 days old ;]
Corys:
Mollies: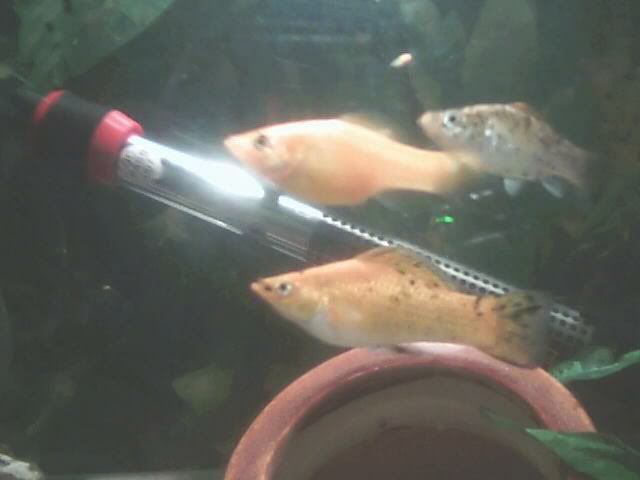 Fry:
2 day old
20 days old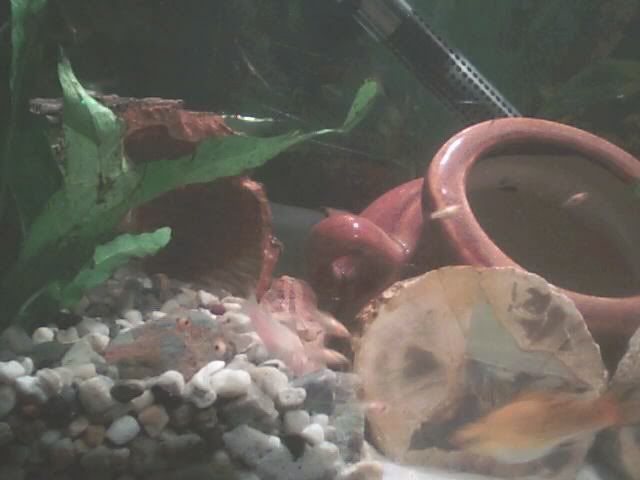 Full Tank:
silly fish ate all the millfoil only java ferns left
Hope you like
comments please photos are bad because im using a webcam
Very nice tank. are those pieces of petrified wood? I have something similar is why I asked. If tank is26 days old and some babies are 20 days old mothers must have dropped right after you put them in. Or did they come from another tank? GOOD JOB!
---
The most important medication in your fish medicine cabinet is.. Clean water.
hey thats one good lookin' thermometer you got there (same as mine)
and is that sand dividing the gravel in the front? if so i like it.
very nice tank
---
I am against piracy, please dont sink ships
:)
1077: if your talkign about the two rocks infront of the pot then no there called thunder bird eggs or rocks cant remember ;] they where pregnate when i got them :D

Meatpuppet: i know the thermometer its a corker ;] and yes that is sand its traveld a bit under the gravel but what can ya do :P

Fish in the tank are 3 adult mollys about 10 mollie fry and 3 albino corys
plants are 2 java ferns as i said the fish ate the millfoil >;[

if i got soem glass shrimp would the molles or corys eat them?

cheers damo
yup. They would view them as snacks and if the shrimp were too big for them to eat outright they would kill them and then eat them.
---
The most important medication in your fish medicine cabinet is.. Clean water.
I really like your substrate set up. That gravel/sand combo is very nice. Will sand travel far enough out of place that eventually it all ends up under the gravel?
Very nice pics & tank.
Too bad about the plants; they look awesome in your pics.
hey me too have mollies. they are very beautiful fishes.. have 24 mollies..
Great pictures of the fry, and nice tank! Welcome to the forum :)
---
ʎɐqǝ uo pɹɐoqʎǝʞ ɐ ʎnq ı ǝɯıʇ ʇsɐן ǝɥʇ sı sıɥʇ
Posting Rules

You may not post new threads

You may not post replies

You may not post attachments

You may not edit your posts

---

HTML code is Off

---