Bubble nest!!
---
when i first got my male plakat betta fish, Ivan, he was very grumpy. he just kinda hovered around wiht his fins clamped up for liek four days. so i got him a heater and a filter. and the change was almost immediate. he now swims around happily and spreads out his fins. well, when i came home form work tonight, he had made a bubble nest! :D it's small but yay anyway!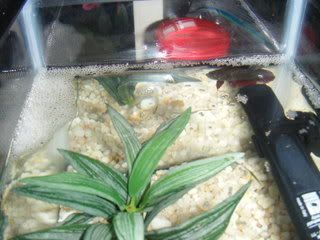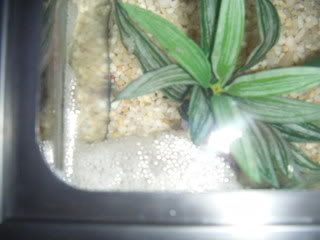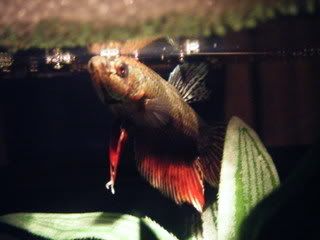 ---
Proud owner of Bagel the Warrior.
RIP Ivan the Terrible and Billy the Kid
wahoo! are you going to breed him? what size is that tank?
---
Ask the experimenters why they experiment on animals, and the answer is: "Because the animals are like us." Ask the experimenters why it is morally okay to experiment on animals, and the answer is: "Because the animals are not like us." Animal experimentation rests on a logical contradiction. ~Charles R. Magel
he's in a 2.5 gallon tank

i dont think i can breed him. my female is tiny and young and i dont think she has any eggs XD
plus i'd have no where to keep all the babies. i thought about it though =)
---
Proud owner of Bagel the Warrior.
RIP Ivan the Terrible and Billy the Kid
good job on making your betta a happy fish. im sure the nest will grow in time
---
I am against piracy, please dont sink ships
:)
every day he's more and more active. he seems like he's gonna get as crazy as my other betta. but yeah, i assume that as he gets more and more comfortable his nest will grow =)
---
Proud owner of Bagel the Warrior.
RIP Ivan the Terrible and Billy the Kid
Posting Rules

You may not post new threads

You may not post replies

You may not post attachments

You may not edit your posts

---

HTML code is Off

---