Quote:
It's a jungle in there!
Thank you!
LoL but it just looks that way from the Hortwort that has taken over! It loves that tank with the brighter lights. I have to trim it or it would literally fill up the tank.
---
Next and final tank up is the Rasboras and cory cat tank.
This is the 29 gallon that has gone through soo many changes and been destroyed by my cats!!!
So it shouldn't surprise ya that yes once again they managed to do it again!!!
This time they managed to break my lid yet again. This makes 3 times now.
I was laying in bed last week when i heard crack and splash! I got up to look and found this...
Yep I was soo freaking mad!!! Words can't describe how I was that night.
I mean that was the third lid!!! So that makes like close to $60 down the drain total out of the three now. Yeah grrr.............
So the tank got moved to a different part of the house. In the living room. Yep the living room. Why you ask? Won't the cats get to it there you ask? LoL nope see they hate my dogs! Yep my great dane torments them. He never hurts them.... LoL he just wants to play but they see it as torment. So they never go into the livingroom as thats where the dogs are the most. So its been working to keep the cats off the tank.
I put some eggcrate on the top soo the lights can have something to sit on for the time being till i can get a new lid. I have tried to get one but none of the stores around me have any for a 29!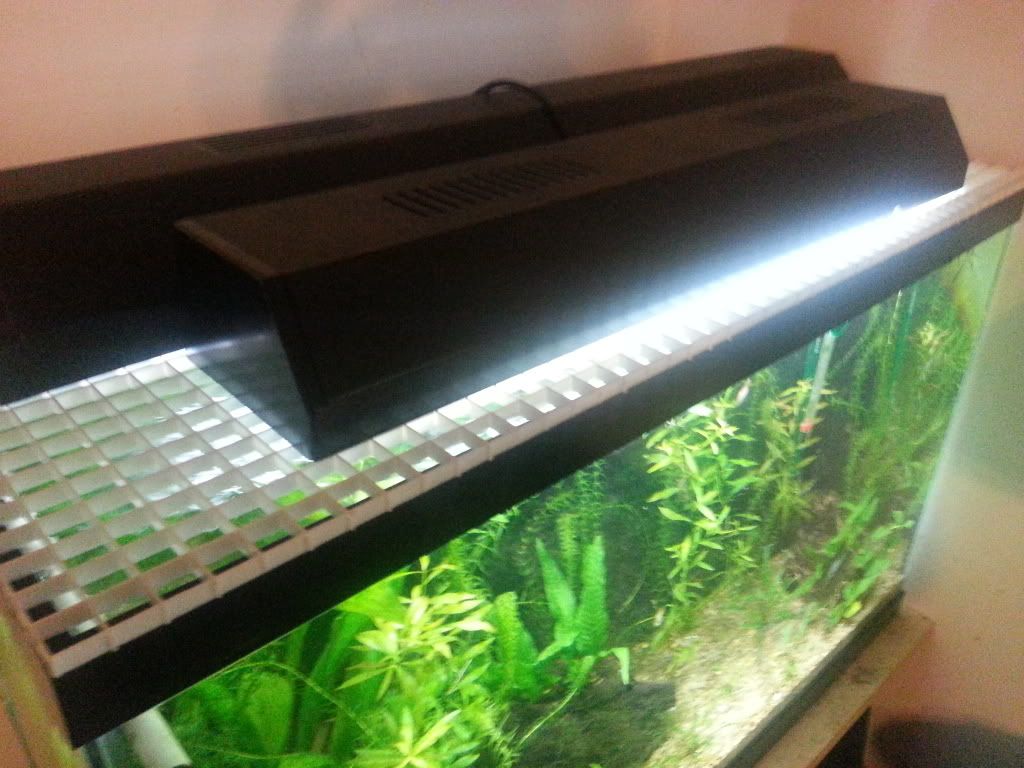 Might not be the best lid but its working and something I already had on hand. So it will have to do. I also put the extra light on it to help with maybe some of the issues of the eggcrate cutting down on the light from just one fixture it had before..
I also took the sponge that I had on the intake to my filter off cause it kept getting clogged too easily. It seemed like it wouldn't even make it a week with out clogging and would stop my filter from flowing right. So it had to go. I know it might not be the best idea with such small fish or shrimp. They seem to be okay with it tho. No one has gotten sucked up yet. LoL They all stay away from it for the most part or just swim by with no problems. So I think it will be okay. In the video at you are fixen to watch you will be able to see what I mean. As you will have a clear view of it and the fish swimming near it.
Keep in mind that has gotta be the worst video I have ever taken. In the beginning I feed them and was trying to get some shots of them eating but the lil snots were hiding behind the driftwood to eat. So at first is a lil crappy but it tends to get better later in the video I promise
So watch if you dare...... LoL
---
Not sure how I missed this update, especially since you told me it was coming. Nice video and of course I love the little fish.

Your tanks always look so natural, especially the 29. Honestly I'm jealous because I wish I could pull that off.

Nice music too.
LoL not sure how you missed it either.....

Glad you enjoyed the video/fish/tank but to me the tank just looks like a misfit toy. You know just not quite right but still has its own personality. Its starting to look better to me just not where I want it.
---
Your betta tank does look amazing. It looks like how a betta tank should look! Lush and full!

I'm sorry your cats broke the lid AGAIN. I can't imagine how frustrating it must be for you. But the 29 does look pretty good! Well the plants do. Couldn't hardly see the fish! It's like they fricken know the camera is out.
The betta tank pic isnt showing up for me :(
Your little feesh are so cute *squeals*
I'd give the cat a good smack on the bottom for being so cheeky and destroying your versatop!whatever happened to the mud tank? I havent seen any updates :( ...or was I unsubscribed from that thread yet again by silly tfk?
LoL Izzy yes they do seem to know when the camera is there and don't come out as much. They are soo lil and hard to film at times.

Ao still have the mud tank. Its just kinda there. Not much happening in it. The plants don't really seem to be growing in there. Is time to start adding fertilizers to it I guess. You havent missed an update on as I haven't posted one for it in a while.
---
i liked the video
and i adore dwarf puffers.....and i have a small poor lonely empty tank.....
---
when you set up a new tank,hide an extra
sponge or two behind some decor,that way you have
something seeded for you next filter.
Similar Threads
Thread
Thread Starter
Forum
Replies
Last Post
New to planted tanks

Bigdawg355

Beginner Planted Aquarium

12

06-26-2013

11:53 PM

My planted tanks

Obakemono

Beginner Freshwater Aquarium

2

12-11-2011

05:04 PM

Planted Tanks

Lupin

Freshwater Journals

10

12-10-2006

09:27 PM
Posting Rules

You may not post new threads

You may not post replies

You may not post attachments

You may not edit your posts

---

HTML code is Off

---