It looks great, John! I can't wait to hear how it works out for you with the higher lighting in those tanks. I hope they grow, grow, grow. . . :D Love the setup with the lil' bowl in the middle. SO cute!
The Frogbit has taken a liken to the brighter lights. Its putting off some really long roots. The Sunset Hygro is also starting to turn pink!
---
The betta tank seems alright too with it. Through my LiL bowl isn't doing good for whatever reason. : (
I gotta clean it out completely I think. Its got some really nasty water in it! O.O I don't really understand as it was clear till I added plants. Now its not like cloudy but it has some kind of scum on the surface and just looks nasty and doesn't smelll too go either . O.o
---
when i start off a tank I always dump in a load of snails with the plants :) a biggggg load of snails

what substrate are you using?
---
Last edited by ao; 07-28-2013 at

10:15 PM

.
Its a multi purpose sand. That has been in there for awhile with no issue.

Problem might have can from me disturbing the substrate??
Posted via Mobile Device
So the lights are on this morning and the lil bowl is looking clear again. YAY!!
It got a good cleaning last time. Took all the plants out rinsed them off laid them to the side. The I took the bowl outside rinsed out the sand. Then used vinegar on the bowl to clean it really well just in case. The glass wasn't dirty but I just wanted to make sure. Then I got new sand that I already had laying around and rinsed it really really well. Then put the bowl back together and got something like this...
Its a lil empty looking but hopefully the plants will grow some.
Now for the rest of the tanks on that stand (total of 3)
The Puffer tank..
The Frogbit roots that have taken off. Normally I can't get the roots to grow like this in my tanks. Chocking this up to the new lights or brighter lights.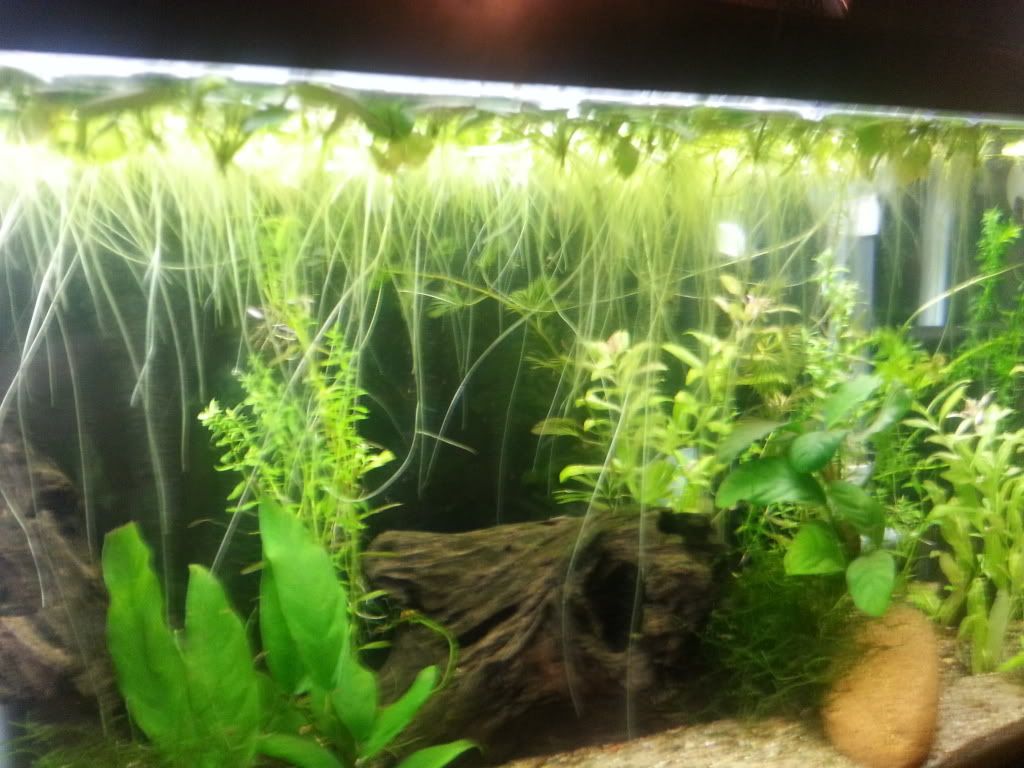 My Sunset Hygro that's starting to turn pink finally..
And lastly my Betta tank and snail tank..
---
Looking really nice, now! Love the tanks, and the lil' bowl - glad that's all fixed up, hope it stays, and those plants grow and grow! The setup is so fun with the three under one light. :)
Its great having one light for 3 tanks. But is kinda big and I have to move it just to feed the fish. LoL
---
Similar Threads
Thread
Thread Starter
Forum
Replies
Last Post
New to planted tanks

Bigdawg355

Beginner Planted Aquarium

12

06-26-2013

11:53 PM

My planted tanks

Obakemono

Beginner Freshwater Aquarium

2

12-11-2011

05:04 PM

Planted Tanks

Lupin

Freshwater Journals

10

12-10-2006

09:27 PM
Posting Rules

You may not post new threads

You may not post replies

You may not post attachments

You may not edit your posts

---

HTML code is Off

---