Yurp! but it's best to let it grow alone. A clump of it is an amazing thing in a tank, but it kind of acts like Duckweed - light and floaty. I put mine in with other floaters. It's still in the 55, but you don't see it because it got all mixed in. . .next time I want to keep it alone at the top of the tank, it looks so nice that way. Your Betta would love the stuff, I bet. :)
Yeah but but I am betting it won't like the HOB on the Betta tank???

I have it in my Puffer tank soo would it be best to take out the 2 water sprite plants?? How fast does this stuff grow??
Posted via Mobile Device
I think it would fine in there. . . You don't have much WS left *cries* So it shouldn't have a problem. Mine just got lost amongst a jungle of various floaters. No... HOB's make the stuff turn into party confetti - just like duckweed. But don't you have your HOB baffled in the Puffer tank? It can grow fairly quickly when it's happy :) Really neat plant, can you tell I like it? My frogs had a wonderful time with the stuff when it was in their tank

Some people band them down to rocks and such, but I don't *THINK* they ever actually grow roots. . .
Hmmm Well the HOB is the Betta tank but yes it is baffled. Through the snails sometimes knock it around. I think I will see if it will take off in the Puffer tank and if soo will take some and put it in the Betta tank.
LoL yes sounds like you REALLY like this plant.
Posted via Mobile Device
Yeah, I like plants ;)

Riccia is neat, different from anything else and very cool. My frogs loved getting tangled in the stuff at the surface. . . I hope it thrives for you. (if you want it to, anyway)

Speaking of snails, how would you feel about saving a few of those baby Apples for me? I've been thinking about keeping them again now that my tank is more established, would absolutley adore it if they came from a forum friend, as opposed to PetSmart!
Yep! That looks like Riccia to me, too. I have some in my shrimp tank. It's great for the babies! Your betta would love it, too. You could probably break that mat in half and put part of it in the betta tank and leave the other part in your puffer tank. I don't think it does a great job shading, but it does an excellent job of growing fast and taking up nutrients.
If you're selling apple snails, keep me in mind? Pretty please?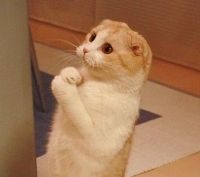 That mat is kinda small llike just pinch. Soo I will wait but will put some in the betta tank.

Izzy you can have as many as you want but i have no clue how to sex them and how big do Apple snails need to be before you sell/trade them, and especially ship them???

I still need to make for sure they are Applied snails too. They are soooo small right now and white. Soo they don't look like baby Acute Bladder snails as I see them all the time but I suppose they *could* be??
Posted via Mobile Device
LoL Byw My wife saw the cat pic and said Dawwww!!!!!!
Posted via Mobile Device
Heeheee, he was a cute kitty :) D'aaaw!
I'm not sure, but AppleSnails.net might be able to help? Great site.
The babies grow fairly quickly, so you'll be able to ID them soonish *crosses fingers for Apple babies*
And that's exactly what I look like when I ask for things! lol!!

I'd say wait until they are quarter or penny sized to sell? At least until you can ID them as apple snails. I don't know about the shipping thing, tho. Do you have a magnifying glass laying around?
Similar Threads
Thread
Thread Starter
Forum
Replies
Last Post
New to planted tanks

Bigdawg355

Beginner Planted Aquarium

12

06-26-2013

11:53 PM

My planted tanks

Obakemono

Beginner Freshwater Aquarium

2

12-11-2011

05:04 PM

Planted Tanks

Lupin

Freshwater Journals

10

12-10-2006

09:27 PM
Posting Rules

You may not post new threads

You may not post replies

You may not post attachments

You may not edit your posts

---

HTML code is Off

---