Glad you like it, John - and good luck getting the spot! It's still a weird schedule, but WAY more human, lol!

Nile - No help for you! You have the proper camera to do it the right way, so you should be able to get a good shot without edits, and if you can't, it's time to work those settings and figure it out - heh. That said, if you're using your cell phone, a camera with no adjustments, or have an ancient picture of great-great granny, I'd be glad to help out ;)
I do like it! I actually made it my wallpaper for my phone. LoL
Posted via Mobile Device
AWWW! You're so SWEET! It is a fantastic shot, I love it, too! You should go over to my picture thread and spam us with pics of that sweet lil' one of yours - she's adorable!
LoL I started to do that one day but that could take awhile. 95% of the pics on my phone are of her and I have a lot.
Posted via Mobile Device
I know the feeling. . . not the phone part, but good NIGHT! I have entirely too many pictures of my kiddos. You think I take a lot of FISH pics? O.o The babies just grow SO fast, and they're so pretty :) You gotta catch 'em while you can! Well, if you ever do find the time, I'd love to see you post them for us. I remember the shots from your camping trip last summer, love to see more of that lil' sweetie. I can't help but swoon over kiddos. :)
I will see if I can post some later. I am going to update this thread later today as well with pics of my tank and DEVIL cat and the reason I was redoing my tank last night at midnight! Grrrrrr.....
Posted via Mobile Device
So last night i was sitting on the couch watching tv with the family and I heard a "crash". So I got up and turned around only to see a CAT IN MY TANK!!!!!
She was stuck in it and couldn't get out well she did manage to get out but it took her a few to be able climb out of the mess she made.
She made one Hell of a mess too!!!!!
Talking about being mad!!!! I was HOT!!! Like cursing and throwing crap mad!!!
This is the DEVIL CAT that won't stay out of my tank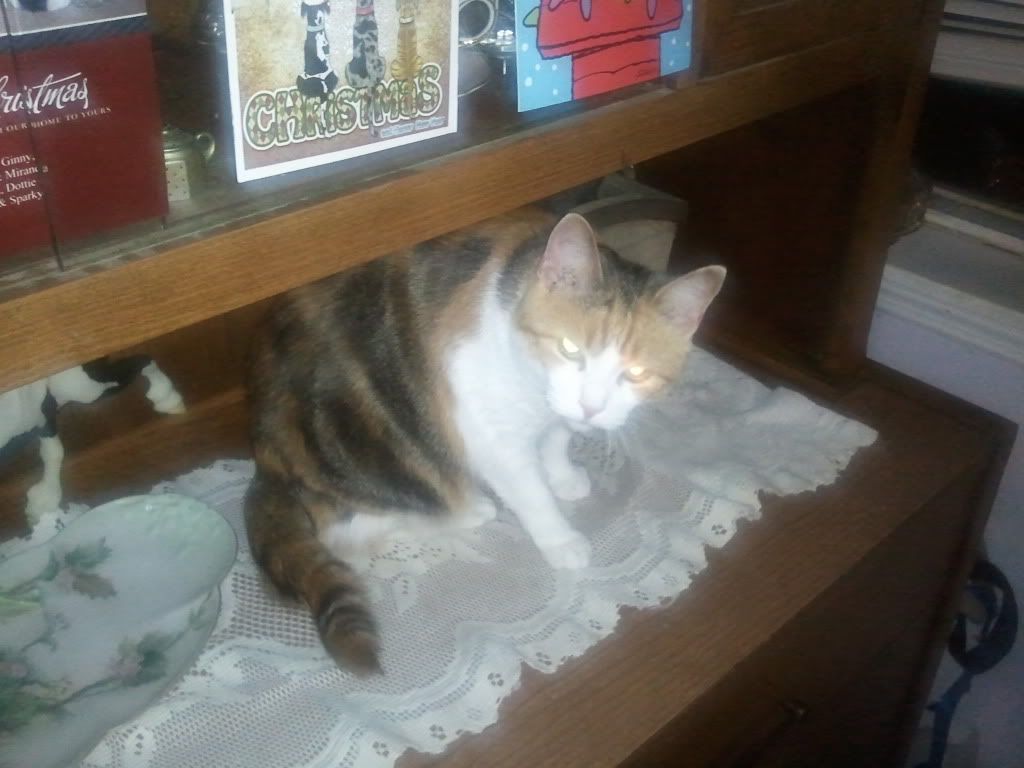 She wasn't happy with me nor me with her and you can see it on her face.
Oh just so you know I all I did was pick her up and put were she is in the pic. Though I felt like doing more then that.
This is her cleaning herself off after getting wet in the tank.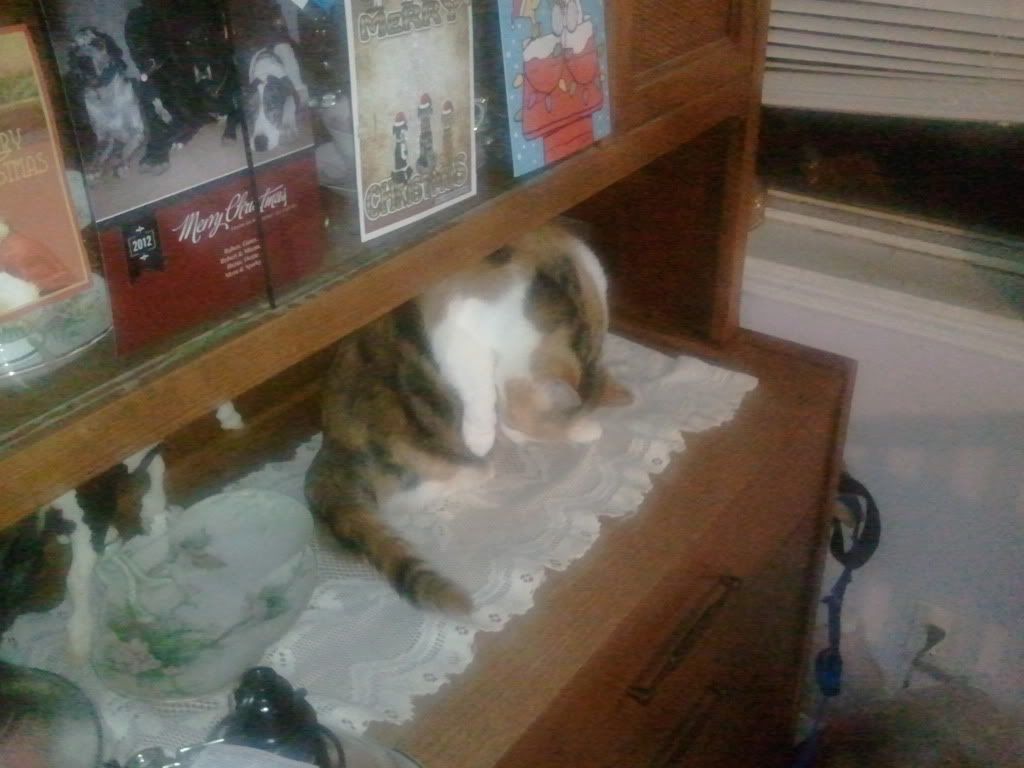 So I found myself cleaning out the puffer tank around 11:00 that took about an hour to get it all cleaned up and all the dirt out of it. At this point I am still steaming made and had decided never again. I am DONE WITH THIS TANK!!!!!
.
.
.
.
.
.
.
.
.
Well not really just with the idea of having a riparium. I will NEVER have tank a setup like this again with cats!!! I spent more time cleaning up the mess the cats made then I did enjoying the tank. I HAD just done a water change the day before and had to do another on again after that. SO I cleaned everything up and fill the tank ALL the way up. Then I put an old Glass lid on the top.
Soooo tank went from looking like this:
To looking like this:
Sorry for the bad pics! I didn't realize the tank had water spots on the glass until now. So this tank doesn't look the greatest anymore but its the best I can do with it.
---
Could you not just have the best of both?
Half full WITH a glass lid.....
---
55G tall planted community
15G Dwarf puffer tank
15G plant propagation tank
5G Snail breeding tank
Oh my word. I am so sorry this happened AGAIN. I would have bee livid, too. Hopefully the glass top will stop the damn cats.

So any new plans for the tank since you've filled it to the top?
Quote:
Could you not just have the best of both?
Half full WITH a glass lid.....
Because DEVIL CAT broke half the emersed plants too!!
My phone wont let me upload pics right now and I meant to upload them earlier and got side tracked lol sorry.
---
Similar Threads
Thread
Thread Starter
Forum
Replies
Last Post
New to planted tanks

Bigdawg355

Beginner Planted Aquarium

12

06-26-2013

11:53 PM

My planted tanks

Obakemono

Beginner Freshwater Aquarium

2

12-11-2011

05:04 PM

Planted Tanks

Lupin

Freshwater Journals

10

12-10-2006

09:27 PM
Posting Rules

You may not post new threads

You may not post replies

You may not post attachments

You may not edit your posts

---

HTML code is Off

---