Big fish!
---
This is my 150 gallon tank. It houses
2, 13" Oscars,
1, 9" Jaguar,
1, 17" Clown Knife
18" Pleco
12'' Pleco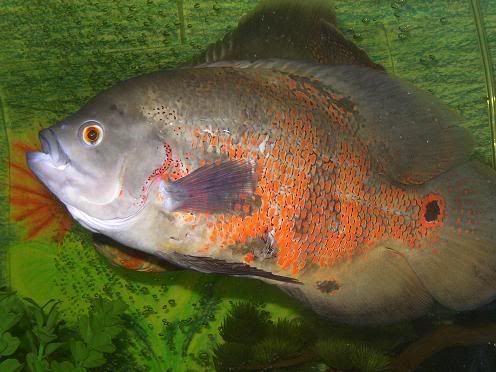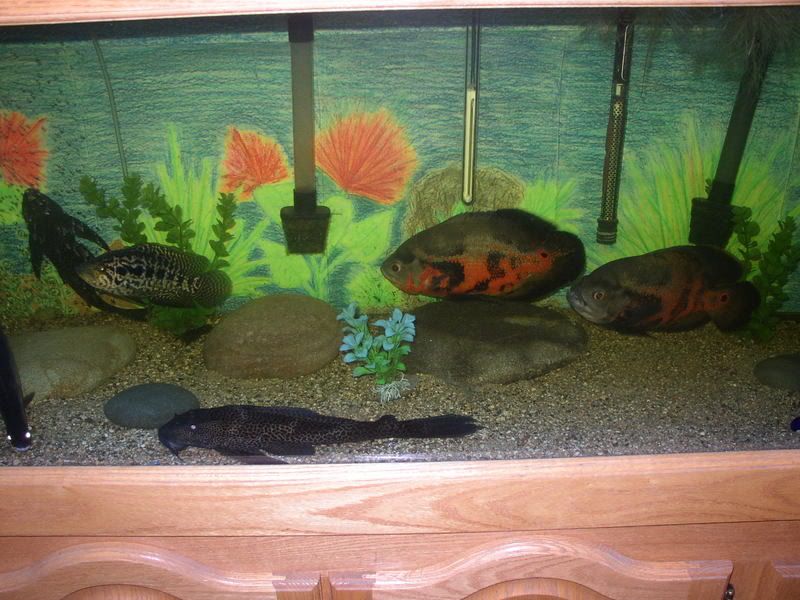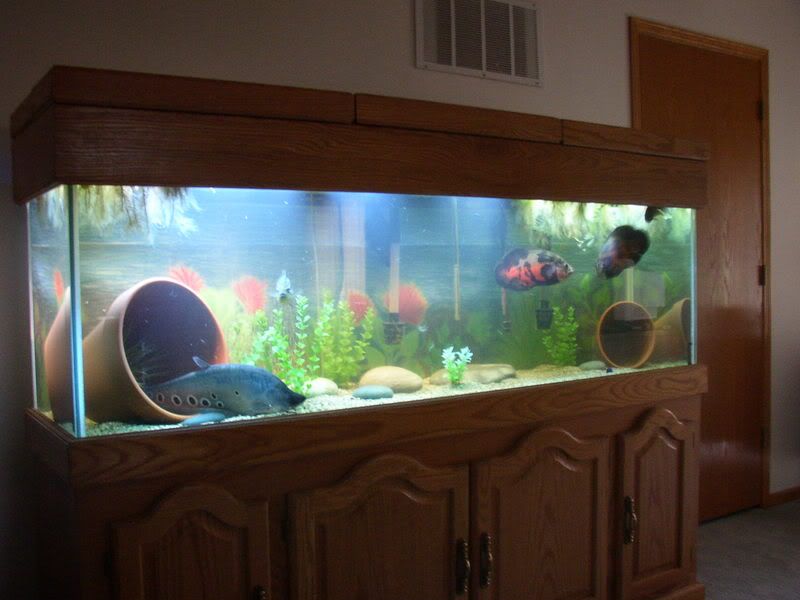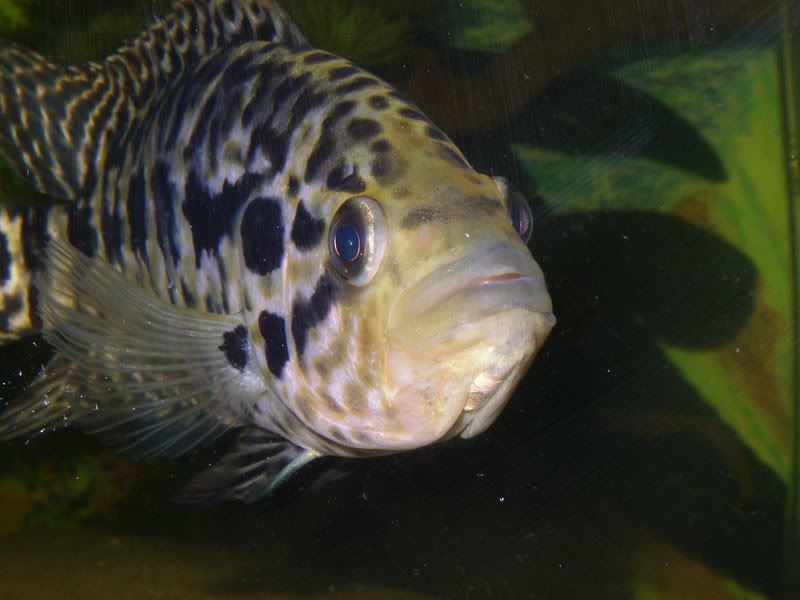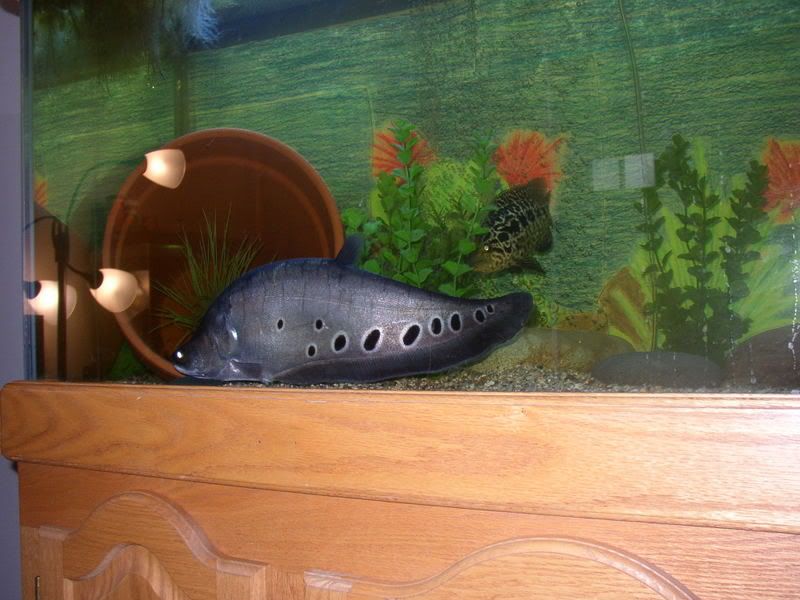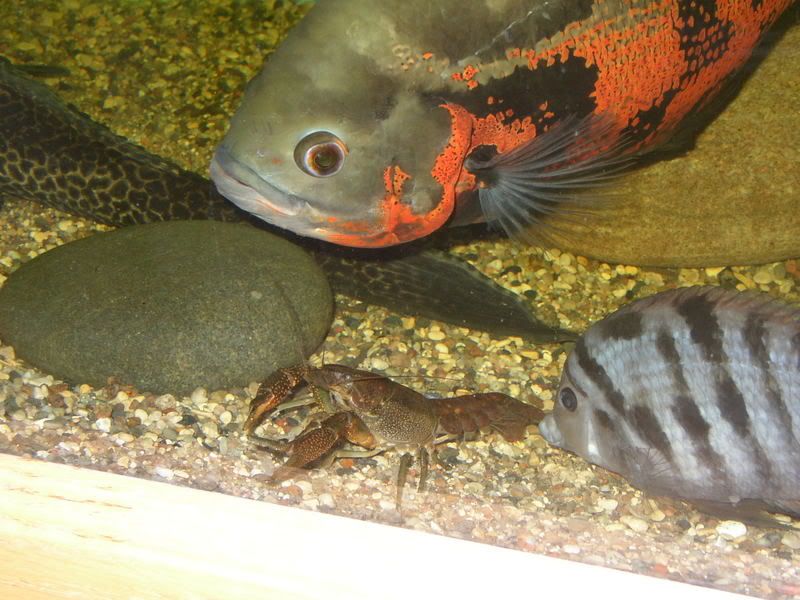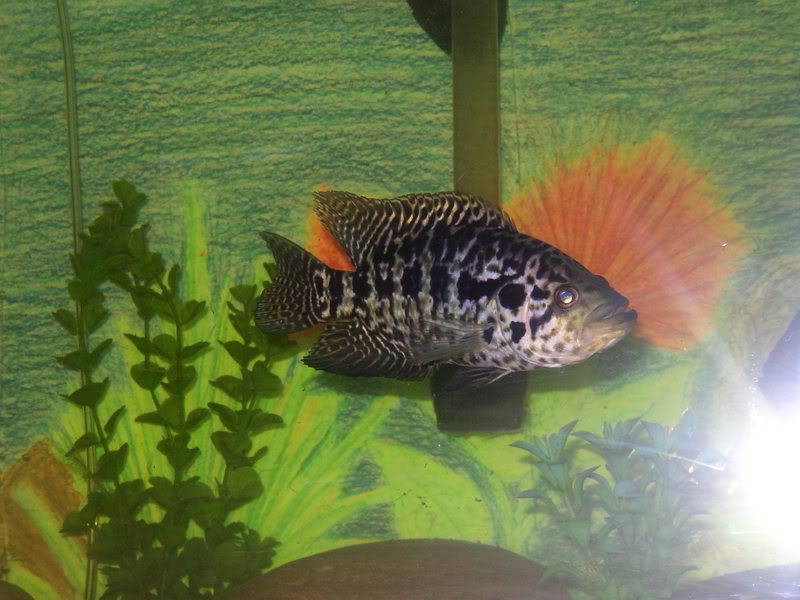 [/img]
you have some true monsters, they are stunning you have done a good job with them they all look fat and happy :D
have you grown them all on? or bought big?
---
About As Innocent As a Nun In a Cucumber
Field
Both the Oscars are a year old. I bought them when they were a little smaller than 2". The Jag I bought when he was about 4" for $40. The Clown Knife I bought big 4-5 months ago at 15" for $55
I bought the big pleco large at 16" for about $10.

Thanks for the kind words. It has taken a lot of work to get this far. Within this year I will invest in a 300g tank. I'm afraid that the Clown Knife will out grow the 150g within the next year or two. Plus I really want a Arowana!
Thanks everyone!

The background I made about 9 months ago. I used cardboard, several pieces of large drawing paper taped together, and oil pastels. It took me about 6 hours, I wanted to take my time with it. I enjoy it being unique and colorful, even though I really like the look of a solid black painted background.
You probally saw it on Monsterfishkeepers.com.
Or Theoscartank.com I am a moderator there helping people with their oscars.

I love this site! Everyone is very friendly here! :D
Very lovely tank!! :D

i love the pleco....... :)
Quote:
Originally Posted by dlil
Tidy, but I've seen that backing somewhere before, where? its hand drawn
C'mon, Sherlock Holmes, most people are members of several forums and can use different usernames.
Nice fish by the way, theoscarlover.
---
Sent from my desktop or phone or whatever else I am holding on to

I'm ready for the pressure.
The drama and the pleasure!

If there is one thing I want to see here, it's HUMOR.

I believe I can fly!
I believe I can touch the sky!
I think about it every night and day!
I stand in awe of my body.

WOW i just love knife fish there the coolest and beautiful oscars you have there. nice plecos too.
Posting Rules

You may not post new threads

You may not post replies

You may not post attachments

You may not edit your posts

---

HTML code is Off

---