Um angelfish lol. Didn't catch that typo!
lol, I was like Abel? Wha o.O
IDK, I wouldn't jump to rehoming her too fast. Try waiting/stuffing your tank more with plants. With hiding spaces your fish should be able to survive.
Well maybe I'll keep here in time out longer, but she definitely is a hunter.

It was traumatizing to see the poor little thing in her mouth.
---
Last edited by djembekah; 03-14-2014 at

09:28 PM

.
Yeah, I know. That's why I'd avoid smaller fish with adult angels.
I'm sure, if you stuff your tank with some lovely plants, that fish like Otos, would have a better chance.
How's your male pearl liking all the females?
---
125 - BGK, chanchito cichlid, pictus cats, silver dollars, palmas bichir

125 - cichlids (severums, bolivian rams, chocolate), rainbows ( turquoise, red), loaches (angelicus, zebra, kuhli and horseface), plecos (BN, RL and clown), denison barbs, tiretrack eel, pearl gouramis, betta
90 - Congo tetras, african knife, upside down cats, spotted ctenopoma, kribensis, delhezzi bichir
2.5 - betta

I have loads of plants.

Josh, he seems OK! He's not sure what to do but all four seem to hang out lol.
Ugh my whole post disappeared! Enjoy one photo for now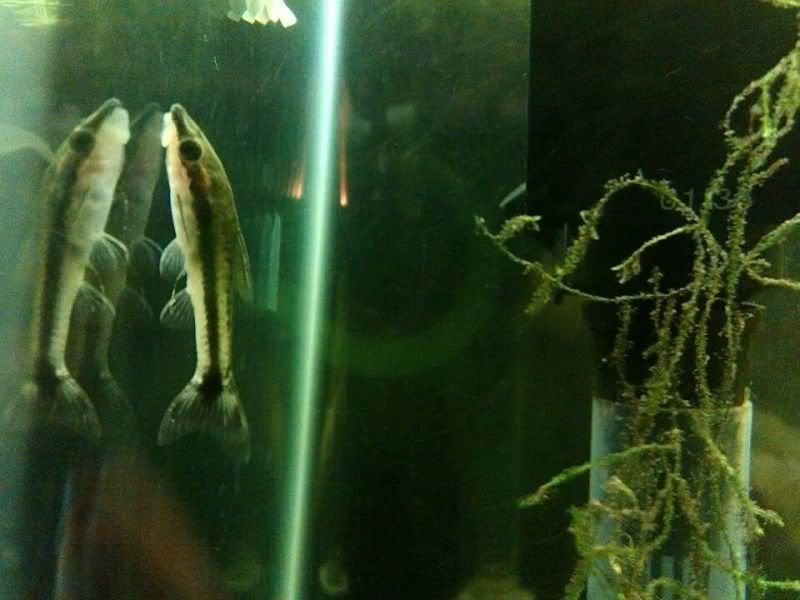 ---
Last edited by djembekah; 03-15-2014 at

12:23 AM

.
I've forgotten how cute Otos are :3
<3 Otos!!! So sad about the angel, Bek! I hope everything works out. . . your tank is growing so well! ^__^
Similar Threads
Thread
Thread Starter
Forum
Replies
Last Post
Bekah's Snail Trails

djembekah

Freshwater Journals

197

02-15-2014

10:06 PM
Posting Rules

You may not post new threads

You may not post replies

You may not post attachments

You may not edit your posts

---

HTML code is Off

---