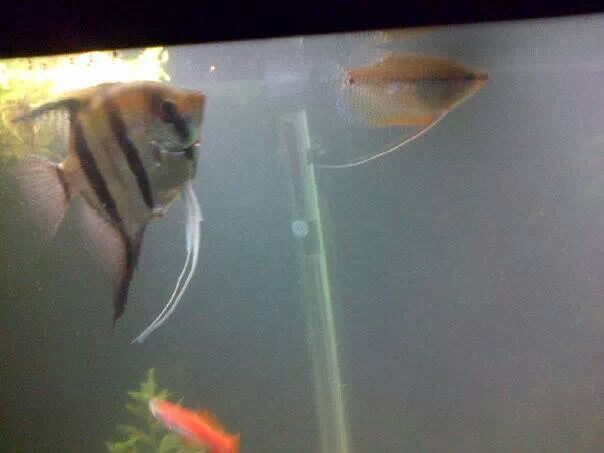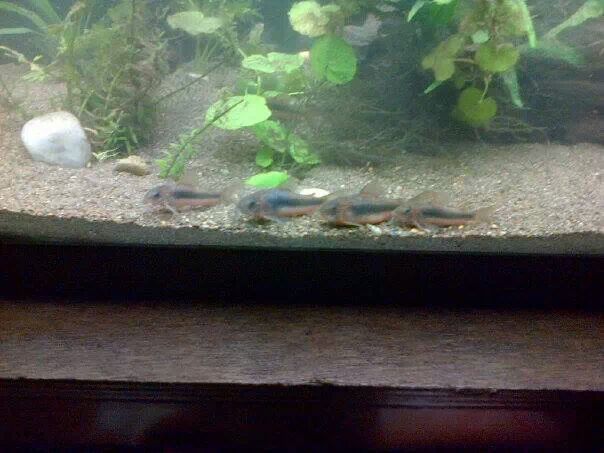 Couple fun shots from tonight
So Josh thinks my gourami could be a boy. I'm probably the least reliable with sexing...anything (look at my angel!) so I'm just gonna say he's probably more trustworthy and my fish are just presently genderless beings who are precious and I love them.
Posted via Mobile Device
I think it's the dorsal fin(is with mine) if it is rounded it is female. Pointed is male.
Sent from
Petguide.com Free App
I can't really see the dorsal fin on your fish Bekah, but fishyfishy pic clearly shows the difference that will exist between males and females. The other indicator specific to pearls in the anal fin. Their fin grows filaments and females are smooth. It appears to me like the fish is a maturing male and that it's anal fin is getting big and a little ragged. From there the filaments grow.
---
125 - BGK, chanchito cichlid, pictus cats, silver dollars, palmas bichir

125 - cichlids (severums, bolivian rams, chocolate), rainbows ( turquoise, red), loaches (angelicus, zebra, kuhli and horseface), plecos (BN, RL and clown), denison barbs, tiretrack eel, pearl gouramis, betta
90 - Congo tetras, african knife, upside down cats, spotted ctenopoma, kribensis, delhezzi bichir
2.5 - betta

Cool!! Good to know. If I want another four, are girls the way to go? Or maybe another boy and three girls?
Posted via Mobile Device
I found this picture online
This is a mature male
From what I read, pearl gouramis are very peaceful and combining males presented few issues.
I had a problem adding a second male (#7) to my 125 and it had to be removed. I don't know if it was just that fish or not, but I fully intend to try again.

In the 55 I would stick with one male.
---
125 - BGK, chanchito cichlid, pictus cats, silver dollars, palmas bichir

125 - cichlids (severums, bolivian rams, chocolate), rainbows ( turquoise, red), loaches (angelicus, zebra, kuhli and horseface), plecos (BN, RL and clown), denison barbs, tiretrack eel, pearl gouramis, betta
90 - Congo tetras, african knife, upside down cats, spotted ctenopoma, kribensis, delhezzi bichir
2.5 - betta

I'll stick with one then. Since its a juvie I can't really tell, kinda loooks girly to me, but its fins got a little beat up at the store.
Posted via Mobile Device
Similar Threads
Thread
Thread Starter
Forum
Replies
Last Post
Bekah's Snail Trails

djembekah

Freshwater Journals

197

02-15-2014

10:06 PM
Posting Rules

You may not post new threads

You may not post replies

You may not post attachments

You may not edit your posts

---

HTML code is Off

---