Another tank switched to sand
---
After switching my 67g tank to sand, a friend of mine enlisted my help in redoing her mom's tank. It is a 75g corner tank (considerably taller than my tank, with much less surface area to cover on the bottom). When we got there she seemed to still have doubts about switching because she really liked larger gravel, but after showing her some pictures it was a definite yes.
It took the two of us approximately one hour to do the switch (and clean up after ourselves - I forgot to look at the clock right when we finished hehe). Here are the before and after pics:
BEFORE
AFTER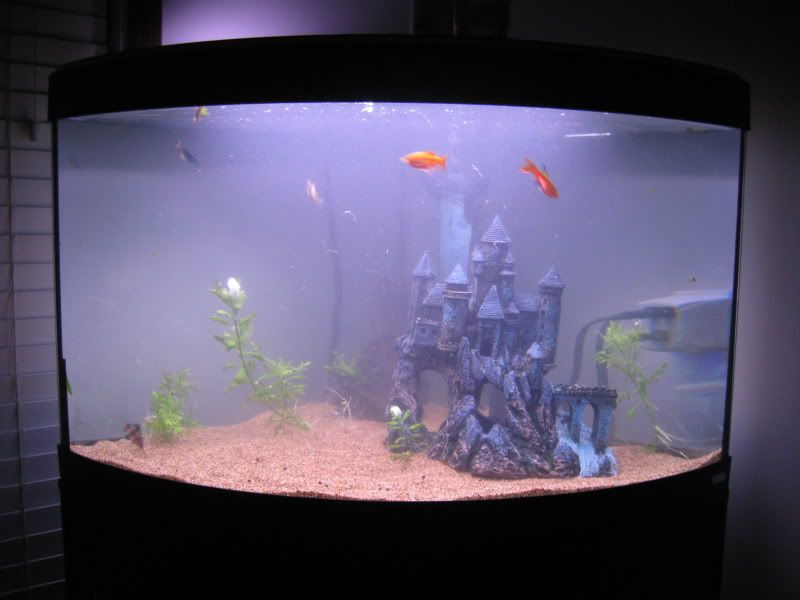 More plants will be added shortly. My friend picked up a pile of plants last night... and forgot to bring them today.
I personally like the rocks better easier to clean and safer for the fish.
---
75 GallonCommunityTank
Angelfish
Clown Loach
Columbian Tetra
Blood Parrot Chilid
Large Pleco
German Blue Ram Male | Female
Ballon Red eye tetra
Weather Loach
Red tail shark
Really? I have found the opposite. The sand looks messier if it's not vacuumed regularly, but it's a cinch to clean because everything sits on the surface... I go over and pick things up off the surface with the gravel vac, and then just stir the sand up the rest of the time until the buckets are full. With larger gravel I had to do a lot more stirring; it was like the bigger spaces between the rocks as opposed to sand sort of trapped all of the waste in the crack. I also think the sand is safer for bottom feeders than some gravel - such as the stuff I had in my own tank - which can have sharp edges and damage the fish.
That before and after pics looks amazing. I used to have gravel and switched all my tanks. I like the sand better and the bottom fish and my assassin snails like being able to dig under the sand. More plants and maybe a black background will make those plants pop and the fishes color look nice.You can go to a party supply shop and get the plastic table cloths as they come in many colors. I used black contact paper on the back of mine.
---
Last edited by eileen; 01-26-2011 at

12:43 AM

.
I love the look of sand this forum is what made me realize what I was missing out on! Looks great!
Quote:
I personally like the rocks better easier to clean and safer for the fish.
This is actually a misnomer, most aquarium fish have sand or silt as the substrate in there natural habitats. A Lot of fish, mostly the ones with barbles or fish that bury themselves, can be injured by gravel.
Gravel is much easier to use in planted tanks though.
Edit: Almost forgot, great looking tank. Although you may want to move that driftwood forward, it has a lot of character to it and is kind of hard to see behind the castle.
I agree...move that wood forward more and maybe off to the left. Get a nice Anubias to tie to it. A bit more greenery in the back and around the sides of the castle and a background to hide those cords and outlets and the tank will look awesome.
---
150 Gallon - Mostly American Cichlids
135 Gallon - Angelfish Community
75 Gallon - Odd couple (Polleni/Angelfish)
55 Gallon - African tank
20 Gallon Long - QT
10 Gallon - Empty

Thanks!

Yeah, as of now there are probably more plants in the tank. I mentioned it in the bottom of my original post... we bought a bunch of plants and forgot them hehe. My friend went over tonight to plant the tank. Last night we discussed our ideas for where we wanted to put the decorations, and we talked about moving the castle into the back corner and surrounding it with plants, and moving the driftwood closer to the front of the tank. There is something attached to the wood already, but I'm not sure what it is. Java fern maybe?

I'll see about going over there to take more pictures in the next couple days or so.
Posting Rules

You may not post new threads

You may not post replies

You may not post attachments

You may not edit your posts

---

HTML code is Off

---