Almost set up!
---
Hi guys! Here is a pic of my 20g long tank... It is cycling at the moment!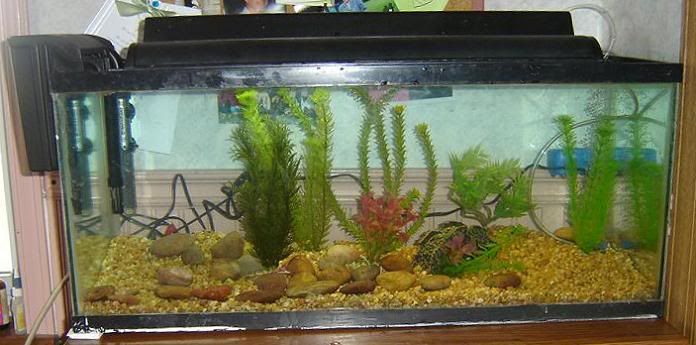 I'm getting a thermometer for it on friday, not to worry
I think the heater and filter are too close, so I'll be moving one of them to the middle.. The water seems warm enough though! I put the air pump in just to circulate the water somewhat... I had it from my betta tank and figured it might as well be put to use! Its meant for a mini-tank, but it is at least bubbling the water!
Still have no idea what type of fish to get... The water is really hard here so I'm not sure what to do. Am getting a couple more ground plants (probably fake for now) just to fill in the blanks!
Is this your first ever tank Trish? It's looking great!

How are you cycling it?
---
ʎɐqǝ uo pɹɐoqʎǝʞ ɐ ʎnq ı ǝɯıʇ ʇsɐן ǝɥʇ sı sıɥʇ
Amphrite- I'm trying out the fish food method. I've no idea if it is working or not, because I haven't been able to find an ammonia/nitrite/nitrate test kit! I hope to go to Big Al's later on this week- I'll get a 'master test kit' then. I've put Stress-zyme in the tank, apparently it is supposed to speed things along...

Yep, this is my first 'real' aquarium... I've only had bowls (yech) and a 2 gallon tank before.
If the cycling is going too slow, you can ask your LFS for some pest snails. I had a jar full of water with a plant in it once, and didn't realize there were some snails in the plant. After 2 days I noticed, and the ammonia was at 1.00, but the snails were as healthy as ever! Not that I wanted them to stay in those conditions, and I moved them right away, but they're hardy, free, and produce plenty of waste.
Posting Rules

You may not post new threads

You may not post replies

You may not post attachments

You may not edit your posts

---

HTML code is Off

---