Quote:
Wow, that loach really loves the camera!
Those bichir are so happy looking! Is the 75 their last tank? Are those full grown?
:D
Posted via Mobile Device
That's just one of the four mischief makers. Right now they are zooming around the tank, fencing, spinning, and doing all sorts of acrobatics.
The two gray senegals are probably as full grown as they are going to get. I don't know if they topped out to the full 12 inches they can get to. The ornate is only a little over half grown. For these three this is their final tank for now. I'd love to be able to one day upgrade to a 100 gal or more but I don't trust the flooring of this old house. If I ever move into a house with a more stable floor they will see an upgrade to a 120 at least.
The loaches on the other hand, I don't trust what will one day be between 2-5 inch fish with a 1.5 to 2 foot monster. So I plant to either reset up my 50 gallon just for them, or if I can find a good 3 foot tank at decent price do that instead.
It's looking GREAT, Fox! Always nice to see your happy, healthy creatures - thanks for sharing the vid!
Quote:
It's looking GREAT, Fox! Always nice to see your happy, healthy creatures - thanks for sharing the vid!
Thanks :3
But wait there is more! Feeding time this morning had an exciting response from all the bichirs, including the ornate. I didn't catch the frenzy on cam, but I caught the ornate scavenging around for anything that might have been missed. I'll have that up soon, once I cut together the best bits of video.
I've got it up now, might be a bit before the audio swap puts the music in:


Queen loves to come out now and scavenge. She's like a pretty vacuum cleaner.
I know that this my 75 gallon thread, but my 5 gallon Betta tank is looking nice. Thanks to Termato BlueGill has a really nice planted tank:
Also pay attention, I think those are snail eggs you see on the moss. I found them in my 75 gallon, and it appears my Golden Apple Snails are the egg layers.
I've got some unusual video. 3 of my four Yoyo Loaches were out and about playing before supper time. They do this a lot but it's the first I've caught them on camera. Not as active as the usually are...but the really active play tends to happen after they get their bellies full.


Quote:
Looks like everyone is very happy in there, Fox! Cute critters, they are!
Yep, they were super happy and wiggly one supper was put down. If I ever get them into their own tank I'm adding more of them. They are so much fun to watch.
So I've reached an important step with my tank. I found a really nice (and affordable) bit of drift wood. This thing has to be close to 3 feet long, it was fairly clean, and isn't leaching much in the way of tannins. It floats though so I have to drill some holes if it doesn't saturate and sink: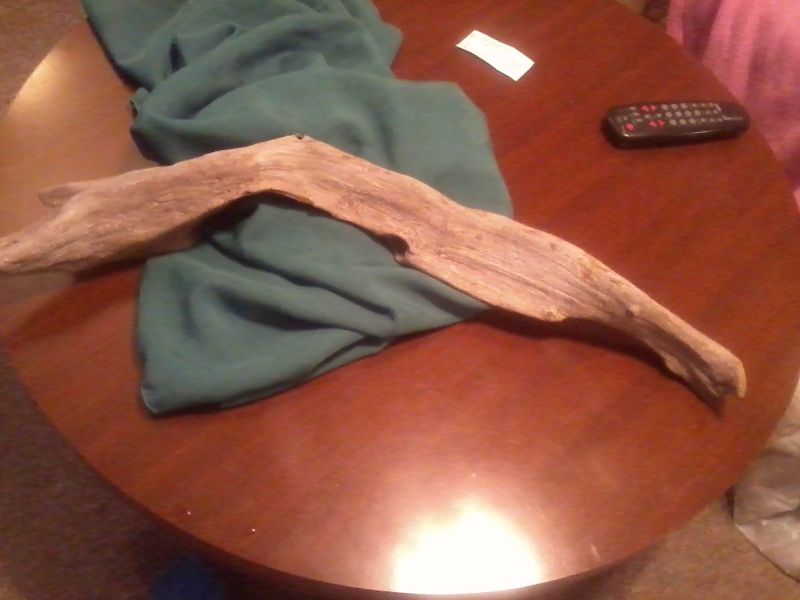 I'm going to probably drill some holes into the ends and through-out the length to try to increase it's ability to sink and create holes I can use to tie plants down. I'm so excited, this will open up some good possibilities scape and plant wise (at least for keeping those plants down)
---
Last edited by Sanguinefox; 06-03-2012 at

09:09 PM

.
Similar Threads
Thread
Thread Starter
Forum
Replies
Last Post
Rescape

JImi

Beginner Planted Aquarium

106

04-24-2012

06:32 PM

Tank rescape

R1junkie

Cichlids

5

04-20-2012

06:04 PM

20 gal long rescape

Santaclaws

Beginner Freshwater Aquarium

14

10-02-2011

03:13 PM

my 42 gallon with bichir

oatsey

Ancient Fish

1

01-18-2010

01:51 AM
Posting Rules

You may not post new threads

You may not post replies

You may not post attachments

You may not edit your posts

---

HTML code is Off

---