46g and 5g redecorated
---
I'm afraid to try live plants :rolleyes:
46 gallon bow front semi-brackish (~1.002)
2 Archers
4 Tiger Barbs
1 Senegal Bichir
1 Pleco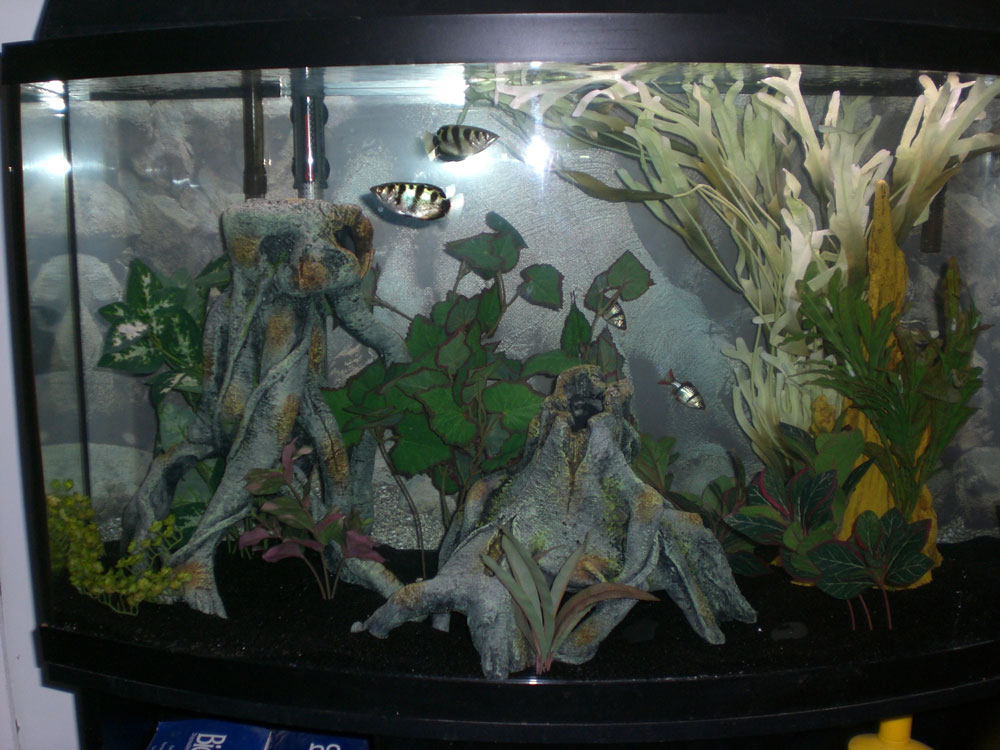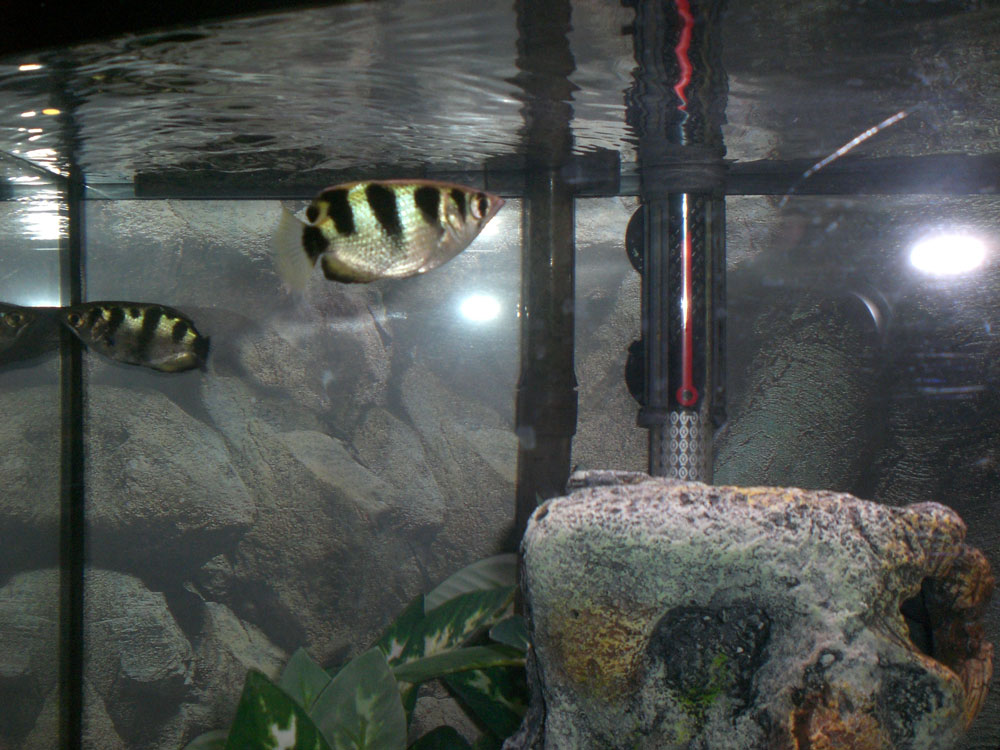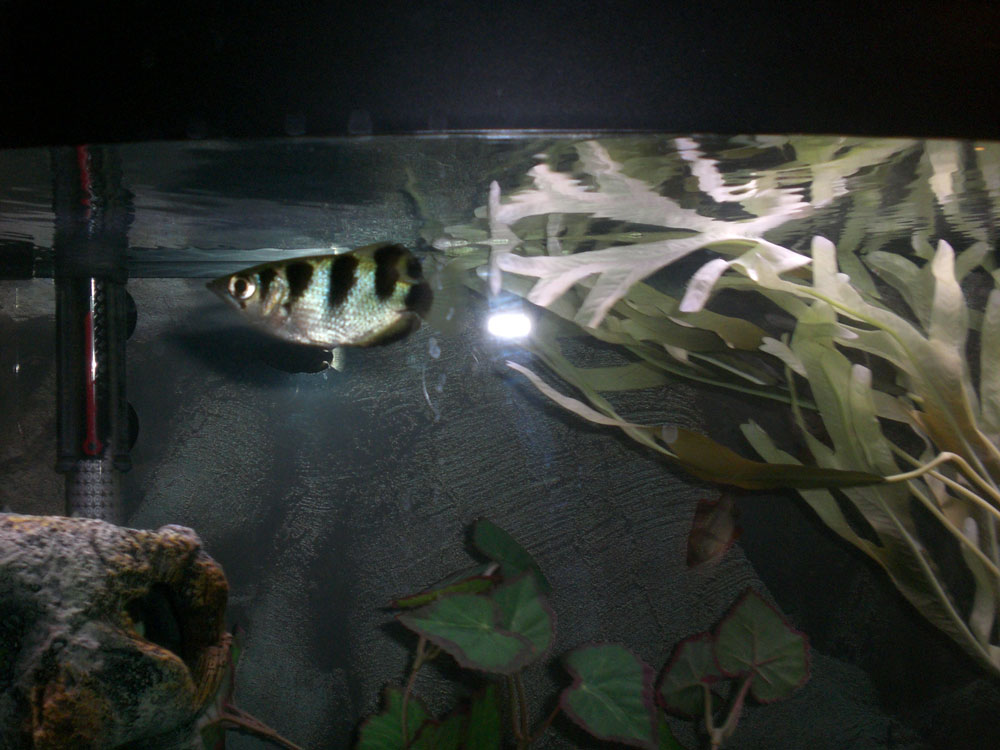 5 gallon eclipse corner tank with a baby figure 8 puffer...
he is camera shy, but you can barely see him behind the plant.
I was going to use this as a QT but my puffer wasn't behaving so I moved him in. I guess I will have to find a 10-20 gallon tank when he gets bigger.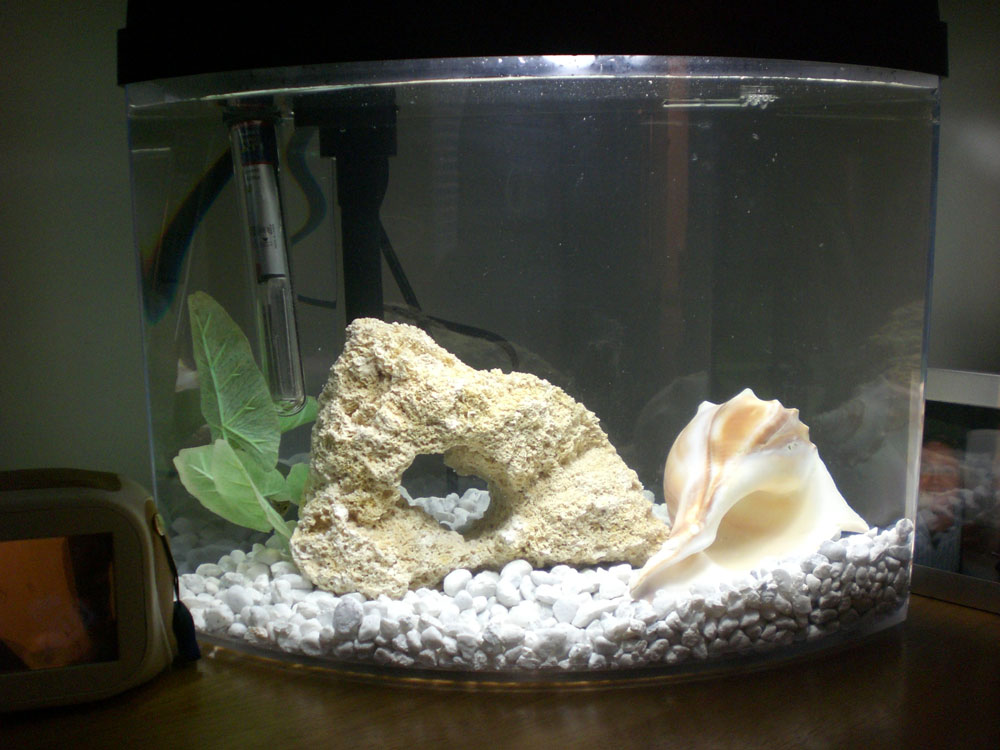 looks great. loving the black substrate. IMO a black background would make the fish "pop out" even more.

doesnt the figure 8 need brackish water anyways, and then eventually full marine?

have you thought about a background for this tank?
Thanks! I actually had a shiny sold black background that I liked, but it wasn't a true aquarium background and aged quickly as it got wet. I bought a roll with 2 different designs so I have plenty left to add to the 5g. May look a bit strange though since it is a corner tank (kinda triangle shaped).

The puffer is going to get full brackish. They had him in 1.002 in the pet shop and I've stepped it up to 1.005. I think I will keep him at around 1.01. I've heard of people keeping them in full marine, and even some in fresh, but from my research figure 8's seem to do best in light brackish when young and full to heavy brackish when mature.
Nice looking archers. The tank looks good. Just as OF2F is I'm VERY partial to black backgrounds. That tank would look great backed in black.
---
If you don't stand up for something you'll fall for anything...
nice! you could try poor mans background...black rubbish sacks i used these for a while they work well use the thicker ones over the thin ones as they dont crinkle and you get a smooth surface
---
Death solves all problems: no man, no problem - joseph stalin
---
Last edited by daisycutter; 03-10-2009 at

07:35 AM

.
Similar Threads
Thread
Thread Starter
Forum
Replies
Last Post
Redecorated aquarium!!!

britnyjackson

Livebearers

50

04-06-2010

09:53 AM
Posting Rules

You may not post new threads

You may not post replies

You may not post attachments

You may not edit your posts

---

HTML code is Off

---