40 Gallon Mess Cleaned Up
---
I just joined 20 minutes ago and thought a good way to start was by posting my 40 gallon breeder community tank.
I started to try and reorganize my plants since they were all over the tank around November, but I got depressed and gave up. I ended up just throwing the plants back in and not caring except doing small water changes and feeding the fish.
Then as I left for about a month, leaving my fish in my roommates' care, I came back to this -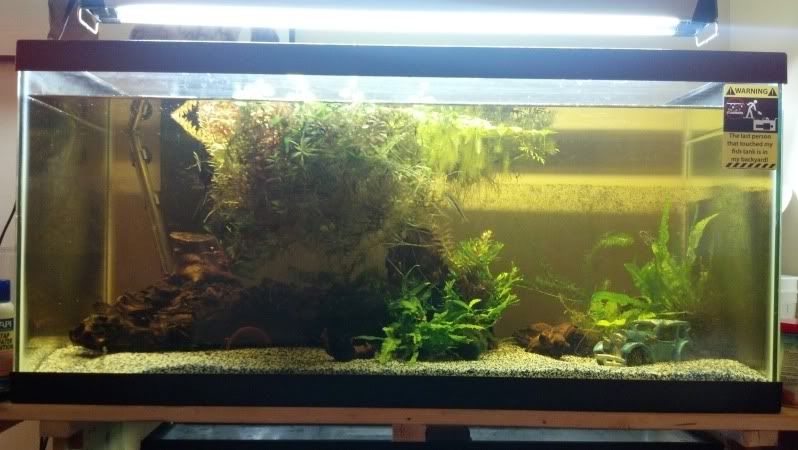 Wow. The plants had turned into a giant ball and tangled themselves up very well. So I finally did a couple of big water changes, vacs, and took all the plants out to de-tangle them -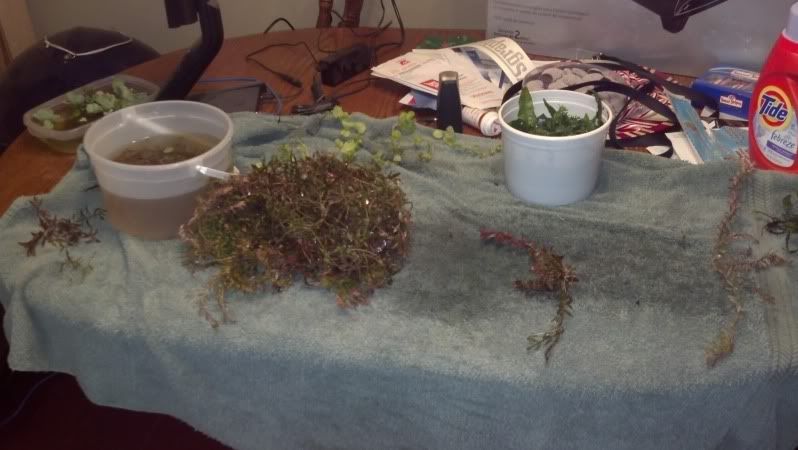 And the result! -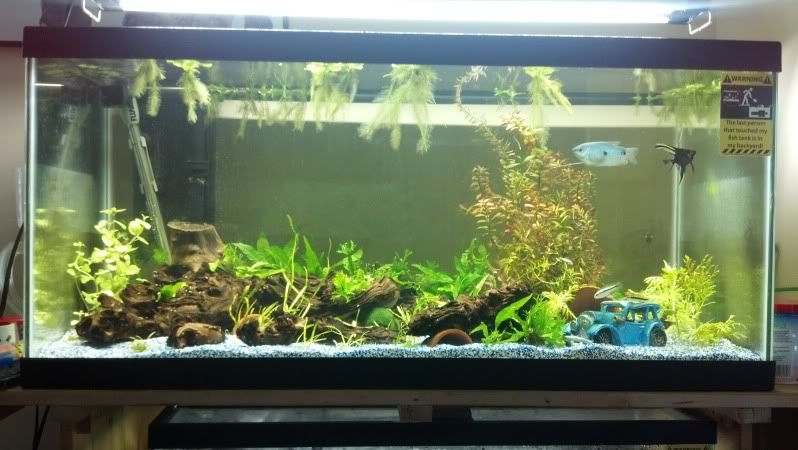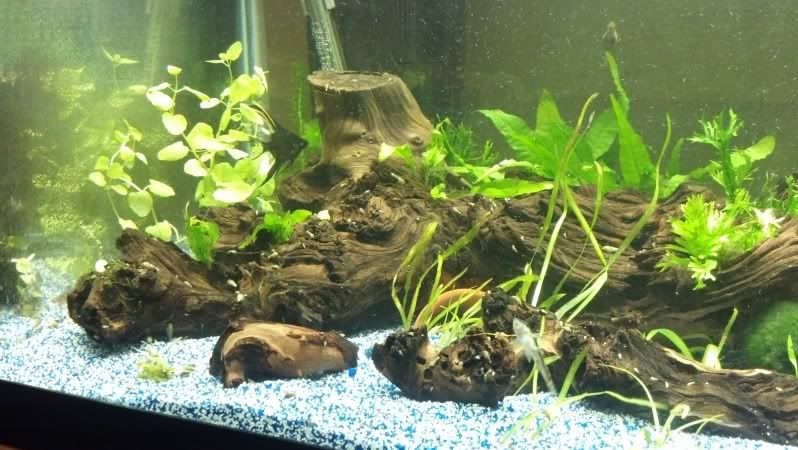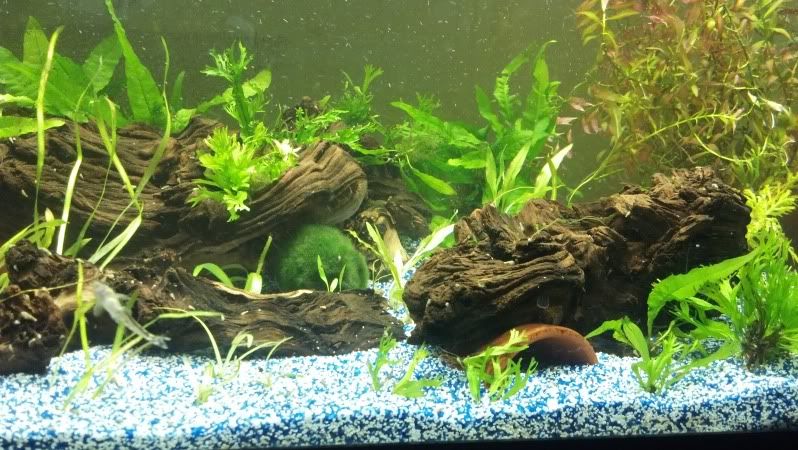 My Siamensis Algae Eater likes to hang out on top of the wrecked car -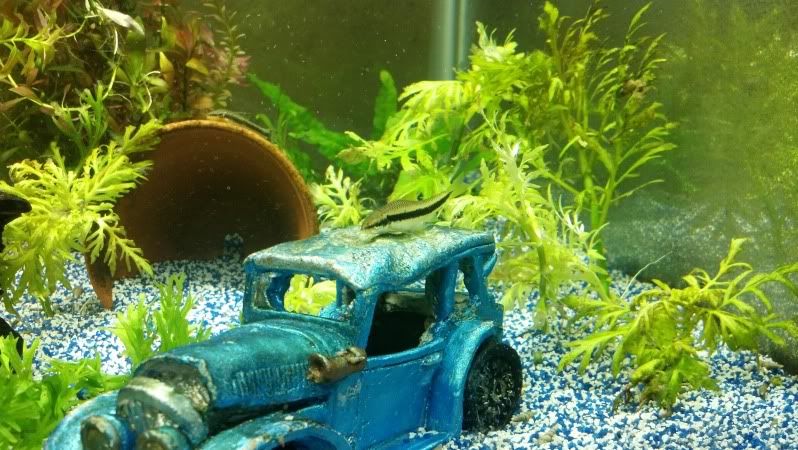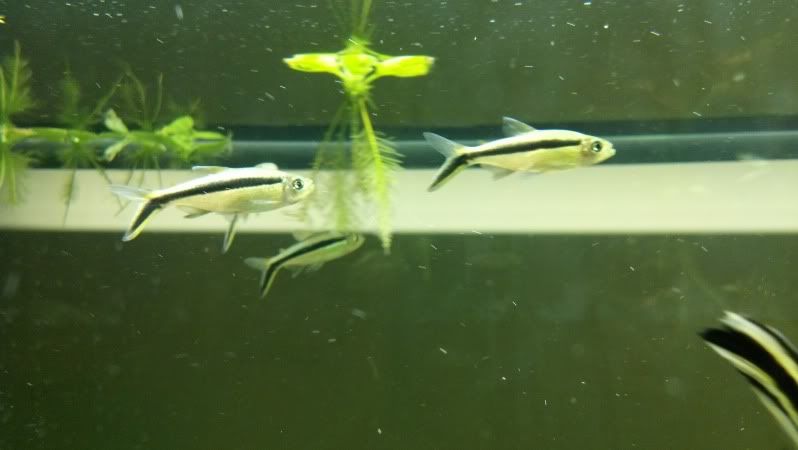 I released about 50 Red Cherry Shrimp into the tank, but the majority of them ended up being a buffet for the Apistogramma, Angelfish, Gourami, and I suspect the Siamensis Algae Eater as well, but I saw at least two RCS left. Hopefully they'll stay hidden and make more.
Stock -
Blue Gourami (Skyline)
Granite Marble Angelfish (Raoul)
Female Apistogramma Trifasciata
Siamensis Algae Eater
Starlight White Beam Bristlenose Pleco
4 Otoinculus Catfish
4 Penguin Tetras
However few RCS that are left
Millions of Malaysian Trumpet Snails
A couple of Ramshorn Snails
Planned -
Male Apistogramma Trifascatia. Maybe another female to make it a trio.
6 more Penguin Tetras to make it a complete 10
Various Nerite Snails
Plants -
Pygmy Dwarf Chain Sword
Jungle Val
baby Amazon Swords (I think...)
Some kind of bulb plant
Water Wisteria
Rotala Indica
Anacharis
Bacopa Australia (the ones on the far left)
Java Ferns
Windelov Ferns (Lace Java Fern)
Japanese Marimo Moss Ball
Water Lettuce (Those are the floating plants)
Welcome to the forum and good job in cleaning the tank up.
---
10g Fry / Hospital / QT tank (as needed)

75g Saltwater Reef, Ocellaris Clownfish, Lyretail Antias (baby), Lemon damsel, Longtail Fairy Wrasse, purple dottyback, snails, crabs and a few LPS corals.

220g Still sitting empty (come on Lottery I need the numbers to come up!)
Very nice, I also like your driftwood.
---
55 gallon planted tank, starting over!!!( looking crappy, needs a major rescape)
Thanks!

Any advice on how to help speed up the Angel's ragged top fin?

I'm also considering a Bamboo Shrimp for this tank.
Bamboo shrimp picked up! He's about 1.5-2 inches in size. His color is a bit washed out, I'm hoping that he'll color up now that he's in a better tank than a store tank.
Pics! -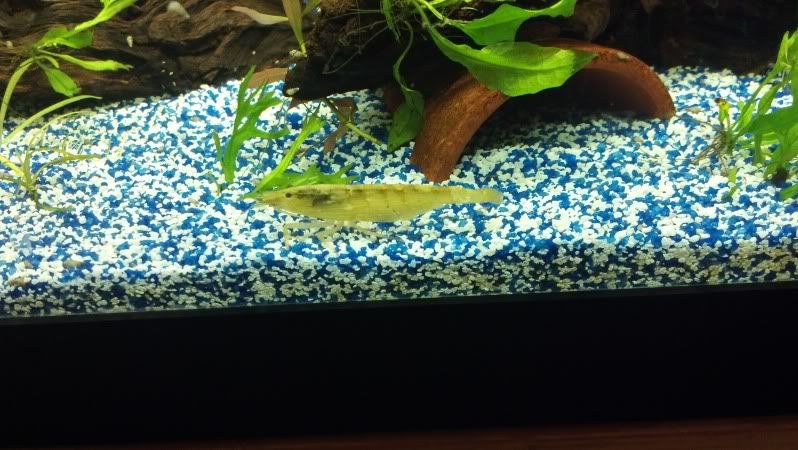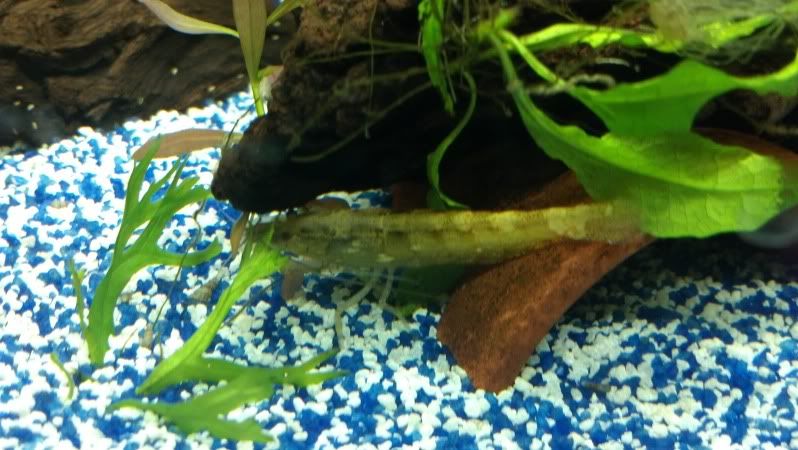 Wow! Really pretty tank! I love the wood as well, you did a nice job cleaning it up! :)
---

75 gallon saltwater reef tank
55 gallon freshwater planted tank
10 gallon divided Betta tank


Wow, very nice tank. Well worth the effort :) Only thing I might suggest is more floating plants.
Similar Threads
Thread
Thread Starter
Forum
Replies
Last Post
Filter cleaned too well

tigga

Beginner Freshwater Aquarium

4

05-18-2007

12:50 PM
Posting Rules

You may not post new threads

You may not post replies

You may not post attachments

You may not edit your posts

---

HTML code is Off

---