Well if it helps, I don't think these guys are dwarf Pangios. And I don't have any pictures today. They were extremely shy when I turned on the light this evening and I hardly saw them. Let alone get the camera set up and take photos. I'll try tomorrow night although video will probably be easier (and 9000x more adorable).
How many did you get of everything? The loachpocalypse has gotten larger!

The pictures I saw on her site didn't look like any of the dwarf species. P. semicincta was my guess, but I always get told I'm wrong.
I got 6 cardinals and 8 loaches. You know she adds extra and all of them have survived thusfar.

Honestly my guess is either P. semicincta or P. malayana. I'll probably be able to tell better when they get larger and less shy. They show up incredibly well against the black sand!
I went back and looked at the pictures on her site. All the ones I saw showed nasal barbels so that means they can't be P. malayana. Doesn't really matter because...you got new fish!!!!
hello
i've really enjoyed looking through your pictures and videos,
---
when you set up a new tank,hide an extra
sponge or two behind some decor,that way you have
something seeded for you next filter.
Aww thanks, Willow! Photography is one of my hobbies and to be able to combine it with fishkeeping is wonderful to me! I honestly enjoy taking photos as much as I enjoy showing them to everyone.
That said, couple of downers recently. I discovered one of my tetra dead today. No big surprise there. They were all very stressed from the trip. I think I'm still counting all of the loaches, but with them it's so difficult. The other thing is that I let my mom borrow my tripod last week and she left it at her work for the weekend. So videos and pictures of any quality will have to wait until Monday. But I think I got a couple of good shots.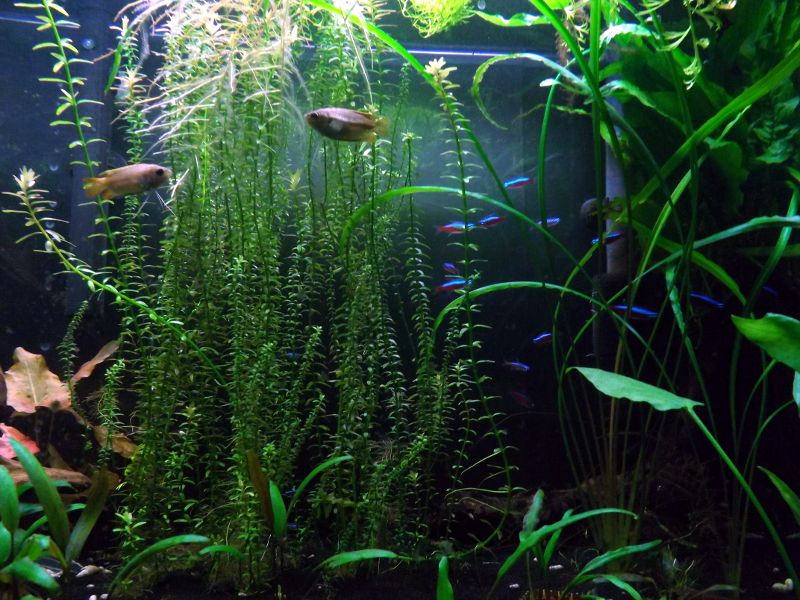 My stripy loaches seem to be much more chill than my browns. This guy sat like that for at least a minute and let me get some pictures. There were some others that were coming right up to the glass (where my face was) to eat, and when I would move they would go "meh" while the browns would flip out in typical loachy style. That is also one of the crypts Jes gave me. They are doing great with minimal melt!
wow,i thought once you had khulies (sp) you never saw them again !! ?
what a shame about the tetra
i love to look at peoples photos,the more the better for me.
---
when you set up a new tank,hide an extra
sponge or two behind some decor,that way you have
something seeded for you next filter.
Join us, Bekah! Kuhlies are the best!

Willow, mine are actually quite social. It seems like as long as they have enough hiding spaces, they come out quite often. And I'm seeing more and more of them each day!
Have you been able to observe any interactions between the two Pangio species? I've heard mixed things, namely that they don't socialize. Just curious about your experience.
Posting Rules

You may not post new threads

You may not post replies

You may not post attachments

You may not edit your posts

---

HTML code is Off

---