Hmm... I'll certainly do that later on this week when I can get over to Petco. Hopefully that will help. I know removing a lot of the floaters helped the remaining crypts put on a new leaf. Maybe a new bulb will help them explode back!
Now. This tank is still a challenge to photograph. Nothing. Stays. Still. But I have more settings on my new camera. Hopefully I'll find one that works well and get some better pictures. For now, I give you the current state of the tank. I got a new light and everything seemed to like that. Now I just need to get some more crypts to fill in that hole.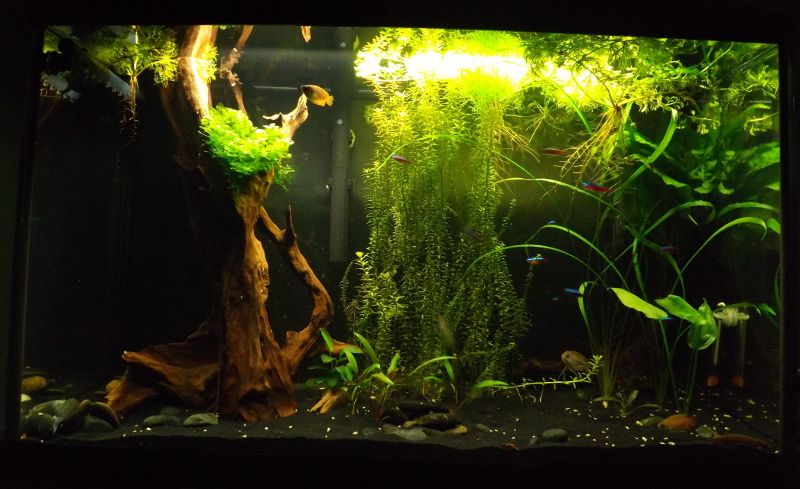 Are those baby tears on the wood? I bought some planted on drift wood and one day 2 weeks after someone discovered it and ate them all :( probably the fat clown loaches
Posted via Mobile Device
That's actually subwassertang. Sanguinefox gave it to me along with some moss. It's done great right there. I love the way it looks!
Wow, this tank is still looking awesome! keep it up!
---
540L/140G - 'Tidal Jungle' (Crabs) | 254L/67g - 'Backwater Pool' (Fish/Snails) | 96L/25G - ''Twisted Minds" (Fish/Snails)

I've never had any problems with 'Impulse Buying'. They're just animals that I forgot I had planned to get.
Izzy the tank still looks good! Even if your crypts melted. Hopefully with the new light you can grow some more.
---
Quote:
look a carnivorous plant! *steals your gourami*
ROFL!!!!!!!!!
If I breed them next summer you are welcome to some offspring!
Well it looks like the video isn't going to be done tonight. I was singing in the background and didn't realize this until too late. Don't want to kill you guys, so I have to edit out the sound.
Anyways, I was playing around with the settings on my camera, and I think I'm finally getting the hang of it. The tank got a MAJOR trim today so a lot more light was coming in which always makes for better pictures. I've also added some new plants. There are two baby C. lutea and a (not so baby) red lotus in there courtesy of Jes and her amazing green hands. There have also been some changes to the fish. I lost two tetra a month or so apart and my shy female gourami eventually succumbed to the bullying of the larger one. Nothing I did seemed to help :(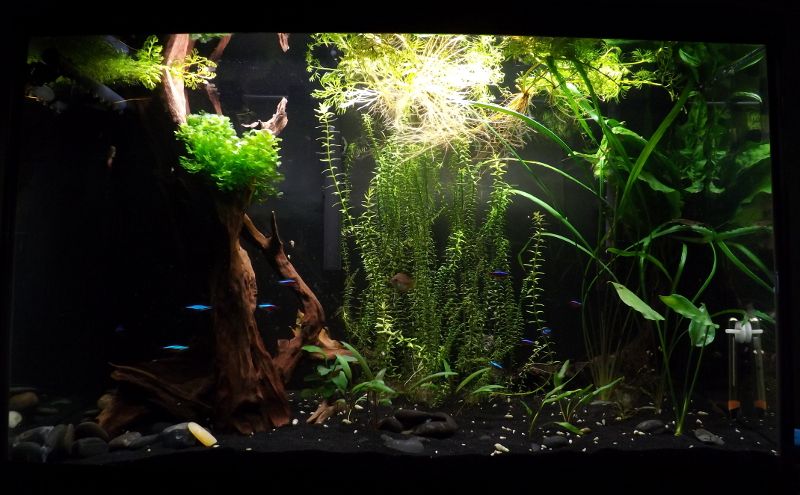 And one AMAZING shot I got of Sturgeon the Farlowella. (Yes that is his name). He's the only thing in the damn tank that stands still enough to get a good picture.
Posting Rules

You may not post new threads

You may not post replies

You may not post attachments

You may not edit your posts

---

HTML code is Off

---