So I just realized that I haven't updated this like I said I would. There have been good changes and bad changes. When I bought some moss for my shrimp tank, I also bought some hygro sp tiger. It's done rather well in here, but I've moved it a couple of times. I couldn't find the right place for it, so it's now in a temp home.
And I've also had some crypt melt. One green wendtii and one spiralis completely melted away on me. These pictures are a week or so apart. I'm at a loss here. The only thing I can think of is a change in the lighting because the floaters kinda took over. I guess it has to happen to all of us at some time. Last weekend I put down some more root tabs in case that was the problem, but so far nothing has grown back up.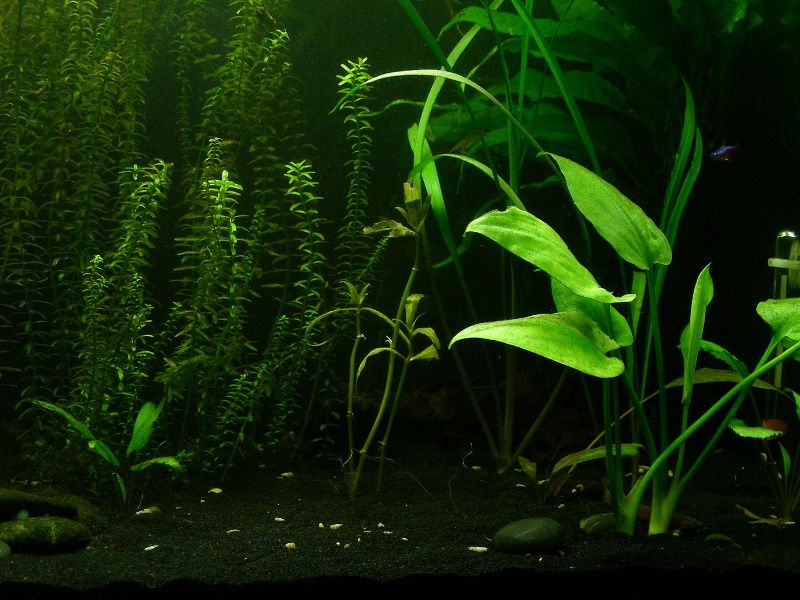 You can see the hygro really well in this second picture.
Mine don't melt but don't grow fast I have 6700 light bulbs the best they did is with fertilizer root tabs
Posted via Mobile Device
I have some root tabs in there, but I'm thinking about switching to API tabs. They have more iron in them than the Seachem ones. Sanguinfox switched and had great success with her swords and crypts.
Izzy if you switch to API and use them I have heard they make a mess if you disturb them in the substrate. I don't know how true that is as I have always stayed away from them. Just thought I would pass that along to ya.
---
Thanks for the heads up! I disturbed the Seachem tabs when I was planting my crypts. That clouded the water for days. I ended up doing a water change to reduce the cloudiness. I'll let you know how bad the API tabs cloud the water lol!
Hmm I have never had my Seachems tabs do that. I have completely uncovered them at times and moved them and never seem to have gotten cloudy water from doing so. Well not that I could tell, they may have a little but it wasn't enough for me to even notice.
---
The tank (way back when these last shots were posted, lol) looks FANTASTIC!!! I know I'm in no way allowed to do so until I update my own journals, but. . . I'll do it anyway. . .
*DEMANDS UPDATES*

The API root tabs make a lil' bit of a mess for me *nods* nothing major like that though - certainly not enough to cloud a tank!!! But they do. I've dug up enough of them while moving plants from tank to tank lately that I've noticed - usually just a little *puff* of grey in the area on the substrate, then it's all gone. I wonder if disturbing the substrate may have caused a bacterial bloom or something? Either way, I'm sure that's loooonnnngggg past now, lol! Sorry I've been so busy this summer. I miss you!
Actually I do have some updates but they aren't good. I'm having issues with the crypts in this tank. Some major melt issues. I made a thread about it hoping for some advice. I'll also post the pictures here. I have a ... black hole ... in my tank and aquascape.
I see no black holes, darlin' - only a whole lot of pretty. I love this tank - and it looks like the fish agree! ^_^
I have a spot in my tank where nothing grows everything melts
Posted via Mobile Device
Posting Rules

You may not post new threads

You may not post replies

You may not post attachments

You may not edit your posts

---

HTML code is Off

---